I'm trying to get more creative with my side dishes. Since they are not the main event, I tend to be lazy about them. I end up eating the same sautéd green beans or steamed broccoli so I don't have to think about what else to make with dinner. And while really simple sides are great, they don't have to be bland or boring! These 10-Minute Sesame Snap Peas are a prime example of that.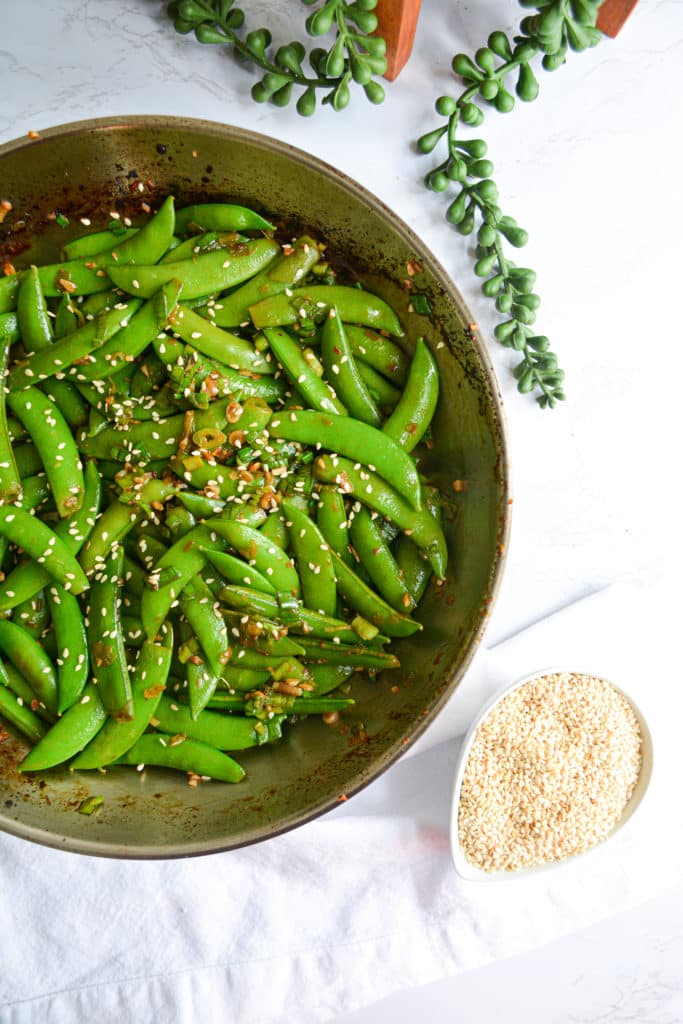 Snap peas are one of my favorite veggies. I love them sautéd or stir fried. I love them raw dipped in hummus or in a salad. They have such a delicious crunch and natural sweetness. And they take all of 5 minutes to cook, making them an ideal quick side dish.
This recipe comes together really quickly so be sure to have all of the ingredients out and ready to toss into the pan. Speaking of ingredients, green onion is one of my favorite of the allium family. They are nice and mild and I love that they are basically a veggie and an herb all rolled into one. For this recipe- and probably most recipes that call for green onions- you want to keep the white and light green parts separate from the dark green tops. The white and light green parts are stir fried. But, the dark green portion is tossed in at the end as an herb.
Now let's talk sesame oil. Toasted sesame oil to be exact. As the name suggests, its the oil extracted from toasted sesame seeds. Its amber in color and BIG on flavor. And its only used as a flavor element- never to cook with. It has a very low smoke point. When I cook from recipes, I don't typically measure oil- I just eyeball it. But, don't do that with sesame oil. It can easily overpower all other flavors in its path. Also don't substitute regular (not toasted) sesame oil. It has little to no flavor.
So shake up your weekly rotation of side dishes with these easy but bold 10-Minute Sesame Snap Peas.
📖 Recipe
10-Minute Sesame Snap Peas
Ingredients
1

teaspoon

Canola Oil

2

Large

Cloves of Garlic, Minced

3

Medium

Green Onions, Sliced

Keep the white + light green parts separate from the dark green tops.

1

Pound

Snap Peas

About 4 Cups

1

Tbsp

Soy Sauce

1-2

teaspoon

Sambal Oelek, depending on heat preference

Or a similar chili + garlic hot sauce

1

tsp

Toasted Sesame Oil

1

teaspoon

Toasted Sesame Seeds (optional)
Instructions
Heat a large skillet over medium high heat.

Add canola oil, garlic and the white and light green parts of the green onions. Cook Stirring frequently until fragrant- 30 seconds- 1 minute.

Add snap peas to the pan and cook stirring occasionally until the peas are tender crisp- 3-4 minutes.

Add soy sauce and Sambal to the pan, stir and cook for 30 seconds longer.

Remove from heat and add the green part of the green onions and sesame oil. Toss to combine.

Sprinkle with sesame seeds (optional) and serve.
Let me know how this recipe worked for you!