Chia seeds aren't just for Chia Pets anymore. Here in 2020, rather than spreading them onto terra cotta figures, we eat them. They are packed with protein, fiber and Omega-3s which are all important parts of any diet. I like to put chia seeds in my oats in the morning, but this Chocolate Chia Pudding is by far my favorite thing to do with the tiny little seeds.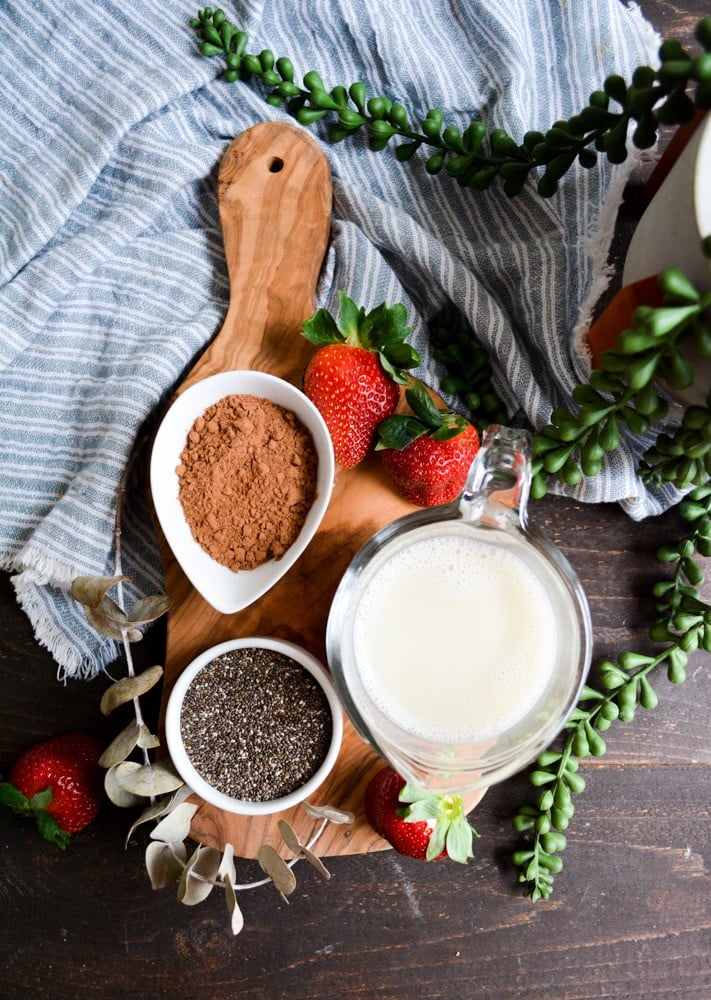 This pudding takes 5 minutes to shake together in a mason jar and will keep in your fridge for about 4 days, but I don't think it will be around that long. I like to have this pudding for breakfast, a snack, or as a more healthy dessert.
Chia Seeds
Chia seeds are tiny little black (or white) seeds that can absorb up to 12 (!!!!) times their weight in whatever liquid they are soaked in. They are relatively flavorless in their own, but they take on the flavor of whatever liquid you soak them in.
Chia seeds are also packed with B vitamins, calcium, iron, zinc and more! So, even when we soak them in a chocolate-y liquid and make them taste like dessert, we still get all of the health benefits.
Method
This recipe is incredibly easy. I like to measure all of the dry ingredients into a mason jar, followed by the wet ingredients and shake it all up. After the first shake, I place the mixture into the fridge. Then, after the approximately 20 minutes, I remove the jar and shake vigorously once more.
This is because after the first shake, the seeds have a tendency to rise to the top of the mixture and gel into each other. And that leaves all the liquid at the bottom. So, I have found that adding one extra shake of the jar fixes that problem.
Then after about 5 hours (or overnight) the chia seeds with soak up all of the chocolate-y liquid. And that leaves you with a chocolate pudding that is ready to eat as you like.
I eat this Chocolate Chia Pudding for breakfast with berries or banana slices on top, as a snack at any time of the day, or even as a dessert that is on the healthy side. Its also a great recipe for meal prepping- just make a few mason jars and you have breakfast for the next few days!
Chocolate Mousse Chia Pudding
Ingredients
¼

Cup

Chia Seeds

3

Tbsp

Cocoa Powder

2-3

Tbsp

Maple Syrup or Agave Nectar

¾

Cup

Non Dairy Milk of Choice

I used Oat Milk!
Instructions
Combine all ingredients in a jar with a lid or a food storage container with a tight fitting lid.

Shake well. Put in the refrigerator for 20 minutes. Shake well again.

Let soak over night or at least 5 hours.

Top with toppings like bananas, strawberries, granola, coconut flakes or shaved chocolate and enjoy!
Let me know if you liked this recipe and if there is anything you'd like to see me make next!