There are two kinds of guacamole in my house. Lazy Guacamole and Party Guacamole. Lazy guacamole is pretty much mashed avocado, lime juice and a pinch of salt. Jalapeño if it we have one, an herb if we have any. This Easy Party Guacamole, however, is what I make if I want to put 15 minutes of effort to make the tastiest guac of them all.
The first and most major step to making my Easy Party Guacamole is actually getting all of the ingredients. This is the reason why I usually make lazy guacamole. Generally, at the very least, I have avocado and lime juice. But for party guacamole, I make sure I actually have everything that I need.
Ingredient Breakdown
So lets talk ingredients. I use an ingredient that is not commonly found in guacamole- green onion. This is for two reasons. First, its incredibly easy to overpower guac with the more traditional red onion. Second, is because you have to cut an entire onion open to use just a tiny bit of it. So, somewhere along the way I made the switch to green onion.
For tomatoes, I recommend Roma (sometimes called plum) tomates. They have far less juice than most other varieties. And even with Roma tomatoes, be sure to remove the seeds and goo so we can achieve some thick guac!
For the lime juice, I use Santa Cruz bottled lime juice. Its easy, delicious and it keeps in the refrigerator for months. I made the switch from keeping fresh citrus on hand over a year ago and have never looked back. Use fresh lime if you have it, but don't use the green squeezey lime bottle stuff. The flavor is not quite right.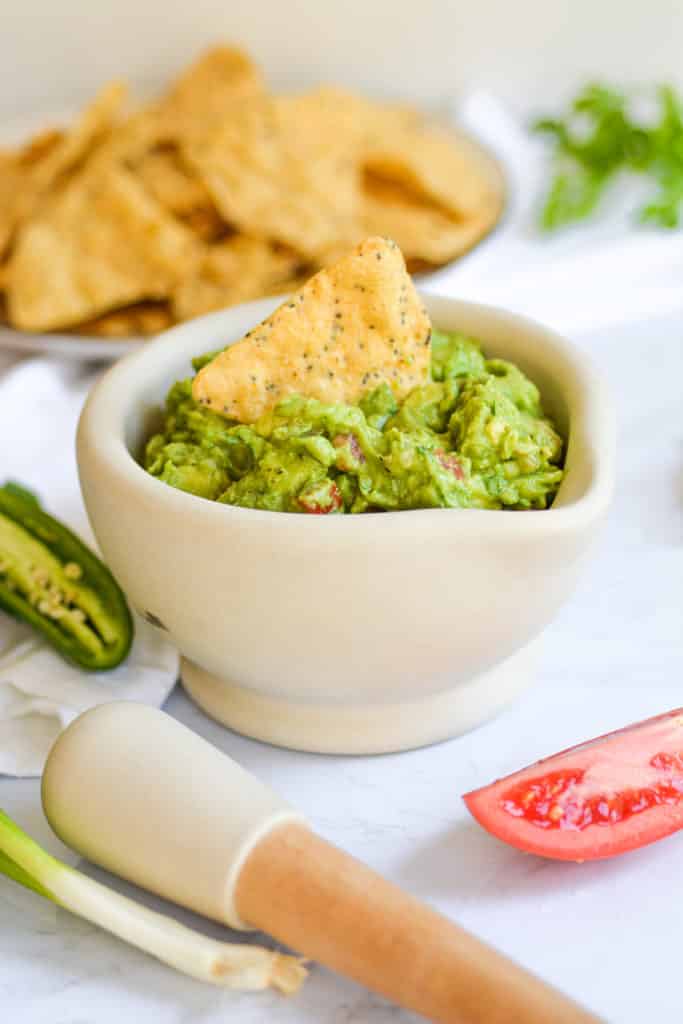 Also, feel free to make this guac as mild or as hot as you prefer by adjusting the amount of jalapeño. I like medium spice, so I typically go with ½ of a jalapeño. You can leave the jalapeño out completely, or if you're feeling daring, adda whole one in. Just make sure to chop it really finely so no one gets a big chunk of jalapeño.
Last but certainly not least, be sure to use ripe avocados. No amount of mashing will make unripe avocados into this delicious Easy and Chunky Guacamole. So, wait for them to ripen and your patience will be rewarded.
I like to serve this Easy Party Guacamole with tortilla chips, or put it into a Buffalo Cauliflower Rice Burrito. Happy dipping!
📖 Recipe
Party Guacamole
Ingredients
2

Ripe

Has Avocados

3

tablespoon

Green Onion/Scallion, Finely Chopped

about 1 large green onion

¼

Cup

Roma Tomato, seeded and finely chopped

½ of a tomato

½

Medium

Jalapeno, seeded and minced

2

tablespoon

Lime Juice

¼ + ⅛

teaspoon

Kosher Salt (less if you are using fine grain salt!)

¼

Cup

Cilantro, finely chopped

2 Tablespoons after chopping
Instructions
In a medium bowl, combine onion, tomato, jalapeno, lime juice and salt.

Carefully using a knife, halve the avocados, and remove the pits.

Next, switch to a paring knife and score each avocado half in a cross hatch patter all the way to the skin, but not through the skin.

Now, using a spoon, scoop the avocado meat into the bowl with the other ingredients.

Using a spoon, fold the ingredients together until the guacamole is the texture you prefer. I like to keep mine chunky.

Finally, add the cilantro and fold to evenly distribute.

Serve with chips, tacos or on a burrito!
Let me know how you like this recipe!