Everyone makes some version of fancy cookie around the holidays. My mom always make sugar cookie cut outs for my siblings and me to decorate. We used spices to decorate mostly. I remember sprinkling them with cinnamon and nutmeg before baking. These Five Spice + Blackberry Linzer Cookies are inspired by the spiced sugar cookies of my childhood. But they're a little more refined. If you are on the hunt for a fancy Holiday cookie, look no further.
Linzer Cookies
Linzer cookies are simply two cookies sandwiched with jam or preserves. They are dusted with powdered sugar and the top cookie has a cut out so you can see the jam filling. I chose blackberry jam here because it pairs beautifully with Five Spice Powder.
Five Spice Powder
Five Spice Powder is a Chinese spice blend that typically contains 5 spices: Cinnamon, Clove, Pepper, Anise and Fennel. It is traditionally used on meats, but I love it in baking. The combination of warm spices is reminiscent of pumpkin pie spice but a little more interesting. If this combo of spices doesn't sound good to you, substitute with a pumpkin pie spice blend!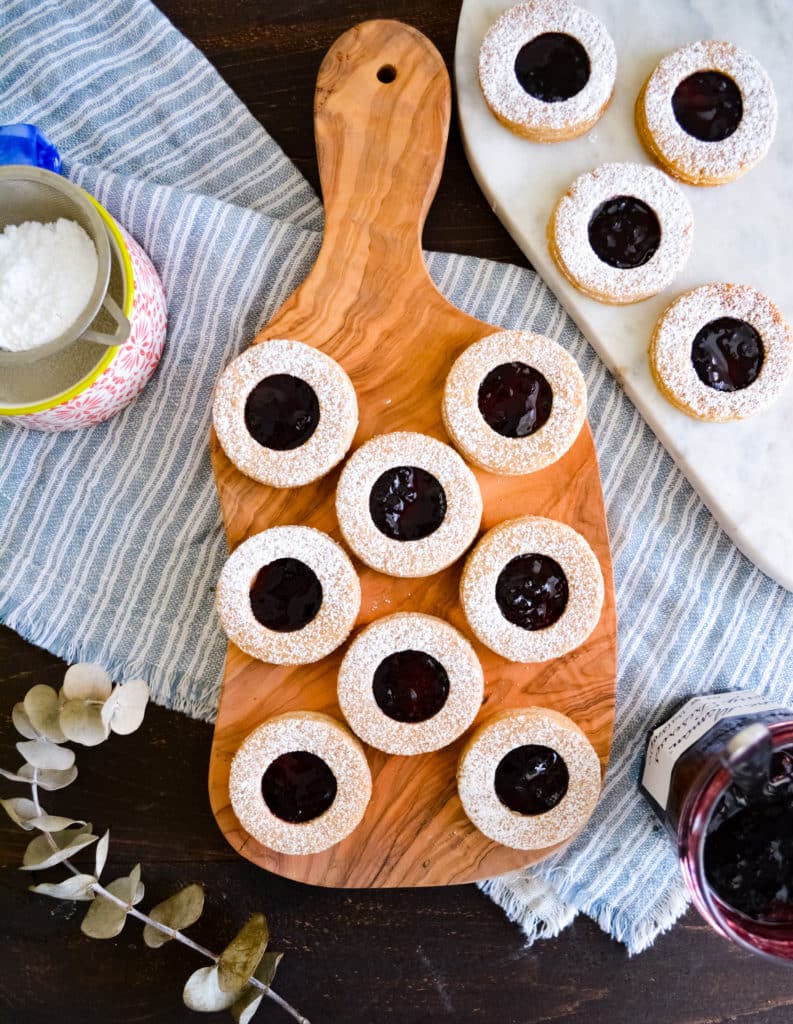 Mixing the Dough
This dough is mixed like a pie crust or sable. The fat is cut in to the dry ingredients, then just enough liquid is added at the end to hold it all together. This method keeps the cookies flaky and tender without the use of baking soda or baking powder. I like to use my hands to mix the dough together. I find its the fastest way. And as every chef will tell you: the best tools you have are your hands.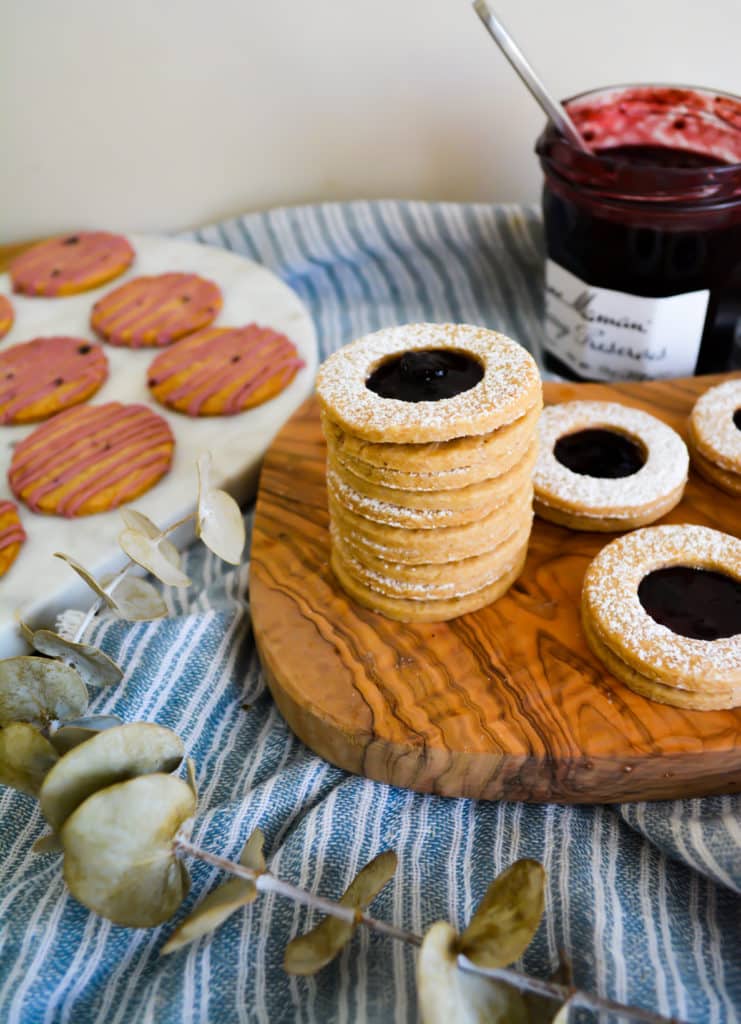 These Five Spice + Blackberry Linzer Cookies are a great gift because they are stackable and hold up in a cookie tin very nicely. These cookies are elegant with minimal effort- my favorite kind of recipe if you couldn't tell by now. And everyone wilL ask about the delightful blend of spiced you used.
Five Spice + Blackberry Linzer Cookies
Ingredients
2 ½

Cups

All Purpose Flour

1

tablespoon

Five Spice Powder

⅔

Cup

Granulated Sugar

12

tablespoon

Earth Balance Buttery Sticks, cold + cubed

¼

Cup

Tofutti Cream Cheese

1

tsp

Vanilla Extract

2-3

tablespoon

Dairy Free Milk

2

tablespoon

Powdered Sugar, for dusting

optional

Blackberry Jam or Preserves, for sandwiching
Instructions
Into a large bowl, combine flour, sugar and five spice powder. Add cubed Earth Balance to the dry ingredients and work the Earth Balance into the flour using a pastry cutter, 2 forks or your hands until the mixture resembles cornmeal.

Add vanilla and the tofutti cream cheese and using your hands, combine well. The mixture will be crumbly.

Add 2 tablespoons of non dairy milk and combine. If the mixture can be pressed together without crumbling, stop here. If not, add the final tablespoon and mix to combine.

Divide the dough into two discs and wrap in plastic wrap. Place in the refrigerator to rest for at least 1 hour.

Remove the dough from the refrigerator for about 20 minutes before rolling out.

Preheat oven to 350* F. Line 2 baking trays with parchment.

Roll dough out on a lightly floured surface to ⅛ of an inch thick. Cut rounds with about 2 ½ - 3 inch round cutter. Place on baking trays. These can be placed pretty close together as these cookies do not spread.

Take a second cutter that is a ½ inch smaller than the first cutter and cut the middle out of all the cookies on one trays. Put the centers into the scrap pile. Mush the scraps together, wrap and refrigerate for at least 30 minutes before re rolling the scrap.

Bake the trays in the 350* oven for 13-16 minutes until they are lightly golden. Remember the tops will take less time.

Let cool on the trays. They will be crisp when they are cool.

Once cool, sprinkle powdered sugar over the cookie tops. (Optional)

Spoon ½ - 1 teaspoon of blackberry jam onto the bottom cookies and top with the cut out cookies. Serve!
Let me know how this recipe works for you and if there is anything you'd like to see me make next!