It is cookie SZN! We bake them to serve at holiday parties, to give as gifts and of course, to leave for Santa during his long night of delivering presents. Oatmeal chocolate chip cookies one of my favorite types of cookies. They are chewy, filled with oat flavor and brown sugar. Put chocolate chips in them and they're arguably the best of all cookies. Since the holidays bring many people together, I decided to make these cookies at allergy friendly as possible. So here we have Gluten Free Oatmeal Chip Cookies.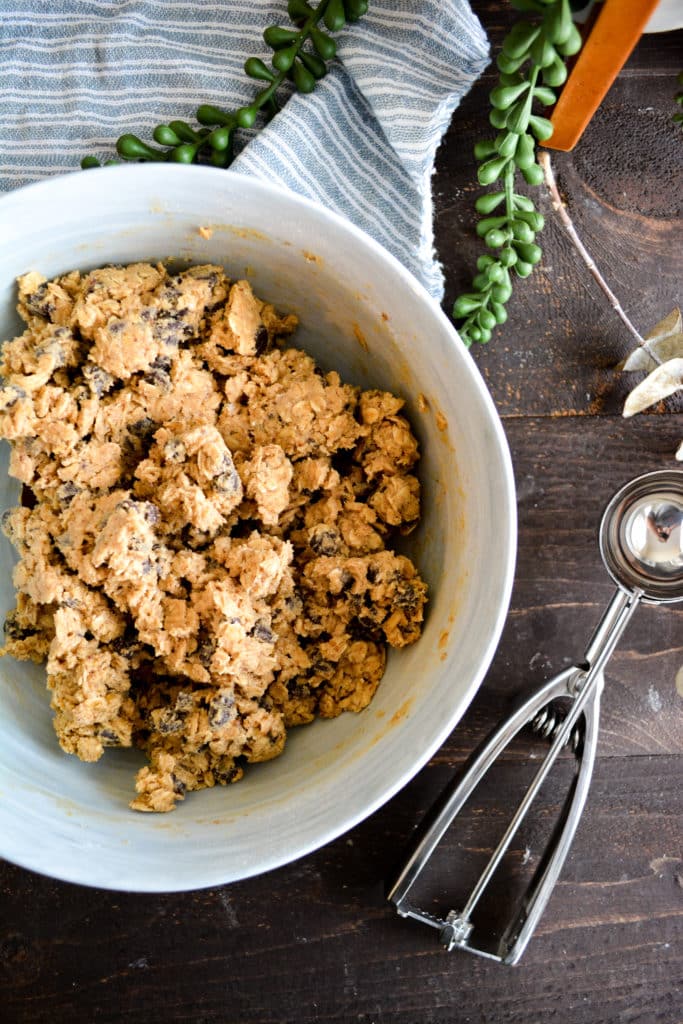 Top 8 Free
These Gluten Free Oatmeal Chip Cookies are perfect to serve at your holiday gatherings because they are Top 8 Free. This means they are free of the 8 most common allergens: dairy, eggs, fish, shellfish, tree nuts, peanut, wheat and soy. Food allergies and sensitivities are very common, and we all have at least someone in our family who needs to avoid one of them. Baking these cookies is a great way to make them feel thought of and included. And they taste amazing!
Gluten Free Flours
This recipe calls for King Arthur Gluten Free All Purpose Flour Blend. I use it because it has a neutral taste and is easy to find in grocery stores nation wide. I can't guarantee results if you use a different flour blend. Thats the hard part about gluten free baking. There are so many blends and flour on the market and none of them bake the same. Thats why I try my best to stick with the Kind Arthur Blend.
Xanthan Gum
Xanthan gum is a crucial ingredient in a lot of gluten free baking. It provides both structure and texture that gluten free flours lack. But, xanthan gum should be used as sparingly as possible because it can get- you guessed it- gummy. I always test my gluten free recipes with multiple times with varying amounts of xanthan gum to see how little I can get away with. This recipe needs just a bit-- an ⅛th of a teaspoon. And thats because we get texture and structure from the oats in this recipe!
Choosing Your Oats
Be sure to use rolled oats in this recipe. Don't substitute quick or instant oats. And, if you are making these for someone with a gluten sensitivity or celiac disease, be sure to choose certified gluten free oats! And also let them know your kitchen has gluten containing items in it if it does. Celiac disease isn't something to be messed around with. I tend to go for Bob's Red Mill oats, but any brand of rolled oats will work here.
These cookies are a crowd pleaser that can be served to everyone in the crowd- a rarity these days. So bake these Gluten Free Oatmeal Chip Cookies up for your family and friends and let everyone enjoy! Happy Holidays!
Gluten Free Oatmeal Chip Cookies
Ingredients
1

Stick

Soy Free Earth Balance Buttery Sticks

Room

¾

Cup

Granulated Sugar

1

tablespoon

Molasses

1

tablespoon

Ground Flax

2

Tbsp

Water

1

teaspoon

Vanilla Extract

¾

Cup

King Arthur Gluten Free All Purpose Flour

⅛

teaspoon

Xanthan Gum

¼

teaspoon

salt

1

teaspoon

cinnamon

¼

teaspoon

Baking Soda

1 ¾

Cups

Gluten Free Rolled Oats

¾

Cups

Chocolate Chips

Coarse Sea Salt, for sprinkling
Instructions
In a small bowl, combine flax, water and vanilla. Stir and set aside.

In a large bowl using a wooden spoon or in the bowl of your stand mixer fitted with the paddle attachment combine the earth balance, sugar and molasses until creamed, scraping the bowl down a couple of times to ensure everything combines evenly.

Add flax mixture and combine well.

Add gluten free flour, salt, cinnamon and xanthan. Stir until well combined.

Add the oats and baking soda and stir until combined.

Add chocolate chips and stir once more until evenly distributed.

Leave cookie dough on the counter to rest for 1 hour.

Preheat oven to 350* F. Line a cookie sheet with parchment.

Scoop dough in about 2 tablespoon mounds leaving 2 inches of space between each cookie. Give the mounds a gentle press down so they are less of a mound and more of a disc.

Sprinkle the tops of the cookies with a sprinkle of coarse sea salt.

Bake in a 350* oven for 13-16 minutes or until the edges are brown and set. Let cool on the cookie sheet for 10 minutes before transferring to a cooling rack.
Let me know how this recipe worked for you and if there is anything you'd like to see me make next!