My mom gifted an instant pot to me a couple of years ago. It was right after I broke my wrist and I couldn't do much cooking or cleaning. So, I pretty much only ate my Lentil Stew that I adapted to cook in an instant pot and this Instant Pot Black Bean Chili.
This chili is incredibly flavorful and the recipe makes a huge batch. I like to take it to work for lunch but you could also transform it into tacos, nachos, put it into a nourish bowl or my personal favorite: make chili cheese fries.
Why Black Beans
Black beans are my second most frequently used bean, just behind queen chickpea. Black Beans are loaded with protein, fiber, iron and lots of B-vitamins, making them a great food to incorporate into meals regularly. I especially love black beans for chili because of their size and texture. Don't substitute any other bean here. And whatever you do, don't use a mixture of beans. The Instant Pot is a great tool, but since all beans cook for a different length of time it doesn't work as well for cooking different beans at once.
The Secret Ingredient: Maseca
Maseca is instant corn flour. I always keep some on hand for making homemade corn tortillas. You would also find something similar to Maseca in those packets of taco or chili seasoning mix. I use Maseca in this recipe to thicken the chili and it also adds a great depth of flavor. A big bag of Maseca is super affordable and can make so many tortillas. If you don't want to use Maseca, dont substitute it with anything. Leave it out completely and use 4.5 cup of vegetable stock as the liquid rather than 5 cups.
Instant Pot Pressure Cooking
There are so many pressure cookers on the market these days. I use mine a lot during the colder months to make chilis, soups and stews. But I use it year round to make beans from dried beans. I usually keep some canned beans on hand as well, but I try to make a big batch of whatever bean I choose each week for easy meal building. As a note: an Instant Pot is what I have so I can't guarantee that this Instant Pot Black Bean Chili will have the same cook time in a different brand of pressure cooker.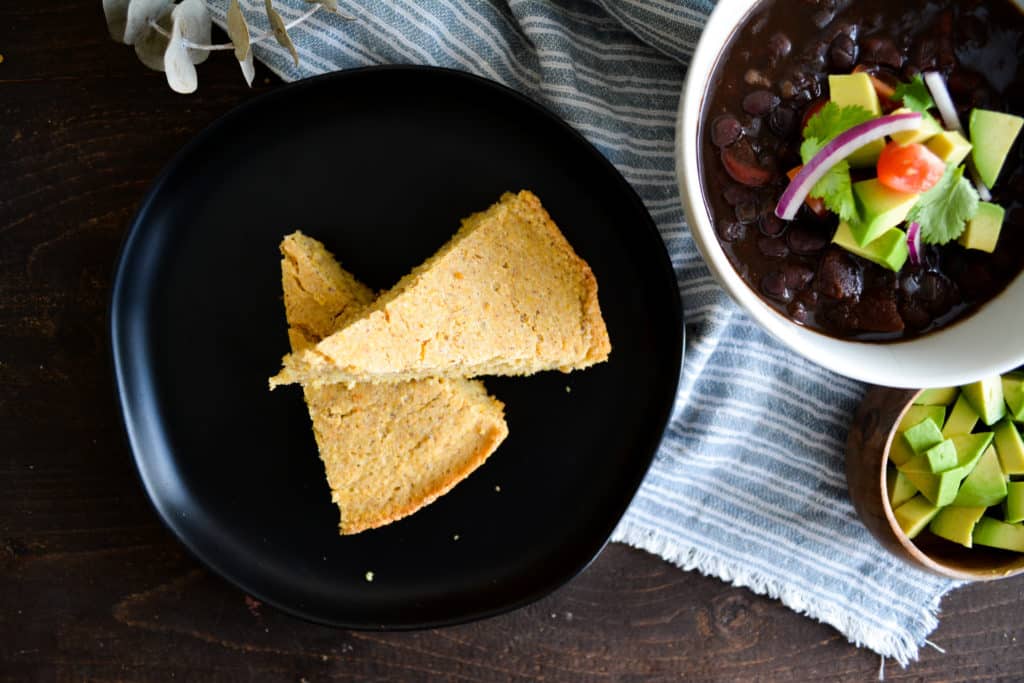 The best part about cooking in an Instant Pot is that its all done in one pot making clean up a breeze. So, break out your knife and cutting board and make this amazingly flavorful Instant Pot Black Bean Chili.
Instant Pot Black Bean Chili
Ingredients
2

Cups

Dried Black Beans, picked through and rinsed

1

Large

Onion, Small Dice

about 2 cups

1

Large

Red Bell Pepper, Small Dice

About 2 Cups

2

Cloves

Garlic, Minced

1

14 oz Can

Diced Tomatoes

2

tablespoon

Tomato Paste

4.5-5

Cups

Vegetable Stock

Use 4.5 cups if you like your chili extra thick. I used 5 cups.

5

teaspoon

Chili Powder

2 ½

teaspoon

Cumin

2 ½

teaspoon

Oregano

Black Pepper

¼

Cup

Maseca
Instructions
Put all ingredients into a 6 or 8 qt instant pot. Stir well.

Secure and lock lid and cook on high pressure for 23 minutes.

When timer goes off, let the chili natural release for 15 minutes.

After 15 minutes, manually release the chili. Remove lid and stir.

The chili will be HOT, so let it cool for at least 20 minutes before serving. The chili will thicken as it cools. Serve with your favorite chili toppings!
Let me know how you liked this recipe and if there is anything you'd like to see me make next!