I did an AMA on Instagram the other day and someone asked me for help with work snacks. So I thought I'd do a round up of not only my homemade plant-based snacks, but of snacks that don't require assembly. And I want to have a good variety of snacks that are shelf stable and snacks that require a fridge because everyones work situation is a little different.
I don't typically have snacks that are just one thing- just a piece of fruit for example- because I'm an active person and that doesn't fill me up. I also don't typically eat veggies as a snack for that same reason. If I'm dipping something in hummus, its probably crackers or pita, not carrots and celery. But tailor these ideas to your need and preferences!
For the recipes for the homemade snacks, just click the headers!
Homemade Snacks
These babies take maybe 15 minutes total to whip up in your food processor and use ingredients you likely have on hand. They are a delicious little bite to keep you going during the day. Store them in your fridge at home, but they will be fine to keep in your desk drawer for a couple days at work.
I love these. They are filled with healthy fat, fiber and protein from all the great seeds and oats. I like to have one of these bars if I need a snack before a workout because they are small but filling and energizing.
You definitely need a fridge for this one! This is a great snack or breakfast that takes 5 minutes to put into a jar the night before work and shake it up! This snack is for you if you crave a sweet (but secretly nourishing) treat mid-day.
No Assembly Required Snacks
Yogurt and granola: a classic combo. My favorite non dairy yogurt is So Delicious Unsweetened Vanilla Coconut Milk Yogurt, but find your favorite! The yogurt aisle in my grocery store has almost the same amount of non dairy options as they do dairy! For granola, I almost always have some homemade granola on hand but my favorite store bought granola is the Kind Healthy Grains Peanut Butter Granola. I'm a peanut butter gal.
Sometimes if I'm, really hungry come snack time, I will chop up a banana a toss it into the mix and top everything off with a spoonful of peanut butter.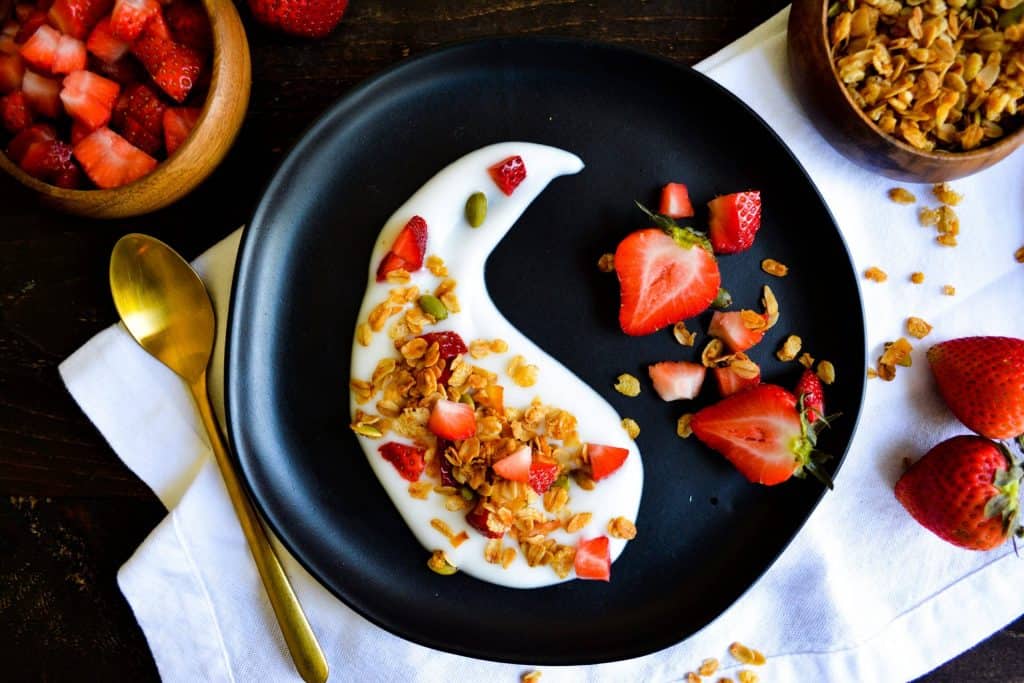 Pita or Crackers and Hummus
Perhaps my favorite snack of all time. My husband and I eat SO much hummus. I like to keep a small container of it to work and keep it in the staff fridge and store some crackers in my desk. My personal favorite crackers are Wheat Thins and Triscuits!
Banana or Apple with Peanut Butter
I eat this snack every single day at work. Its filling, quick and we always have a staff peanut butter jar kicking around. If you don't have a staff peanut butter jar, grab a small one at the grocery store and keep it in your desk.
Protein or Granola Bar
These are something that I don't eat often. I tend to reserve things like this for travel snacks. But I have an absolute favorite brand of protein bar that I feel like no one ever talks about: Nugo Dark bars. The 90s packaging makes them easy to over look, but they taste SO good. My husband says they taste like kudos. Hes right. We buy full boxes of these on amazon to have on hand. My favorite is chocolate pretzel and my husbands favorite is peanut butter cup!
Bagged Popcorn
I also tend to reserve this as a travel snack. This snack doesn't fill me up like the others but is good for the times when I just want something to munch on. I like Skinny Pop brands bes but, most brands of pre popped popcorn that I have seen are vegan (as long as you're not buying the cheddar favor). BUT Skinny Pop does have a vegan white cheddar flavor.
Roasted Edamame or Chickpeas
These are so tasty! I love that they are crunchy, salty and filled with protein. Roasted chickpeas are easier to find for me- I like the salt and vinegar ones by Archer Farms (Targets store brand), but I have some edamame at home right now so thats what I snapped a pic of.
You can get really creative with plant-based snacks at home, but these are my most frequently eaten snacks for work and travel. They are all easily packable, travel well and are either shelf stable or require minimal assembly.
Leave a comment with your favorite plant-based snack so we can all get some more ideas!