Fall is not yet in the air here in Boston. The days have still been in the 80s, and while I'm enjoying the warm weather, I'm also fully into autumn as far as cooking and baking goes. All I want are spiced baked goods, apples + pears, squash and soup. So, today I have a warm and spicy baked good for you: Pumpkin Spice Oatmeal Cream Pies.
I have always loved oatmeal cookies. They are so chewy and lightly spiced with cinnamon and full of big oat flavor. And they're even better when they are filled with spiced cream cheese frosting. These are the Little Debbie snacks of your dreams, but veganized and kicked up a notch.
Speaking of oats, don't substitute rolled oats for any other oat variety in this recipe. They all absorb moisture differently and I think it would negatively impact the cookies. Rolled oats are the most versatile, so I always have them on hand.
I also don't recommend substituting the Tofutti cream cheese with any other variety of non-dairy cream cheese. Tofutti is both widely available and has a nice + neutral flavor. It gives the frosting a nice tangy flavor that complements the spices well.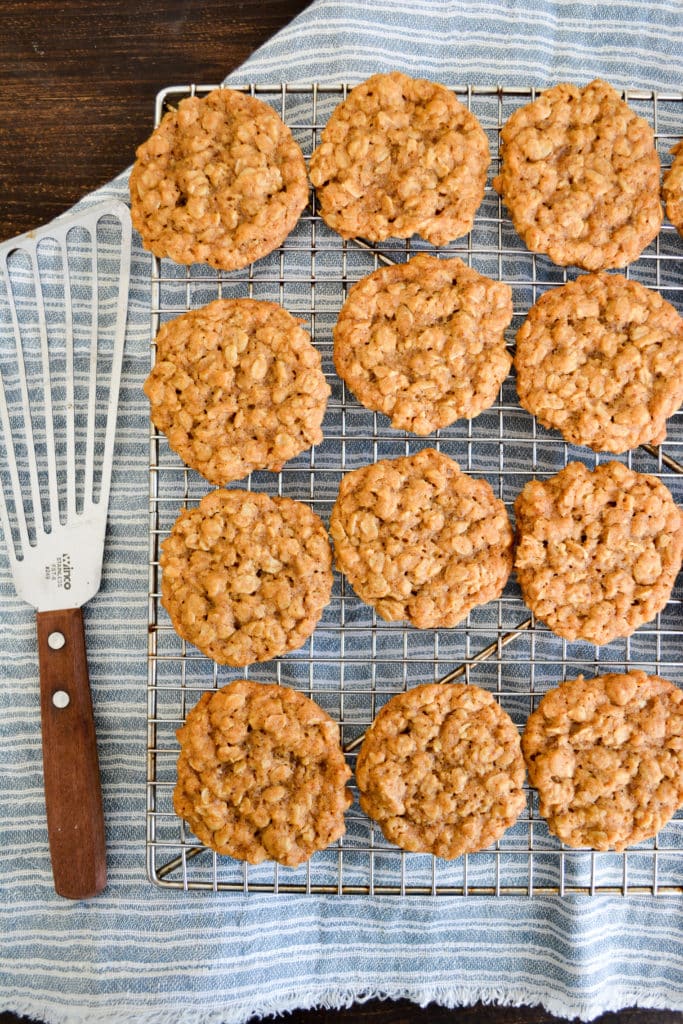 I used a 1 tablespoon cookie scoop to portion the dough out. If you don't have a cookie scoop, just use a 1 tablespoon measure. But try to make the portion of dough as round as you can so they will spread in uniform circles.
Don't forget to keep the frosting refrigerated until you are ready to use or serve it. Cream cheese frosting is generally looser than a regular buttercream so keeping it chilled will help prevent it from sliding around.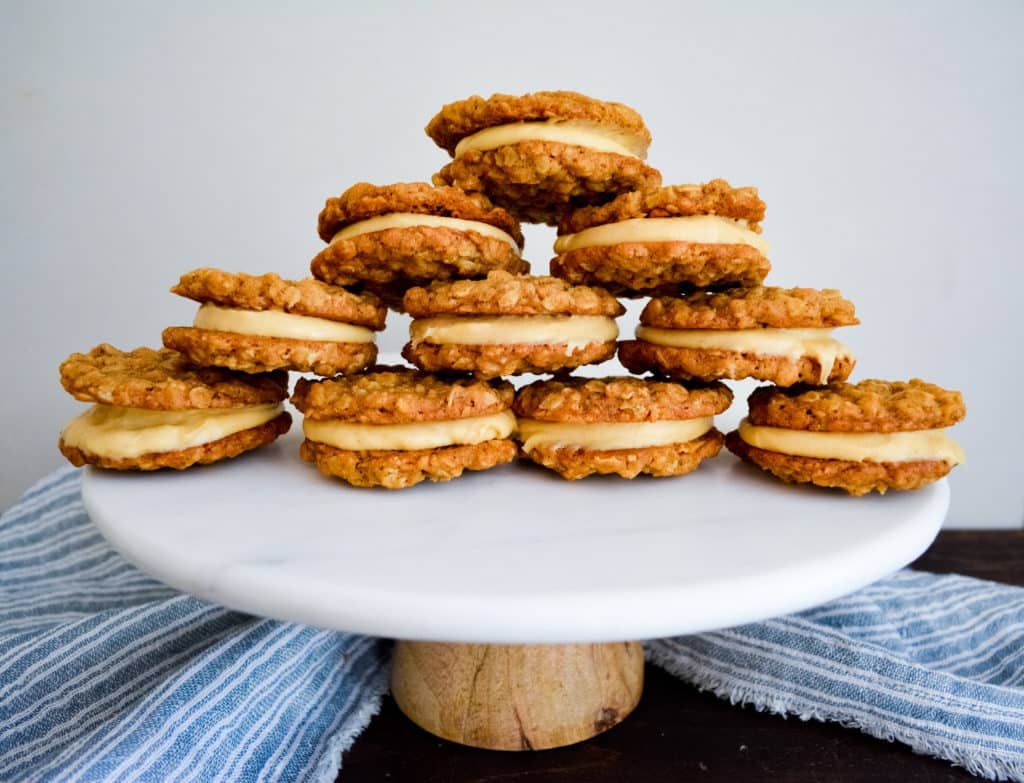 Let's show Little Debbie how its done.
Pumpkin Spice Oatmeal Cream Pies
Ingredients
8

Tbsp

Earth Balance (1 stick), room temp

3/4

Cup

Granulated Sugar

1

Tbsp

Molasses

1

Tbsp

Ground Flax Seed

2

Tbsp

Water

1

tsp

Vanilla

3/4

Cup

All Purpose Flour

1/4

tsp

Salt

1/4

tsp

Baking Soda

1

tsp

Cinnamon

1 1/2

Cups

Rolled Oats
For the Pumpkin Spice Cream Filling
1/3

Cup

Tofutti Plain Cream Cheese, room temp

3

Tbsp

Earth Balance, room temp

1/2

tsp

Cinnamon

1/2

tsp

Ginger

1/8

tsp

Allspice

2

Cups

Powdered Sugar, sifted
Instructions
In a small bowl, combine flax, water and vanilla. Set aside.

In a bowl with a spoon, or in the bowl of your stand mixer fitted with the paddle attachment, cream the Earth Balance, sugar and molasses. Add flax egg and stir to combine.

Add flour, baking soda, salt and cinnamon and fold the batter a couple of times not completely incorporating the flour. Then, add the oats, stirring until everything is well combined. Set cookie dough aside while the oven preheats.

While oven is preheating, mix pumpkin spice cream cheese frosting. In a medium bowl, combine Tofutti and Earth Balance together with a spoon until they are completely combined and smooth. Add spices and stir to combine. Add powdered sugar and stir until smooth. Place the cream cheese frosting in the refrigerator until you are ready to use.

One the oven is preheated, line a baking sheet with parchment. Using a 1 tablespoon cookie scoop, portion cookie dough onto the baking sheet leaving at least 2 inches of space between the cookies. Give the dough balls a gentle press to SLIGHTLY flatten (see photo above).

Bake in a 350* oven for 12-14 minutes, or until the cookies are golden brown around the edges. Remove from the oven and let cool on the cookie sheet for 5 minutes before moving to a cooling rack to cool completely.

Once cookies are completely cool, remove the frosting from the refrigerator and scoop a heaping tablespoon of frosting onto the bottom side of one cookie, topping it with another cookie. Serve soon after filling or return the filled cookie sammies to the refrigerator and remove 10-20 minutes before you are ready to serve.
Let me know how you like this recipe and if there is anything you'd like to see me make next!