Its the beginning of fall in New England and the Autumn produce is already plentiful. I love the versatility of winter squash. It can be sweet or savory, roasted or steamed and mashed. But perhaps my favorite way to use winter squash is this recipe: Roasted Butternut Squash Risotto.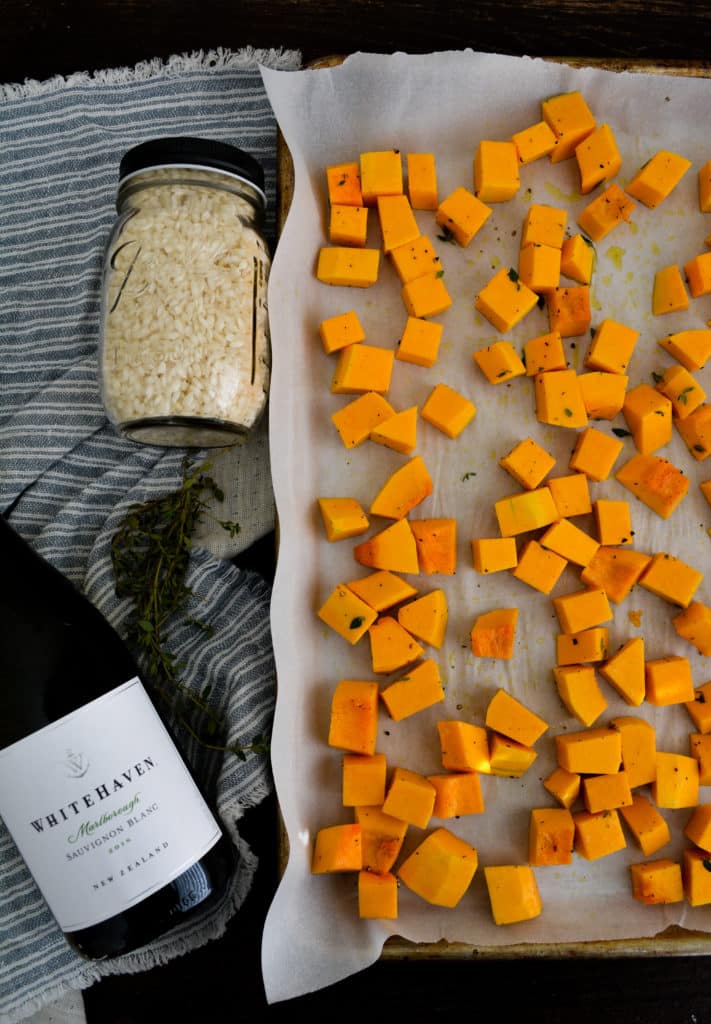 Risotto takes a little more time than most of the recipes I post here. Its great for a date night dinner or as a vegetarian entree for a holiday dinner. While the ingredients are minimal, the important part of risotto making is making sure you get the proper ingredients and the proper technique.
Ingredients
Risotto requires very few ingredients to make. Arborio rice is the most important. Risotto will not work with any other kind of rice. Dry white wine is another crucial ingredient. Use something that you would like to drink. I usually choose a sauvignon blanc from New Zealand. They are light + crisp. Pinot Grigio would work here as well, but don't use anything oaked like chardonnay.
Technique
Risotto is a simple dish, but a little more time consuming than most rice dishes because it requires near constant stirring. After the onion and garlic have become translucent, toast the rice for a couple of minutes. Then deglaze with wine. Now is where the stirring starts. As the warm vegetable stock is added about ½ cup at a time, stir constantly until most of the liquid is absorbed by the rice before adding more. This action is what makes the risotto creamy.
I like to serve this Roasted Butternut Squash Risotto with the leftover wine from cooking and sautéed broccolini. The leftovers keep and heat up really well. Just add a splash of vegetable stock and heat in the microwave of in a pot on the stove. Cheers to date night!
Roasted Butternut Squash Risotto
Ingredients
1

Butternut Squash, peeled and cut into bite sized chunks

about 4 Cups

1

tablespoon

Olive Oil

5

Sprigs

Thyme, Divided

2

Tbsp

Non Dairy Butter

1

Small

Onion, small dice

2

Cloves

Garlic, minced

1 ½

Cups

Arborio Rice

½

Cup

Dry White Wine

6

Cups

Reduced Sodium Vegetable Stock*

Black Pepper

2

tablespoon

Nutritional Yeast
Instructions
Preheat oven to 425*. Onto a sheet pan lined with parchment, combine butternut squash, olive oil, a pinch of salt, plenty of black pepper and the leaves of 3 sprigs of thyme. Roast for 30 minutes, toss the squash to evenly brown and return to the oven for 15 more minutes. The squash should be cooked through and browned.

Pour 6 cups of vegetable stock into a medium sauce pan over low heat to warm.

Meanwhile, melt non dairy butter over medium heat in the botton of a large dutch oven. Sweat the onions until translucent, add garlic and cook for 1 minute longer, until fragerant.

Add arborio rice to the dutch oven and toast the rice for 1-2 minutes. The grains of rice will start to look translucent around the edges.

Add white wine to deglaze the pot, letting the alcohol evaporate for 1 minute. Reduce heat to low. Add a few crack of black pepper.

Add about ½ cup of vegetable stock to the rice mixture. Stir constantly with a wooden spoon until most of the liquid has been absorbed, then add another ½ cup of stock. Continue this process for about 30 minutes or until the rice is cooked. You may not use all of the stock.

Stir in nutritional yeast and the leaves from two sprigs of thyme.

Add squash last, stirring to distribute, then serve.
Notes
* You may not use quite all of the vegetable stock.  This will depend on how fast of a simmer the risotto is cooking on.  In addition, I really like using the Better Than Bullion reduced sodium vegetable stock base.  Its really flavorful and I like being able to just make 1 cup of stock if I need it rather than having a bunch of cardboard containers in my pantry.
Let me know how this recipe worked for you and if there is anything you'd like to see me make next!