January is upon us! And since many people either do the veganuary challenge or want to become vegan or just eat more vegan food, I thought I'd share my favorite vegan products with you. These are specifially products meaning to mimic meat or dairy products. There are so many vegan alternatives out there now a days. And if you are a beginner, it takes a lot of trial and error to wade through everything. So, I thought I'd let you in on The Best Vegan Products I have found thus far.
Best Vegan Dairy Products
Milk
Oatly Oat Milk is my most purchased milk. My husband loves it, it has a slight sweetness, but an overall neutral flavor, making it delicious in coffee and in cereal or oatmeal. I've used it in baking in a pinch too! Oatly might be the best vegan product of them all.
So Delicious Plain Unsweetened Coconut Milk is also something I always keep on hand. I buy this in shelf-stable quart sized boxes and use it for baking or in savory recipes. Because trust me- you don't want to use oat milk in anything savory.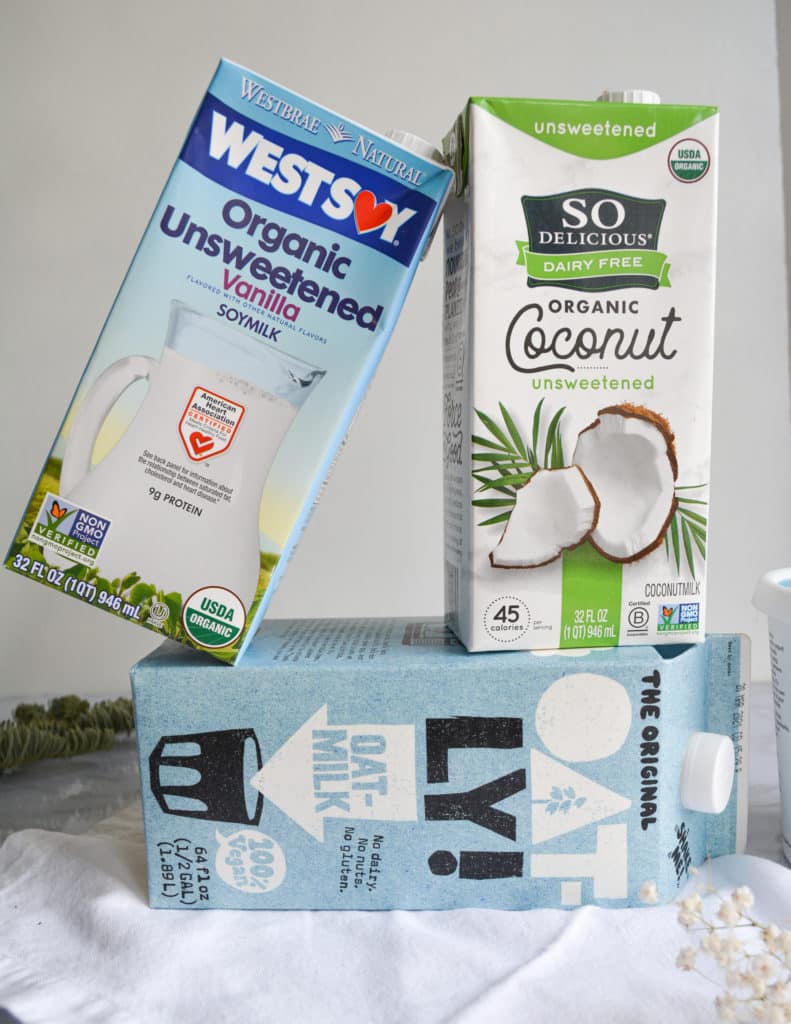 West Soy Soymilk is also something I always have on hand. I purchase it less than the other two because my husband isn't a fan of soymilk, but this stuff is GOOD. Its incredibly creamy and nutritionally its pretty much the same as cows milk. Its the OG vegan milk alternative for a good reason.
Butter
Miyokos Creamery European Style Cultured Vegan Butter is the BEST hands down for spreading on toast or english muffins. The flavor is incredible. Its pretty expensive though, so toast is pretty much all I use it for.
Country Crock Plant Butter Sticks with avocado oil are great for baking. The flavor is nice and they are easy to work with. What more do you need?
Earth Balance Soy-Free Buttery Sticks are also great for baking. I alternate between these and Country Crock sticks because my store is always out of one or the other. These are an OG vegan product that has been around for ages. And they have never failed me. I do prefer the soy-free sticks though. I think the flavor of them is more neutral.
Yogurt
So Delicious Coconut Milk Unsweetened Plain is my most used yogurt. The flavor is most like how I remember dairy yogurt. And its great in baking. Although, its more like a skim milk yogurt rather than a creamy fattier yogurt
Forager Project Plain Unsweetened Yogurt is what I buy if I want something a little creamier. Its super tasty, tangy and perfect topped with fruit, granola and a drizzle of maple syrup. Its great in baking, too!
Cheese
Vegan cheese is pretty contentious. There are so many options out there and no one can seem to agree on which is the best vegan cheese product. I don't use much vegan cheese, as you've probably noticed by my recipes. But when I do, I reach for Follow Your Heart Parmesean to sprinkle on top of pasta or pizza. It tastes just like parmesean to me, its pretty affordable and accessible and it stays fresh forever.
I also like Field Roast Chao Slices in every single flavor. They are creamy and so tasty on a sandwich, to make a grilled cheese with or to eat as cheese and crackers.
Cream Cheese
This probably could have gone into the cheese category, but I don't know, cream cheese just feels like its another thing entirely. My favorite cream cheese is also fairy new to me: Violife Just Like Cream Cheese. Its creamy, delicious and perfect on bagels or to make a cream cheese frosting with.
Best Vegan Egg Alternative
Just Egg is the best vegan egg product. For scrambled eggs I typically make a simple tofu scramble, but just egg is great for french toast and to make an easy bread pudding.
Best Vegan Condiments
Follow Your Heart Vegan Ranch is amazing on anything. Its creamy, and tastes just like any other bottled ranch you are used to. I love to put this stuff on my Buffalo Cauliflower Rice and Black Bean Burrito or on my Buffalo Ranch Chickpea Wrap.
And Hellmanns Vegan is my favorite mayo. I love to make Chickpea Salad with it, spread it on sandwiches or on burger buns. Its a little easier to find than Follow Your Heart Veganaise, too.
Best Vegan Meat Products
My most purchased and, in my opinion, the best vegan meat product is Beyond Meat Hot Italian Sausage. They taste exactly like Italian sausage and are fatty and full of flavor. I make Rigatoni with Sausage and Broccolini pretty much every other week.
I also like to Gardein Chicken Strips to keep just in the freezer for quick meals. They are crispy and delicious and pair well with anything!