Have you ever heard that you should never mix water and chocolate? Its a good rule in general, but every rule has exceptions. It is true that water and chocolate don't want to be combined. This is because chocolate is mostly fat and fat doesn't like to be combined with water. But today, we're pouring some water into chocolate, and breaking this food rule to create a One Ingredient Chocolate Mousse.
Chocolate Mousse is the ultimate chocolate dessert. But, its quite involved. And the traditional version relies on a lot of heavy cream, egg yolks and meringue, which are all ingredients I don't use.
So, I decided I wanted to make a vegan version of chocolate mousse and was brainstorming ways to do it. And then I remembered years ago, I heard you could make mousse with chocolate and water, so I set out to perfect that.
Basically, this One Ingredient Chocolate Mousse is a whipped ganache. But instead of heavy cream or coconut milk, the liquid in the ganache is water. And thats great because it lets the flavor of the chocolate come through unadulterated. Fat mutes flavors, you see. But here the chocolate doesn't have to cut through coconut milk or plant butter or anything. The flavor is pure chocolate.
One Ingredient Chocolate Mousse Method
So, to make the ganache for this One Ingredient Chocolate Mousse, I use a double boiler. This helps melt the chocolate nice and slowly and helps protect it from burning. To do this, simply place a heat safe bowl over a just barely simmering double boiler. Then add the chocolate chips. Then, add hot water over the chocolate chips and whisk away. It will look like the ganache doesn't want to come together at first. And thats because it doesn't. Its take a bit of whisking to force the emulsion to happen, so don't give up!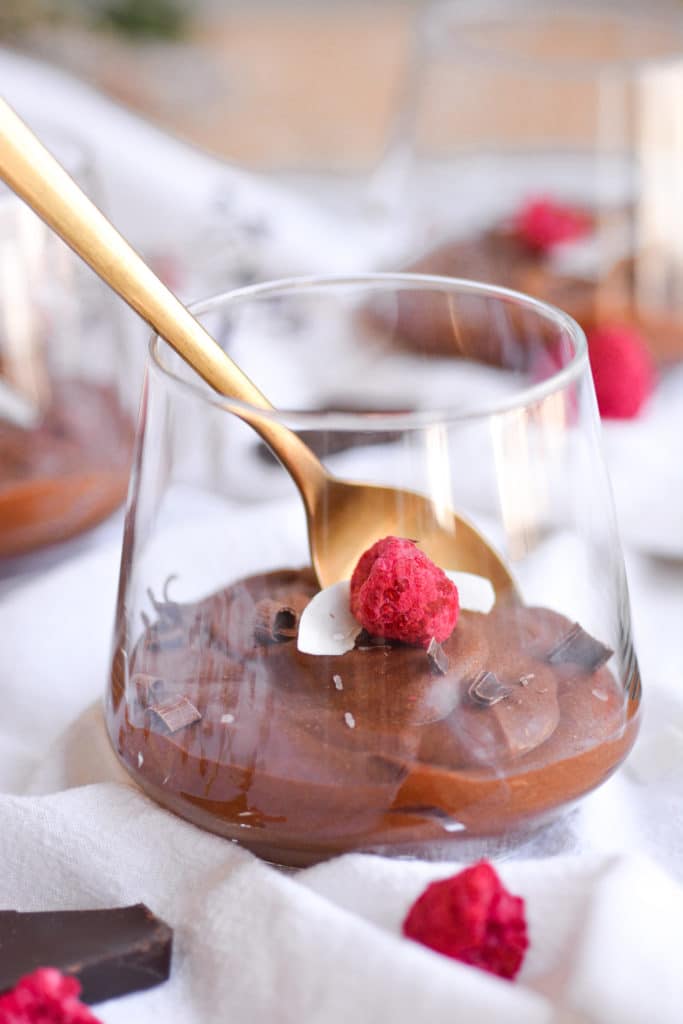 Then remove the ganache from the heat at let it sit at room temperature for about 30 minutes. Its should feel like its room temperature to the touch and it should be noticeably thicker- like a greek yogurt consistency.
Then, add the ganache into your mixer fitted with the whip attachment and whip the ganache up until its light and airy, divide into jars and thats it! This One Ingredients Chocolate Mousse will stay nice, light and soft even after it has been in the refrigerator for hours, so you can make it ahead of time- up to 3 days!
This One Ingredient Chocolate Mousse will work with whatever chocolate you like, but make sure its high quality. Chocolate is the only ingredient in this recipe, so make sure the one you use tastes great! I used semi-sweet vegan chocolate chips for mine.
📖 Recipe
One Ingredient Chocolate Mousse
Ingredients
8

oz

High Quality Chocolate (I recommend semi-sweet or dark chocolate)

If using chocolate chips this is about 1 ⅓ cups

½

Cup

Hot Water

Just as hot as your sink gets

Toppings: Flakey Sea Salt, Shaved Chocolate

optional
Instructions
Set Up a double boiler. Put an inch of water into a sauce pan and place that on a burner over low heat. Place a heat proof bowl on top of the sauce pan.

Into the bowl, add chocolate and water. Whisk to combine as the chocolate melts. The mixture will not want to come together, so this takes about 3 minutes of whisking.

Remove from heat as soon as all the chocolate is melted. Remove the bowl from the double boiler and allow to sit at room temperature for about 30 minutes or until the mixture is room temperature and has thickened to about the consistency of greek yogurt.

Scoop the chocolate mixture into the bowl of a stand mixer fitted with the whisk attachment. Whip the mixture on high speed for 2-3 minutes until it has lightened in color and texture.

Portion into small cups and serve immediately or cover place into the fridge and serve within 3 days.

Top with flakey sea salt or other toppings of choice.