Sheet pan dinners are an essential part of a weeknight dinner rotation. While they may take longer time-wise, the prep is fast and the oven does the rest. There are also endless possibilities. This Spiced Cauliflower and Sweet Potato Sheet Pan Dinner is no exception.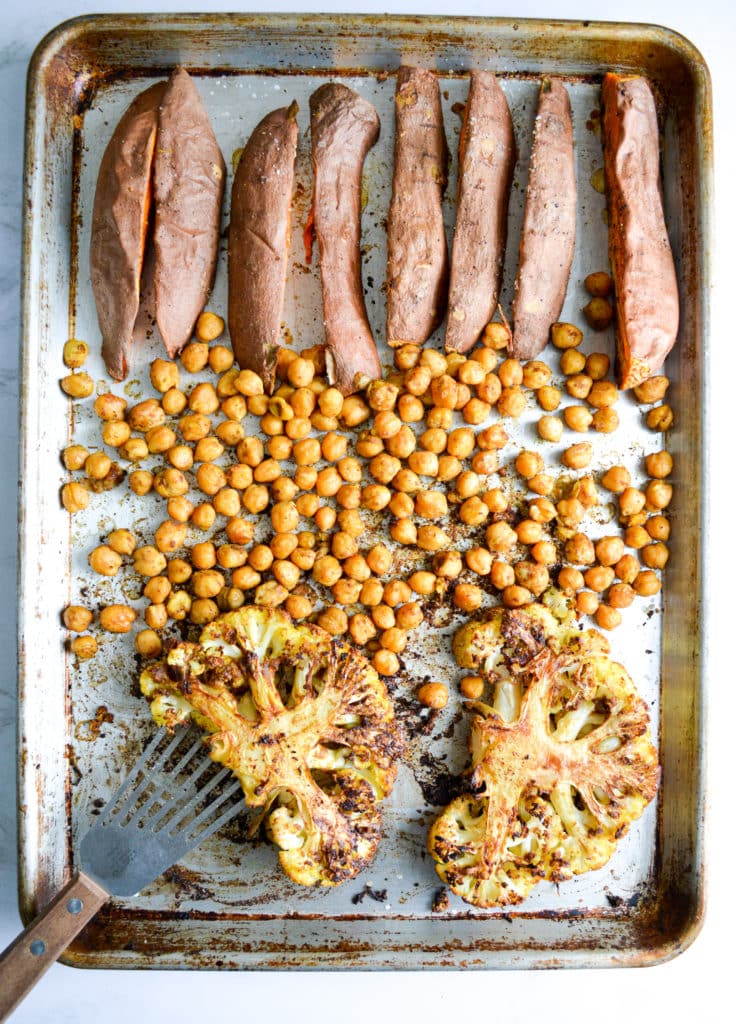 How to Cut and Use Cauliflower Steaks
Cauliflower Steaks are one of my favorite ways to eat cauliflower. They are incredibly versatile. Cauliflower steaks can be sautéd, grilled, or roasted. They are essentially a blank canvas for any flavor you like. Today I used a moroccan spice blend called Ras el Hanout.
To cut the cauliflower steaks, trim the leaves and stem from the cauliflower head. Cut straight down the center of the cauliflower through the stem. Then, cut a parallel cut to create an approximately 1" thick "steak".
About Ras El Hanout
If you have been around for a while, then you know I love Ras el Hanout. The combination of warm spices is out of this world. And its incredibly flavorful, which is important because cauliflower needs a lot of flavor.
Ras el Hanout is made of spices that most home cooks keep around, so I will leave a blend that I like to use in the recipe notes. But, you can use a store bought blend if you like.
Simple Two Ingredient Sauce
The sauce for this recipe is also so easy. Its simple a mixture of hummus and harissa, which when combined create a slightly spicy and smoky creamy sauce. The perfect compliment for a roasted sheet pan dinner. This is the brand of Harissa I have been using lately. This meal would also be amazing with tahini sauce if you prefer. I mean, tahini sauce is basically amazing on everything.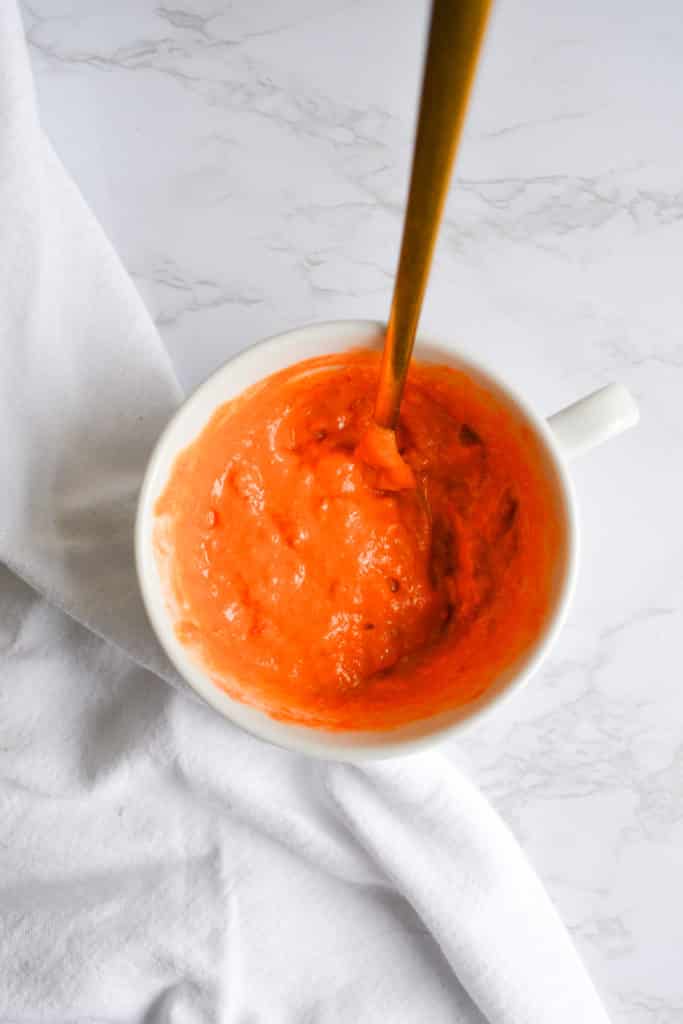 This Spiced Cauliflower and Sweet Potato Sheet Pan Dinner has layers of flavor but required minimal effort. I have been absolutely loving it lately. This recipe is sure to break into you weeknight dinner rotation!
📖 Recipe
Spiced Cauliflower and Sweet Potato Sheet Pan Dinner
Ingredients
2

1"

Cauliflower Steaks

1 ½

tablespoon

Ras El Hanout

See recipe notes for Ras el Hanout blend

3

tablespoon

Olive Oil, divided

1

tablespoon

Lemon Juice

2

Medium

Sweet Potatoes, quartered long ways

see pictures for reference

1

Can

Chickpeas, Drained and Rinsed

Salt and Pepper to Taste
For the Harissa Hummus
2

tablespoon

Harissa

I used Mina Harissa

¼

Cup

Hummus
Instructions
Preheat oven to 425* F. Spray a baking sheet with nonstick spray.

First prepare the sweet potatoes. Place the potato spears on the sheet tray. Drizzle the potatoes with 1 tablespoon of olive oil, then speason with a big pinch of salt and pepper. Toss to evenly coat. Line the potato spears along one end of the tray, evenly spacing them.

Into a medium bowl, combine ras el hanout, the remaining 2 tablespoon olive oil and lemon juice. Mix to combine.

Brush the ras el hanout mixture onto the cauliflower steaks, leaving about 1 tablespoon of the mixture in the bottom of the bowl to season the chickpeas. Season the cauliflower steaks with salt and pepper.

Place the sheet pan into the 425* oven for 30 minutes.

Meanwhile, add the drained and rinsed chickpeas into the bowl with the remaining Ras El Hanout mixture and toss to coat.

After 30 minutes have elapsed, remove the sheet pan rem the oven. Flip the cauliflower steaks and sweet potatoes and add the chickpeas onto the sheet pan.

Return the pan to the oven for 15 minutes longer.

Mix the harissa and hummus together to create the sauce. Spread a big dollop of sauce onto the bottom of each plate.

Remove the sheet pan from the oven after the 15 minutes have elapsed and plate everything up! Enjoy!
Notes
To make your own Ras el Hanout blend, combine: 1 teaspoon ground cumin, 1 teaspoon ground ginger, ½ teaspoon ground cinnamon, ½ teaspoon ground coriander, ½ teaspoon ground allspice, ½ teaspoon garlic powder, ¼ teaspoon ground cloves, + ¼ teaspoon turmeric.
Let me know how you like this recipe and if there is anything you'd like to see me make next!