These Buffalo Chickpea Burgers are the best. The buffalo chickpea patty is gluten free and made with wholesome ingredients.
The Super Bowl is coming! To be honest, I'm not a football person. I grew up watching a lot of basketball. And in comparison, football is so slow. And its not because I don't know whats going on. I know all the rules and what the positions do, but I just cant watch a 3 hour game. 2 hour basketball games are quite enough. BUT, I'm sure that some of you are planning on watching the Super Bowl, so I wanted to make a special recipe for you. Plus, you are bound to get hungry during a 3 hour football game. And whats better than a veggie burger? Specifically, Buffalo Chickpea Burgers. The perfect game day food.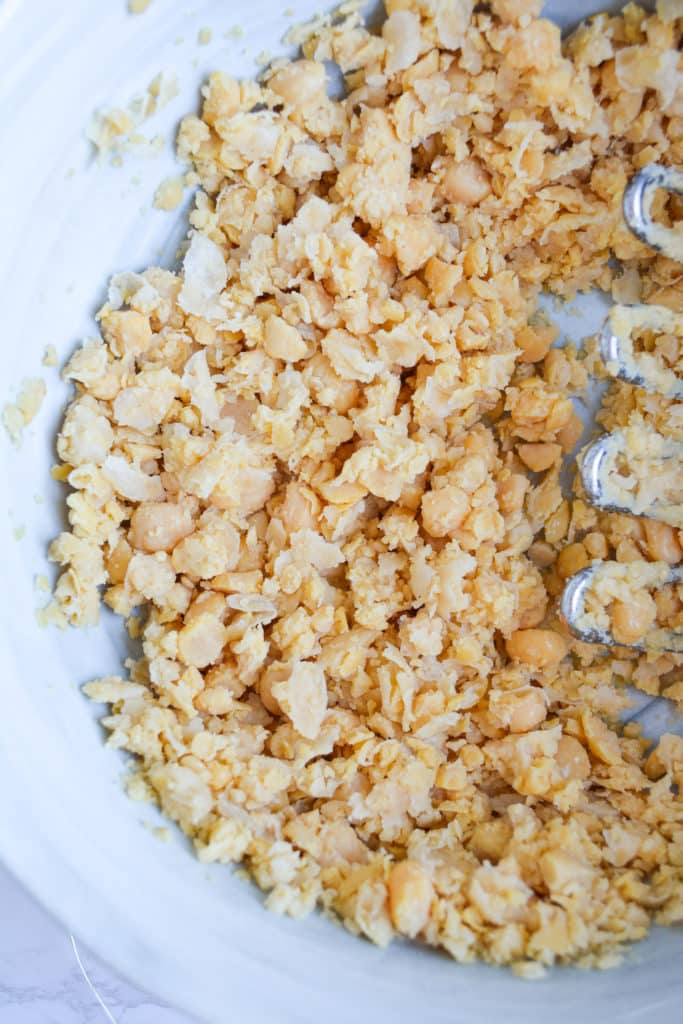 There are two categories of veggie burgers. The first kind is basically lab made meat. Like Beyond Meat and Impossible Foods burgers. They are both great. But, I don't buy them often. My most purchased imitation meat is Beyond Meat Hot Italian Sausage, by far.
The second type of veggie burger is the old school burger that is clearly made from beans, grains and veggies, like this Buffalo Chickpea Burger. I love this type of veggie burger. But, I only eat them at home because I got the worst food poisoning of my life from eating one at a restaurant. And it was the day after I broke my arm. It was a good weekend. So, now I make my own veggie burgers at home with my metal wrist.
It has been a while since I made a new burger recipe. And I've been on a buffalo everything kick lately. So, I knew I had to make a Buffalo Chickpea Burger.
Making Flavorful Buffalo Chickpea Burgers
Veggie Burgers need a lot of flavoring. For this Buffalo Chickpea Burger we sauté onion, garlic and spices to create a really flavorful chickpea patty. Then, the addition of Franks Red Hot Wing Sauce really kicks it up.
Franks Red Hot Wing Sauce isn't that spicy. I'd say its in between mild and medium. And, once the Buffalo Chickpea Burger is on a bun with all the fix-ins, its definitely mild. But its still really flavorful. If you cant find this specific brand, any brand should work. Or, you can even make your own! I'm just lazy.
I chose Maseca brand masa harina to bind these Buffalo Chickpea Burgers. It keeps them gluten-free, and the flavor of masa harina is delicious. It has a mild sweetness and corn flavor that pairs nicely with the spicy buffalo flavor.
I like to pile these Buffalo Chickpea Burgers high with veggies, mashed avocado and mustard. But, they would also be great topped with guac, ranch dressing or an extra drizzle of buffalo sauce if you're feeling wild.
You can form the buffalo chickpea patties 2 days ahead of time and refrigerate them. Then, when you're ready to eat, pop them in the oven.
Buffalo Chickpea Veggie Burgers
These Buffalo Chickpea Burgers are the best. The buffalo chickpea patty is gluten free and made with wholesome ingredients.
Ingredients
1

15oz

Can of Chickpeas, drained and rinsed

2

teaspoon

Extra Virgin Olive Oil

1

Medium

Onion, small dice

about 1 cup

2

large

Cloves of Garlic, minced

1

teaspoon

Paprika

Pinch

of Kosher Salt

Black Pepper to Taste

⅓

Cup

Franks Red Hot Buffalo Sauce

¼

Cup

Masa Harina

I like the brand Maseca
Instructions
Preheat oven to 425*. Line a baking tray with parchment.

In a medium skillet over medium heat, sauté onion in olive oil until its soft, about 5 minutes. Add salt, pepper and paprika and continue cooking to 1 minute.

Add minced garlic and cook for one minute more.

Add buffalo sauce and immediately remove from heat. Stir well.

Place the chickpeas in a mixing bowl and mash with a potato masher until most of the chickpeas are broken up. See photo above for reference.

Add the onion and buffalo mixture into the mashed chickpeas and stir well.

Add masa harina into the bowl and stir well. The mixture should be moist but you should be able to form it with your hands without it sticking too badly. If your dough is too sticky, add more masa harina 1 tablespoon at a time until you are able to work with it.

Divide the burger dough into 6 equal portions, then form them into burgers with your hands.

Place onto a parchment lined baking stray and bake for 30 minutes, stopping after 15 minutes to flip the burgers so they get brown on both sides.
Let me know how you like this recipe and if there is anything you'd like to see me make next!