Its already cold in Boston, so I'm gravitating towards warm, comforting meals. Especially for dinner. I've been making lentil stew, chili, soup, polenta (coming soon!), and this Farrotto with Peas and Arugula.
If you don't know what Farrotto is, its very similat to risotto, but its made with farro rather than arborio rice. So, its a creamy grain dish made with aromatics, a bit of wine, and vegetable stock that is stirred frequently while cooking to create a creamy sauce. Its a blank canvas for anything you want to add in!
What is Farro
Farro is a variety of wheat that is used most frequently in Italy. It is a whole grain, so its loaded with flavor, protein and fiber. Farro comes in 3 varieties: pearled, semi-pearled and whole. I used pearled here for 2 reasons. First, is that whole farro takes about an hour to cook! Second, is that pearled farro is what most grocery stores have.
But, pearled farro v whole farro is not like white rice v brown rice. Pearled farro still boasts most of the nutrients, protein and fiber, but it cooks in half the time. To know whether its pearled or not, it will say either on the front of the package, or on the ingredient label.
You can use farro in place of grains like wheat berries, spelt, and barley in recipes. It makes a great grain salad and a hearty addition to soups.
Cooking Method
We will cook this Farrotto with Peas and Arugula using the same method you we use to make risotto. First sweat the onions, then toast the farro. Next, deglaze with a touch of white wine. Then add a ⅓-3/4 cup of stock at a time. Stir frequently and allow that stock to be mostly absorbed before adding more. The farro takes about 25 minutes to cook, so start tasting for doneness around then. And don't think the Farrotto will be done when your stock is gone because you may have stock leftover.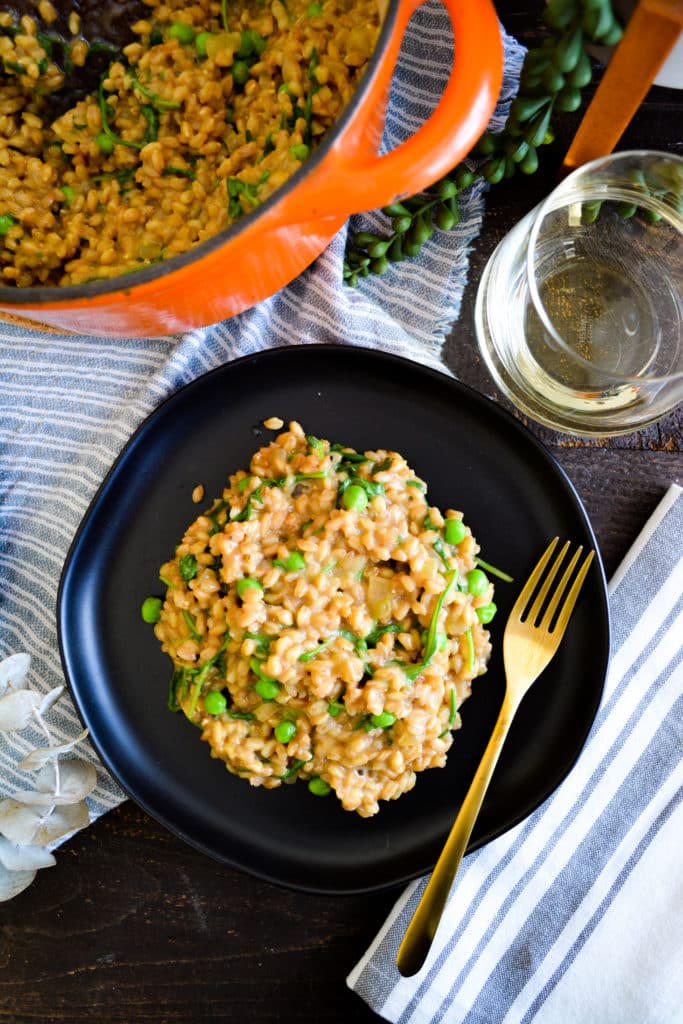 This Farrotto with Peas and Arugula also keeps really well. Simply heat in a pot on the stove top with a little extra liquid to get the correct consistency and stir until its heated through.
📖 Recipe
Farrotto with Peas and Arugula
Ingredients
1

tablespoon

Olive Oil

½

Large

Onion, small dice

1

Large Clove

Garlic, minced

1 ½

Cups

Pearled Farro, rinsed

2

Sprigs

Fresh Thyme

Or a pinch of dried

⅓

Cup

Dry White Wine

Or additional veg stock if you prefer to cook without wine

4

Cups

Lower Sodium Veg Stock

I use Better Than Bullion!

2

tablespoon

Nutritional Yeast

Black Pepper to taste

½

Cup

Frozen Green Peas

2

Handfuls

Arugula

About 2 cups
Instructions
In a 5 Qt. Dutch oven over medium heat, combine onion and olive oil. Sweat the onions until they are translucent, about 4-5 minutes. Add garlic and cook until fragrant, 1 minute.

Add farro into the pot to toast, stirring frequently. 2 minutes

Add white wine and stir until most of the wine is evaporated. Add thyme sprigs.

Add ½- ¾ cup of stock to the pot, stirring frequently until the stock is mostly absorbed. Adjust heat as needed to keep the liquid at a simmer.

Continue stirring and adding ½-3/4 cup of stock at a time while stirring frequently until farro is cooked through. About 25 minutes. You may have a bit of leftover stock.

Once farro is cooked, remove the thyme stems. Stir in nutritional yeast, and remove from heat.

Add peas and arugula and stir allowing arugula to wilt and the peas to defrost.
Let me know how you like this recipe and if there is anything you want me to make next!