Sweet potatoes are one of my favorite fall + winter foods. They are incredibly versatile, stay fresh forever, and are inexpensive. I love pairing sweet potatoes with smoky and spicy spices to balance their natural sweetness. These Sheet Pan Breakfast Sweet Potatoes are the perfect example of just that.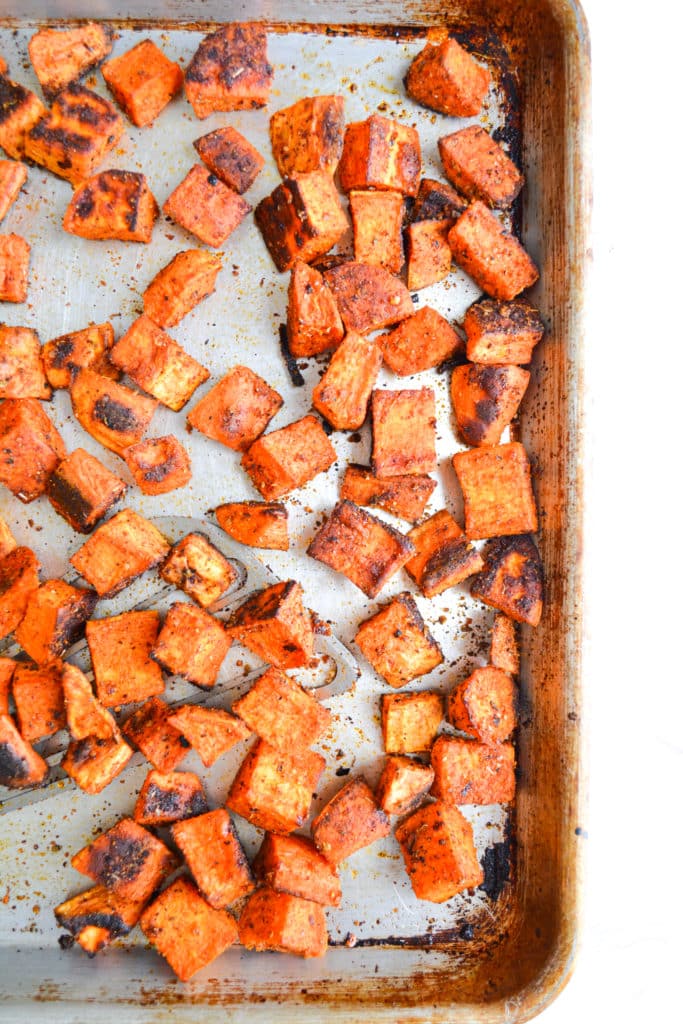 On the weekends I love making a more elaborate brunch. A solid tofu scramble, tempeh bacon, Breakfast Sweet Potatoes topped with sliced avocado is a brunch lovers dream. And these Sweet Potatoes are just the ticket.
Spicing Up the Sweet Potatoes
To give the Sheet Pan Breakfast Sweet Potatoes big flavor, I used garlic and onion powder along with paprika, oregano and chili flake. And plenty of salt and pepper of course. The spices adhere to the potatoes and create a crispy crust when roasted at a high temperature. Sweet potatoes can absorb a lot of flavor, so we're using a pretty heavy hand with the spices.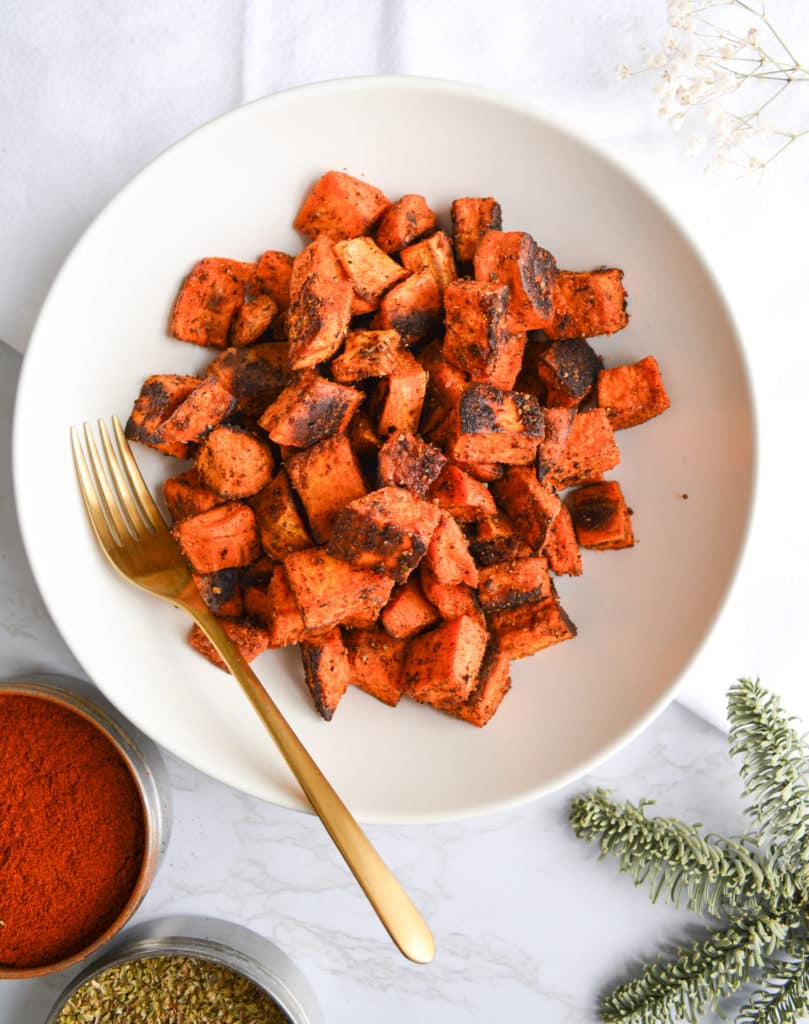 Crispy Roasting Tips
To ensure that these Sheet Pan Breakfast Sweet Potatoes are crispy I have three tips. First, is don't skimp on the oil. The oil helps to adhere the spices to the potatoes and to crisp the potatoes up. Without oil, these potatoes will be chewy and bland.
Second, is roast the breakfast sweet potatoes on an unlined sheet pan. Direct contact with the metal sheet pan will help make the potatoes nice and crisp. Parchment paper will absorb some of the oil and create steam. And a silicone baking liner will create too much of a barrier. My favorite sheet pans are Nordic Ware. They are heavy and incredibly durable.
My third tip is don't crowd the sheet pan! This recipe can be easily doubled, but bake it on two trays. Its crucial to leave space between the potatoes as they roast. When things are too close together, they end up steaming each other. So, give these Breakfast Sweet Potatoes plenty of space and you will be rewarded with nice crispy potatoes.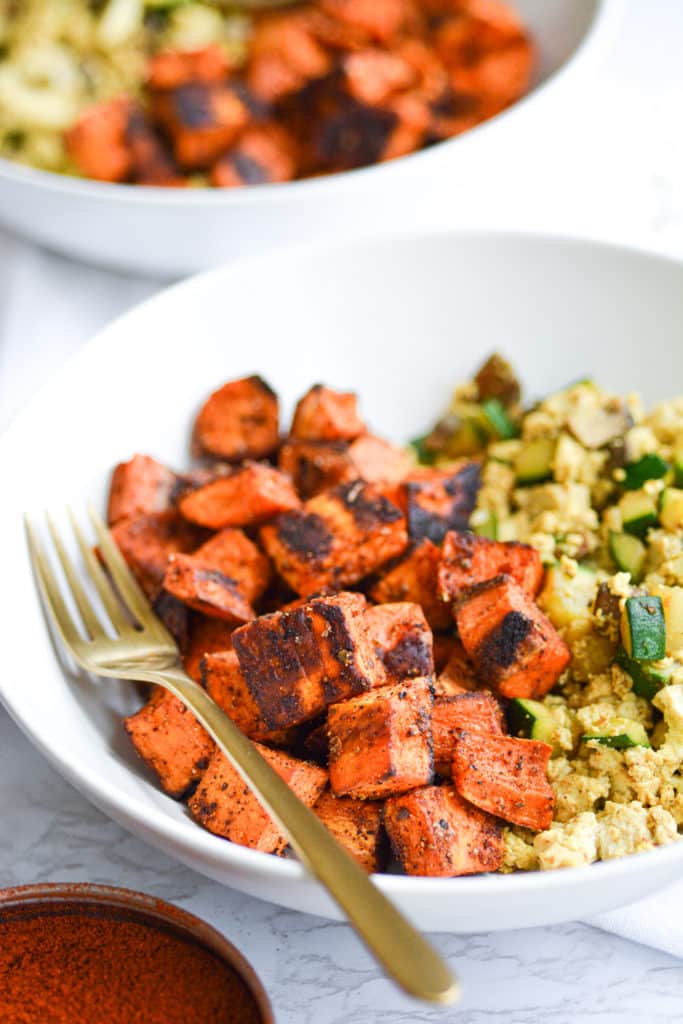 I like to serve these Sheet Pan Breakfast Sweet Potatoes with a side of tofu scramble as a brunch, but they would also be an amazing dinner side dish!
📖 Recipe
Sheet Pan Breakfast Sweet Potatoes
Ingredients
2

Medium

Sweet Potatoes, diced into ¾" cubes

This is about 4 cups diced potato

2

tablespoon

Extra Virgin Olive Oil

½

teaspoon

Dried Oregano

1

teaspoon

Paprika

¾

teaspoon

Garlic Powder

¾

teaspoon

Onion Powder

Pinch

Crushed Red Pepper

½

teaspoon

Kosher Salt

Black Pepper to Taste
Instructions
Place cubes sweet potatoes onto an unlined sheet tray.

Add oil, oregano, paprika, garlic powder, onion powder, crushed red pepper, salt and pepper to the potatoes. Using your hands, toss the potatoes until they are evenly coated in the oil and spices.

Place the potatoes into the oven for 30 minutes, stopping to toss the potatoes after 15 minutes.
Let me know how you like this recipe and if there is anything you'd like to see me make next!