There are so many non-dairy butters on the market right now. So, about a month ago I decided to snag some of the new Country Crock Plant Butter Sticks to give them a try. They come in 3 varieties: Avocado Oil, Olive Oil + Almond Oil. I chose the avocado oil and it is SO good. Earth Balance Buttery Sticks will still be what I use to bake and make buttercream with, but for cooking and spreading on toast I think I will make the switch to Country Crock Plant Butter.
In fact, I like it so much that I wanted to make a recipe that features it. So, I made this sheet pan meal for you: Garlic Butter Cauliflower Steaks + Balsamic Veggies.
I'm a big cauliflower fan. Especially roasted. I intended to make this recipe as a whole roasted cauliflower, but I had a hard time getting enough favor into the center of the cauli, so I settled on cauliflower steaks and it was an instant winner.
How to Make Cauliflower Steaks
To make cauliflower steaks, wash and pat the cauliflower dry, then trim the leaves off. If the stem/core protrudes, trim it so it is flush with the bottom of the cauliflower. Do not remove the core. Then slice the cauliflower in half through the center of the core. The take each half and slice parallel to the core to make about a 1" cauliflower steak. The side will fall off and break into pieces but the core will hold the steak together. You will only be able to get 2 steaks from 1 cauliflower.
Use the remaining cauliflower in your next stir fry or make a batch of my extra crispy Buffalo Cauliflower Wings or Buffalo Cauliflower Mac! Or if you really wanted to you could make this recipe with cauliflower florets, I just love the way cauliflower steaks look.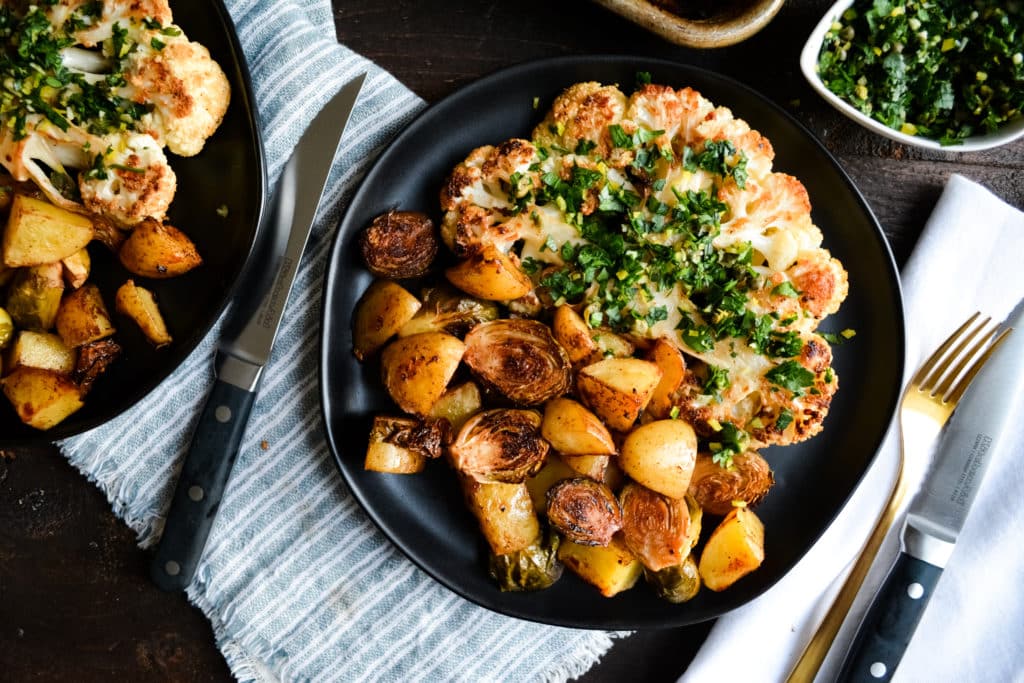 What is Gremolata?
Gremolata is an Italian condiment made of parsley, lemon zest and fresh garlic. Everything is chopped finely chopped and sprinkled over finished dishes. Be sure to sprinkle the Gremolata on when everything is hot because this will release the flavor. I added capers to this Gremolata which isn't traditional, but I wanted some brininess! The Gremolata adds a big hit of flavor and brightness to this roast + buttery dish. If you don't want to make the Gremolata, finish the dish with a sprinkle of fresh parsley + a squeeze of lemon.
If you have Gremolata left over, its great on any roasted veggie + its incredible on avocado toast! Without further ado, here is your deceptively easy, but fancy AF looking sheet pan meal: Garlic Butter Cauliflower Steaks + Balsamic Veggies
Garlic Butter Cauliflower Steaks + Balsamic Veggies
Ingredients
2

Cauliflower Steaks- See above for how to cut!

4

tablespoon

Non Dairy Butter, Divided

I used Country Crock Plant Butter

1

tablespoon

Lemon Juice

1

tsp

Garlic Powder, Divided

1

tsp

Onion Powder, Divided

½

teaspoon

Salt, divided

Black Pepper

4

Small

Yukon Gold Potatoes, cut into about 1 inch cubes

4 Cups

3

Cups

Halved Brussles Sprouts

3

tablespoon

Balsamic Vinegar
For the Gremolata
Zest

½

Lemon

1

small

Clove of garlic

1

Cup

Parsley Leaves

1

tablespoon

Capers
Instructions
Lay cauliflower steaks and veggies onto a sheet pan. Sprinkle the potatoes and brussles with ½ teaspoon garlic powder, ½ teaspoon onion powder, ¼ teaspoon salt, freshly ground black pepper and drizzle 3 tablespoons of balsamic vinegar over them.

In a small bowl, melt 4 tablespoons of non dairy butter. Drizzle 1 Tablespoon of the melted butter over the brussles sprouts and potatoes. Toss them with your hand to coat the potatoes and brussles sprouts evenly.

Into the remaining 3 Tablespoons of butter, add lemon juice, the remaining ½ teaspoon of garlic and onion powder, the remaining ¼ teaspoon salt and some freshy ground black pepper. Stir to combine.

Using a brush, coat the cauliflower steaks, top and bottom with all of the garlic butter mixture. Roast on the middle rack of a 425* oven for 50-60 minutes or until everything is brown and tender, stopping after 30 minutes to flip the steaks and stir the potatoes and brussles.

While the cauliflower and veggies are in the oven, make the gremolata. Finely chop the lemon zest, parsley, garlic and capers together and set aside.

When the cauliflower and veggies are done, remove from the oven, plate and immediately sprinkle with gremolata. Serve.
Let me know how you liked this recipe and if there is anything you'd like to see me make next!