Wintertime is comfort food season. I love making big bowls of pasta, pots of chili, soups and stews. Boston winters are pretty cold, so anything that warms me up from the inside out is my ideal winter food. And this Gluten-Free Baked Cauliflower Gratin is basically a warm, cheesy baked cauliflower dish and its the ULTIMATE wintertime comfort food.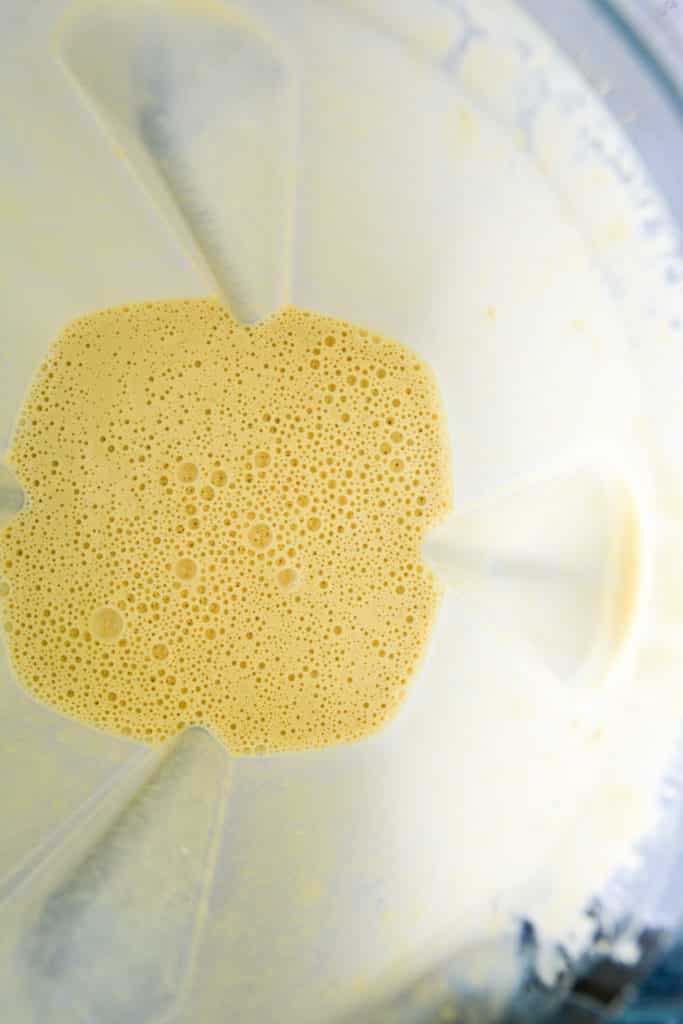 Cauliflower is one of my favorite vegetables to keep on hand. Its delicious roasted, sautéd, grilled, pureed, and riced. You name it, cauliflower can do it. It also stays fresh in the refrigerator for well over a week, which means I really can always have it on hand without worrying about it going bad.
What is Gratin
And now we can definitively add gratin to the list of cooking techniques that cauliflower is amazing for because this Baked Cauliflower Gratin is INCREDIBLE. The term gratin technically only refers to the browned bread crumb crust of this dish. But, when I think of gratin I also think of a creamy cheesy sauce in addition to a brown breadcrumb crust. So this dish is really like a cheesy baked cauliflower.
Making a Cashew Cream Sauce For Baked Cauliflower Gratin
The creamy sauce for this Gluten-Free Baked Cauliflower Gratin a cashew cream sauce. To achieve a creamy cashew sauce, its imperative to first soak the cashews. Soaking helps soften the cashews so the blender can blend them into a completely smooth sauce. I like to turn my tea kettle on and pour boiling water over the cashews and allow them to soak for 30 minutes to an hour.
Once the cashews are soaked, combine all the sauce ingredients in a blender and blend until the sauce is smooth. It creates and incredibly creamy and cheesy sauce for the Gluten-Free Baked Cauliflower Gratin. Which makes this dish like a cheesy baked cauliflower.
I have a high speed blender, which I realize not everyone has. This recipe will also work in a magic bullet style blender, but it may not blend completely smooth in a regular large blender. In my experience, the smaller, single serving magic bullet blenders do a much better job that the standard large blenders.
Finding Gluten-Free Panko
I used gluten-free panko bread crumbs as the topping for this Baked Cauliflower Gratin. Panko bread crumbs are a Japanese variety of bread crumbs that are lighter texture and larger in size than standard bread crumbs. While they are not traditionally gluten-free, there are a wide variety of gluten free panko bread crumbs on the market. My favorite are Ian's Original Panko Bread Crumbs, and Kikkoman Gluten-Free Panko. But, there are many brands to choose from so use what is accessible. OR if you don't need to avoid gluten, go with the traditional panko!
This Gluten-Free Creamy Baked Cauliflower Gratin is incredibly creamy, warm and comforting. Its the perfect special side dish to any winter meal.
Gluten-Free Baked Cauliflower Gratin
Ingredients
For the Cashew Cream Sauce
½

Cup

Raw Cashews, Soaked in hot water for at least 30 minutes

1 ¼

Cup

Non-Dairy Milk

I used So Delicious Coconut Milk

¼

Cup

Nutritional Yeast

1

teaspoon

Garlic Powder

1

teaspoon

Onion Powder

1

teaspoon

Dijon Mustard

½

teaspoon

Salt

2

teaspoon

Cornstarch

Black Pepper to Taste
For the Gratin
1

Medium

Head of Cauliflower, cut into florets

6-7 Cups of Florets

¼

Cup

Gluten-Free Panko Bread Crumbs
Instructions
To Make the Cashew Cream Sauce
Combine soaked cashews, non-dairy milk, nutritional yeast, dijon mustard, onion powder, garlic powder, cornstarch salt and pepper in a high speed blender and blend on high until completely smooth, scraping the sides down with a spatula as necessary.
To Put the Gratin Together
You will need a 1.5 QT baking vessel. Shape doesn't matter here so to test which baking vessel is the right size, add the raw cauliflower to see if all of the cauliflower will fit. Set the baking dish aside.

Fill a pot with water and bring to a boil. Add salt to the water and then the cauliflower florets. Boil for 3-4 minutes, until the cauliflower is just starting to get tender. Drain the cauliflower into a colander. Leave the cauliflower in the colander , but return the pot to the stove.

Pour the cashew cream sauce into the pot and turn the burner onto medium. Whisk constantly until the mixture starts to thicken. then, remove from heat.

Add the cauliflower into the cashew cream sauce, gently stirring to coat everything.

Transfer into an approximately 1.5 quart baking dish. Top with panko.

Bake in a 400* oven for 20 minutes, then turn the broiler on and broil just until the panko topping is nicely browned, 3-5 minutes.
Let me know how you like this recipe!