Once the cold weather is here, I tend to forget about salads. All I can think about are warming soups, stir fry dishes and sheet pan meals. But salads can be warm too! Grain salads can be, at least. Like this Warm Farro Salad with Roasted Garlic Vinaigrette.
What is Farro?
Farro is one of my favorite grains. Its a variety of wheat, and its nutritious, and delicious. Farro has a nutty flavor and is packed with protein and fiber. And it has a delightful chew that makes it feel really hearty.
Generally speaking, pearled farro is what grocery stores most commonly offer. So, thats what I used here. This is the brand I used. The term "pearled" just means that the husk has been removed. This does remove some of the nutrients, but it also reduced the cooking time by about half! Check your package just to be sure of what variety of farro you have purchased and adjust the farro cook time if needed.
How to Work with Fennel
If you have never worked with fennel before, don't be intimidated! It looks wild, but its so good. It can be eaten raw, braised or roasted. To work with fennel, cut the tops off and set them aside. Quarter the bulb and cut the small core out. Then slice the quarters across into ¼ inch pieces.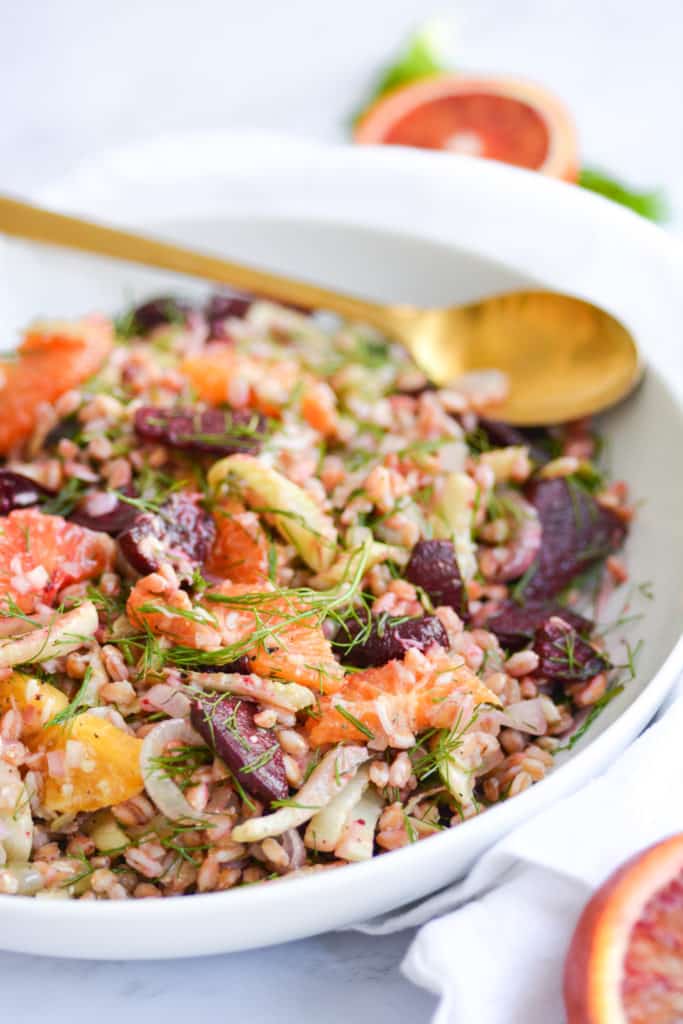 With the tall offshoots, remove the fronds and reserve them. The fronds can (and should!) be used as an herb. They have sweet but light licorice flavor. And in this recipe, the fennel fronds are the perfect complement for the roasted fennel.
With the remaining tall shoots, you can make quick pickles out of them. Just make sure you really thinly slice them. The tops tend to be stringy.
This Warm Farro Salad with Roasted Garlic Vinaigrette is easy, flavorful and tastes great warm or cold! It makes a great side dish to any Autumn meal or perfect for meal prep for lunches!
Warm Farro Salad with Roasted Garlic Vinnaigrette
Ingredients
For the Farro
1

Cup

Farro, Rinsed

6

Cups

Water

Pinch

Salt
For the Roasted Veg
1

Medium

Fennel Bulb, trimmed, quartered, cored and sliced about ¼ inch thick

Reserve the fronds!

1

Large

Red Beet, peeled, quartered and sliced about ¼ inch thick

1 ½

Medium

Shallots, sliced about ¼ inch thick

save the remaining half for the dressing!

1

tablespoon

Olive Oil

Salt and Black Pepper

3

Small

Cloves of garlic, unpeeled
For the Roasted Garlic Dressing
2

tablespoon

White Wine Vinegar

Or Champagne Vinegar

2

tablespoon

Extra Virgin Olive Oil

½

Medium

Shallot, finely chopped

1

teaspoon

Dijon Mustard

Salt and Black Pepper
For the Salad
1

Meduim

Orange, peeled, halved and sliced

½

Cup

Chopped Fennel Fronds
Instructions
For the roasted veg
Onto one half of a sheet tray, combine fennel and shallot and spread them out into a single later. Onto the other side of the sheet tray, spread the beet slices into a single layer. Drizzle each half with ½ tablespoon of olive oil and sprinkle with a pinch of salt and pepper. Toss to coat, but keep the halves separate. Add the unpeeled garlic cloves onto the sheet tray and place into a 425* oven for 30 minutes or until the vegetables and the garlic cloves are soft.

Once the veggies are done, set aside the roasted garlic cloves for the dressing and add the veggies to a big bowl with the farro.
To cook the farro
Meanwhile, combine farro, water and a pinch of salt in a large saucepan. Bring to a boil, reduce heat to simmer and cook for about 20 minutes or until the farro is tender. Drain the excess water, add the farro into a large bowl with the vegetables and set aside.
For the Roasted Garlic Dressing
Peel the 3 roasted garlic cloves. Mash them well with a fork. Add vinegar, oil, dijon, salt and pepper and stir to combine.
Put the Salad Together
Pour the roasted garlic dressing into the bowl with the farro and vegetables.

Add the chopped fennel fronds, and sliced orange. Toss to combine and check for seasoning. Add a pinch more salt and pepper if necessary.
Let me know how you like this recipe!