On dreary Autumn days, chili always sounds good. So, I tend to make a lot of chili in the colder months. Its so comforting and and cozy. But mostly I make chili because I always have the ingredients on hand. And this Easy and Healthy Three Bean Chili is what I have been making lately.
This is called Three Bean Chili, but don't be fooled- it can contain as many varieties of beans as you like. I've made it with just black beans and its great! And I've made it with a combination of black and kidney beans. Its always great. But, my husband really likes the idea of 3 bean chili, so this is what we typically make.
Choosing Your Beans
I like to choose beans with with a variety of sizes. So I chose kidney beans, black beans and navy beans. These are also beans that I always have on hand. But you could also use pinto beans, cannellini beans or any bean you keep in your pantry, save refried beans, of course.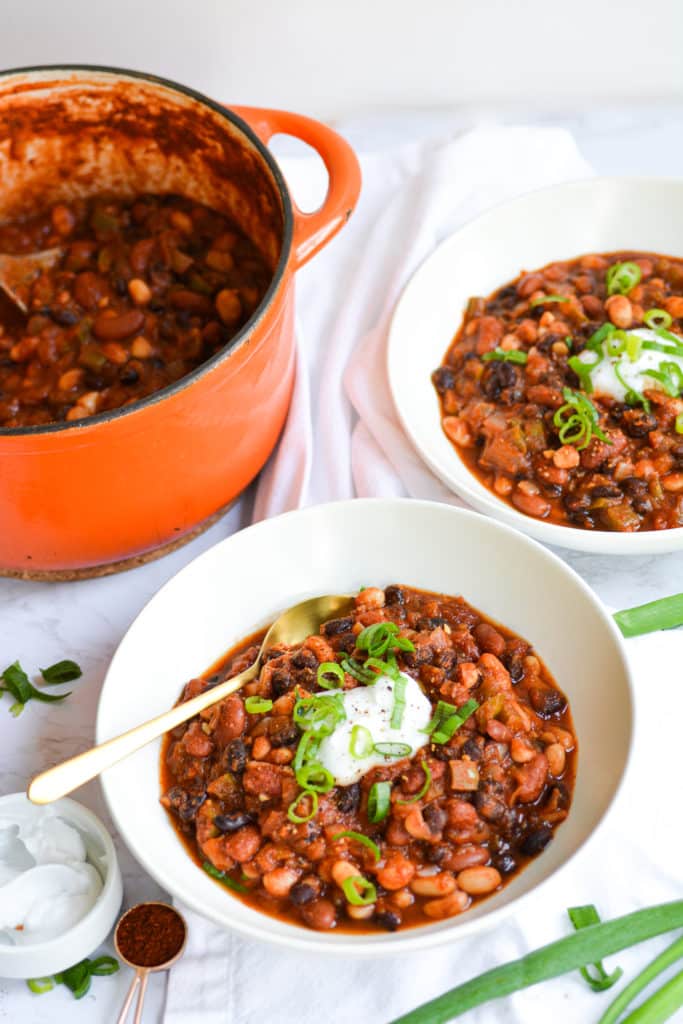 Vegetable stock may seem like a weird addition to chili, but it adds a depth of flavor and allows the chili to be simmered longer. And simmering allows for the spices to bloom and for the flavors to marry, which yields an incredibly flavorful and well rounded chili. I always use Better Than Boullion Vegetable Base.
And speaking of simmering, simmer until the chili is the texture you prefer. I like my chili pretty saucy. So for me, I stop simmering at 20 minutes and allow the chili to cool for a bit. It will also thicken as it cools. But if you like extra thick chili, allow it to simmer for 30 or so minutes.
This Easy and Healthy Three Bean Chili is flavorful and hearty. Its filled with plan based protein and fiber from the beans as well as plenty of fresh and flavorful veggies. I like to serve it with a dollop of sour cream or guac, plenty of hot sauce, and alongside tortilla chips to dip.
Hearty Three Bean Chili
Ingredients
1

tablespoon

Olive Oil

1

Medium

Onion, small dice

1

Medium

Green Bell Pepper, small dice

3

Medium

Cloves of Garlic, Minced

5

teaspoon

Chili Powder

1 ½

teaspoon

Dried Oregano

2

teaspoon

Cumin

1

15 oz

Can of Crushed Tomatoes

2

tablespoon

Tomato Paste

2

Cups

Lower Sodium Vegetable Stock

3

15oz

Cans of Assorted Beans, Drained and Rinsed

I used 1 can each: Kidney, Black Beans and Navy Beans

Salt and Black Pepper to Taste
Instructions
In a 4-6 quart dutch oven over medium heat, combine olive oil, onion and bell pepper. Cook, stirring occasionally for 5-7 minutes or until the vegetables are soft.

Add minced garlic and cook for 1 minute more.

Add chili powder, cumin and oregano, stir and cook for 1 minute more.

Add crushed tomatoes, tomato paste and vegetable stock. Stir.

Add beans and stir. Bring to a simmer and reduce heat to low. Simmer uncovered, stirring occasionally, over low head for 20-25 minutes or until the chili is your desired thickness.

Serve with non-dairy sour cream, avocado or sliced green onion.
Let me know how you like this recipe and if there is anything you'd like to see me make next!