This Vegan Chai Masala Cake is like a chai latte in cake form, but better because its cake. This cake is full of warm spices, flavorful and easy to make!
Spiced baked goods are the best baked goods. And while pumpkin spice usually takes the front seat, my personal favorite spice blend is Chai Masala. The addition of cardamom in a chai masala blend is out of this world. Its amazing in a Chai Latte, and it takes this vegan Chai Masala Cake to another level.
What Spices are in a Chai Masala Spice Blend?
Chai masala blends vary depending on who is making them. The spice amounts vary and some times they even contain peppercorns! My masala chai blend is super simple. You likely already have the ingredients you will need to make this spice blend in your spice cabinet. Here is what you will need:
Cinnamon: A hefty dose of ground cinnamon is the backbone of my chai masala spice mix. Its warm, delicious and the perfect spice blend base.
Ginger: Ground ginger spices this blend up a bit. Ginger is one of my favorite spices but I rarely use it on its own. In my mind its more of a supporting role.
Cardamom: Cardamom is the cornerstone of chai spice flavor. Its bright and floral while and brightens this spice blend right up! Do not leave cardamom out if you don't have it! Cardamom is what makes this Chai masala cake taste like chai.
Allspice: Allspice is super spicy and strong. A little goes a long way!
Clove: Again, super spicy and strong. Clove can easily overpower a spice blend, so be sure to measure accurately.
And thats it! With these spices combined, this vegan Chai Masala Cake will be well-spiced and make your home smell like your favorite chai latte,
Ingredients and Substitutions for Making a Chai Masala Cake
Flour: A regular old all purpose flour is all you'll need to make this Chai Masala Cake. My favorite brand is King Arthur flour. the quality is unmatched and its milled in Vermont which is super close to me here in Boston!
Leaveners: I used a combination of baking powder and baking soda to help this cake rise high. Baking soda acts fast. It reacts with the vinegar and and then fizzles out. Baking powder acts slowly. Its activated by heat, so the cake gets a nice slow rise in the oven.
Spices: We use a LOT of spice in this recipe. I like to heavily spice my spice recipes. After all, thats why youre making this Vegan Chai Masala cake, right?
Sugar: Regular old granulated sugar OR sub the sugar for brown sugar and eliminate the molasses. I don't buy brown sugar, so when I want that brown sugar taste I simply add a little molasses to my recipes.
Oil: I use canola, but any neutral tasting oil will work here. But NOT coconut oil.
Non-Dairy Milk: I always use So Delicious Coconut Milk in my baking. Its cheap, shelf stable and neutral in flavor. All wins in my book!
Vinegar: This is just here to react with the baking soda. You will not taste this in the final product-- you have my word.
Vanilla Extract: Vanilla belongs in every baked good. Change my mind.
Molasses: As I said above, molasses is simply to add that warm brown sugar flavor to this Chai Masala Cake. If you don't have molasses on hand, swap the granulated sugar for brown sugar.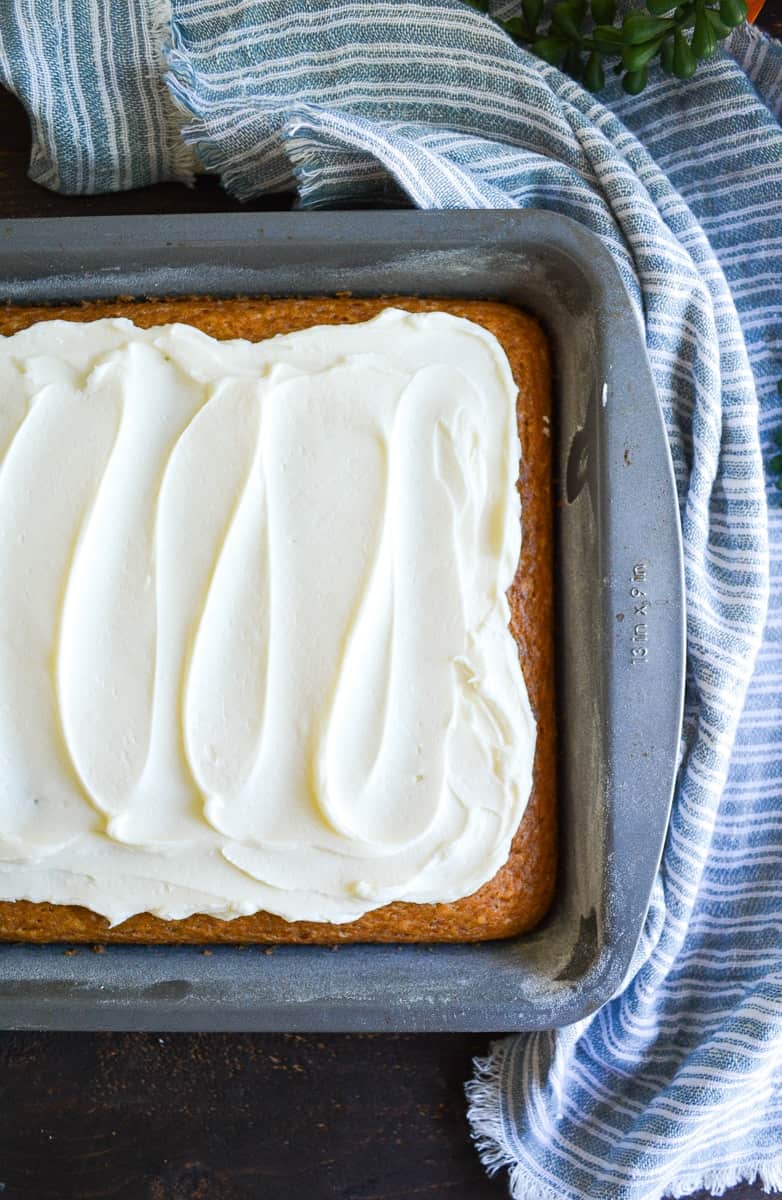 A Quick Mixer-Free Frosting
I wanted to create a frosting that doesn't require an electric mixer. And this frosting is great! Its simple to mix together in a bowl and the lemon juice adds a little tang that is reminiscent of cream cheese frosting.
I use palm shortening here which is a hot button ingredient. The palm shortening industry is one of the top causes of deforestation. But I ONLY buy Spectrum palm oil which is Rainforest Alliance Certified and I recommend you do the same.
Choose Your Cake Size
I baked this Chai Masala Cake as a 9x 13 sheet cake. This is the easiest way to bake it for a crowd. It cools pretty quickly and then then the frosting just gets spread on with a spatula. No layering required.
But, this Chai Masala Cakes can also be baked as a layer cake or cupcakes, if you wish.
For layer cakes, divide the batter into 2 9 inch round pans and bake for about the same amount of time as the sheet cake.
For cupcakes, it will make about 24 standard sized cupcakes. But reduce the bake time to 17-20 minutes.
Do keep in mind though, this frosting will not work for a layer cake or cupcakes. Make a real buttercream frosting in that case.
Looking For More Spice Recipes?
📖 Recipe
Chai Masala Cake
This Vegan Chai Masala Cake is like a chai latte in cake form, but better because its cake. This cake is full of warm spices, flavorful and easy to make!
Equipment
9"x13" Baking Pan

Mixing Bowl

Whisk

Spatula

Measuring Cups and Spoons
Ingredients
2 ½

Cups

All Purpose Flour

1

tablespoon

Baking Powder

¼

teaspoon

Baking Soda

½

teaspoon

Salt

1

tablespoon

Ground Cinnamon

1 ½

teaspoon

Ground Ginger

½

teaspoon

Ground Cardamom

½

teaspoon

Ground Allspice

¼

teaspoon

Ground Cloves

1 ⅓

Cups

Granulated Sugar

½

Cup

Canola Oil

1 ½

Cups

Non-Dairy Milk

I used So Delicious Unsweetened Original Coconut Milk

1

tablespoon

White Vinegar

2

tsp

Vanilla

2

teaspoon

Molasses
For the Frosting
¼

Cup

Non Dairy Butter

room temperature

¼

Cup

Palm Shortening

room temperature

2

Cups

Powdered Sugar

sifted

2

teaspoon

Lemon Juice

1

teaspoon

Vanilla

Pinch

Salt

1

teaspoon

water

if needed
Instructions
Preheat oven to 350* F. Grease and flour a 9x13 inch pan.

In a small bowl, combine flour, baking powder, baking soda, salt and spices. Whisk to combine.

In a large bowl, combine sugar, oil, plant milk, vinegar, vanilla and molasses. Whisk well to combine.

Add the dry ingredients into the bowl with the wet ingredients and whisk to combine.

Pour batter into prepared pan and spread with a spatula to distribute batter.

Bake in a 350* oven on the middle rack for 30-35 minutes or until a toothpick comes out with only a few crumbs attached. Let cool completely.
For the Frosting
In a small bowl combined room terperature non dairy butter and shortening with a spatula until well combined.

Add powdered sugar and stir carefully to combine. Add lemon juice and vanilla and stir until smooth. If you need more liquid, add a bit of water, a ½ teaspoon at a time until you reach a creamy and thick but spreadable consistency.

Spread frosting on top of the completely cooled cake, slice and serve!
Storage
Store this cake in the refrigerator for up to 4 days. Allow to come to room temperature before serving.