This recipe for Vegan Garlic Bread is undetectably dairy-free! Its buttery, cheesy, filled with garlic flavor and is done in under 10 minutes.
Garlic Bread is a staple on the dinner table for so many families. Buttery garlicky bread doesn't have to be relegated to Italian or pasta night either. It goes with pretty much anything! And this Vegan Garlic Bread is perfect for anyone who is dairy free but misses the taste of the garlic bread they remember from their childhood-- but, dare I say, even better.
Ingredients for Making Dairy Free Garlic Bread
Ciabatta: I use ciabatta for my Vegan Garlic Bread because I love the texture. It has larger air pockets than a baguette which makes it stay a little softer and makes it easier to eat. And All of those big air pockets are perfect for catching melty garlic butter. So, I think ciabatta is the ideal bread here. But, you can use a half of a pound of whatever kind of loaf you can find.
Vegan Garlic Butter: This recipe uses my recipe for Vegan Garlic Butter. Don't panic, it only takes a few ingredients and 5 minutes to stir together. My Vegan Garlic butter is packed full of fresh garlic and its amazing on ANYTHING. I use Country Crock plant butter to keep this garlic bread dairy-free.
Vegan Parmesan Cheese: I ONLY recommend Follow your Heart Parmesan Cheese for this vegan garlic bread recipe. Follow Your Heart Parm is so good. My non vegan husband loves it. And its one of the few vegan cheeses I ever recommend. This not sponsored, by the way. I just love the stuff. And, I think there is nothing that even comes close to it taste wise. If you are unable to find Follow Your Heart parmesan, I recommend just leaving the cheese off UNLESS there is a brand that you know you love.
Freshly Cracked Black Pepper: Black pepper is incredibly flavorful and it pairs SO nicely with parmesean cheese. I mean there is an entire traditional Italian pasta dish that highlights that fact: Cacio e Pepe. So, use a heavy hand and make sure the pepper is coming straight from a pepper grinder and onto the Vegan Garlic Bread.
How to Make Vegan Garlic Bread
To make this Vegan Garlic Bread, simply slice a ciabatta loaf in half lengthwise.
Then slather the interior with plenty of garlic butter.
And top each half with a big sprinkle of Follow Your Heart Parmesan Cheese.
Finish with black pepper, then stick it under the broiler.
I like to use the broiler for this vegan garlic bread because the top can get a little crust, but the interior of the bread stays soft. Every broiler is different though, so remember to set a timer for the lowest amount of recommended time.
Also, generally I recommend lining your baking tray with parchment. Do NOT do that, here. The parchment can catch fire under the broiler.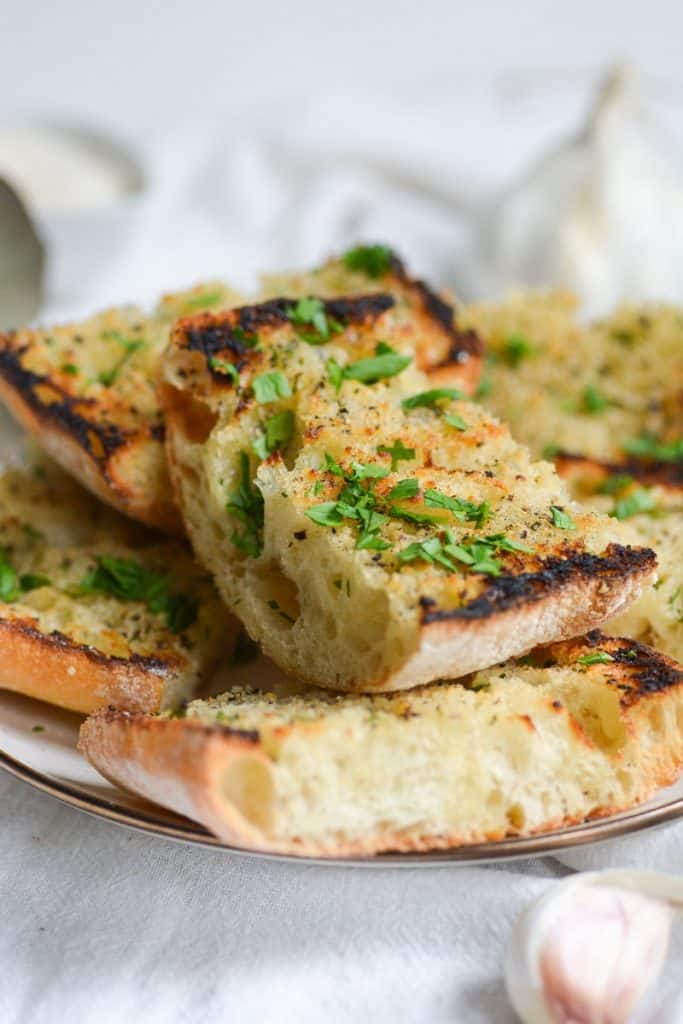 Looking for Something to Serve it With?
Rigatoni with Sausage and Broccolini
📖 Recipe
Vegan Garlic Bread
This recipe for Vegan Garlic Bread is undetectably dairy-free! Its buttery, cheesy, filled with garlic flavor and is done in under 10 minutes.
Ingredients
½

Pound

Loaf of Ciabatta

½

Recipe

Vegan Garlic Butter

Recipe Linked Below!

2

tablespoon

Follow Your Heart Vegan Parmesan

Freshly Ground Black Pepper
Instructions
Adjust an oven rack for that its the second from the top. Turn your broiler onto high or 500* depending on your oven. DO NOT line the baking tray with parchment as it may catch fire under the broiler.

Slice the ciabatta in half lengthwise.

Using a spatula, spread the garlic butter all over each half.

Top each half with one tablespoon of vegan parmesan. Then top each half with freshly ground black pepper.

Place on the second from top rack under the broiler and broil for 2-5 minutes, being sure to check after two minutes.
Notes