I have a few recipes that I make for myself all the time, but that I've never taken the time to photograph or to post on here. This Burst Cherry Tomato + Basil Pasta is one of them. If you follow me on instagram, you know that almost every time I show what I eat in a day in my stories, I have this for dinner. Its fast, easy and so delicious. Plus, if you planted a garden this year, its going to be tomato season soon!
I make this pasta in a variety of ways, but this one is my go-to. Sometimes I add chopped kalamata olives or capers. And sometimes I add chives or another herb because I don't have basil. Every variation is delicious, so feel free to tweak this recipe to fit what you have on hand or in your garden.
This recipe comes together in about 20 minutes, if you time everything right. There isn't much chopping involved which for some people is a major plus. I usually love chopping vegetables, but sometimes its nice to make a recipe where I can just dump everything into a pan. And when that dinner is flavorful and delicious, its definitely a keeper.
For this recipe you can use cherry tomatoes or grape tomatoes. I find these to have the most flavor and sweetness year round. If you have homegrown tomatoes or if you find a bunch of good heirloom tomatoes, those will work too. But don't use flavorless hydroponic winter tomatoes. The sauce relies entirely upon the flavor and sweetness of the tomatoes you use.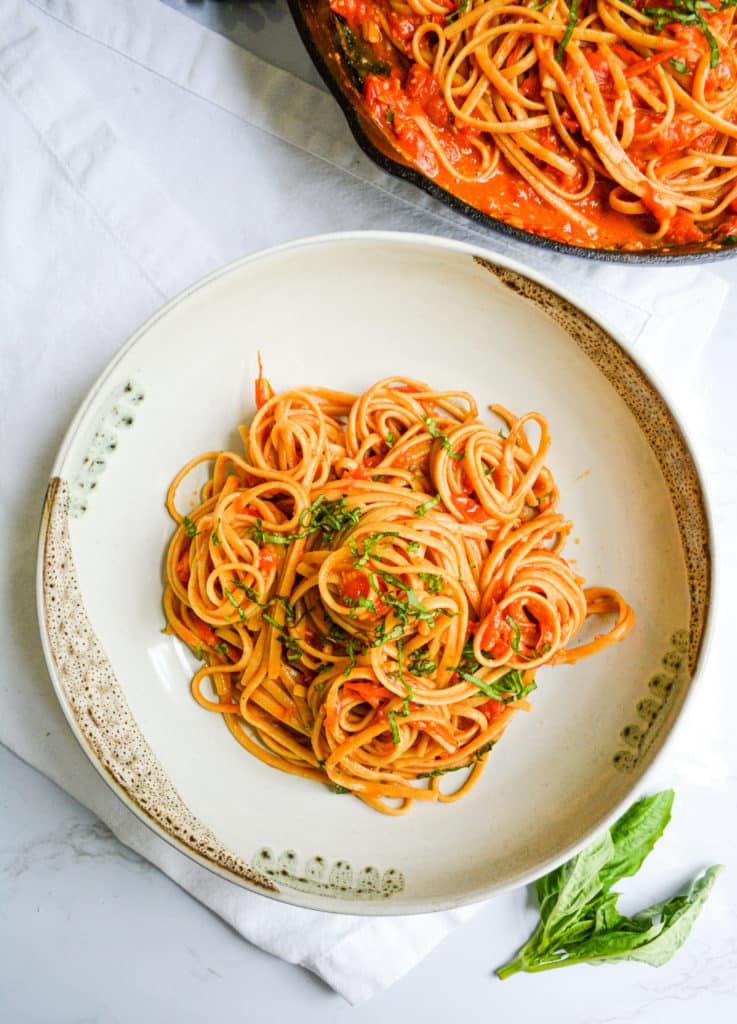 This recipe calls for 8 oz (½ of a box) of pasta. I like a lot of sauce, so if you prefer less sauce you can use up to 12oz (¾ of a box). Sometimes I use regular semolina pasta and sometimes I use Barilla Red Lentil pasta. Both are great!
Serve this Burst Cherry Tomato + Basil Pasta piled high and topped with an extra sprinkle of basil.
📖 Recipe
Burst Cherry Tomato + Basil Pasta
Ingredients
8

oz

Pasta of Choice

1

tablespoon

Olive Oil

2

Large

Cloves Garlic, minced

1 ½

Pounds

Cherry or Grape Tomatoes

1

tablespoon

Nutritional Yeast

½

tsp

Salt

Black Pepper

¼

Cup

Thinly Sliced Basil
Instructions
Cook pasta according to package directions.

Meanwhile, heat a large skillet over medium heat. Add olive oil and garlic. Sautee garlic until fragrant, about 1 minute.

Add tomatoes to the pan and toss to coat in olive oil. Reduce heat to medium low and cover. Cook, stirring occasionally for 7-8 minutes or until the tomatoes have started bursting and releasing their liquid.

Once the tomatoes have started bursting, remove the lid and using the back of a wooden spoon or a potato masher, mash the remaining un-burst tomatoes. Season with salt and pepper.

Simmer until the sauce has thickened slightly- about 8 minutes longer. Add nutritional yeast and basil. Stir to combine.

Add pasta to the pan and toss everything together. Remove from heat and serve.
Let me know how you like this recipe!