This Vegan Garlic Knots recipe is perfect for beginners. The dough comes together easily and the garlic knots bake up soft, fluffy and full of garlic flavor.
Garlic knots are the best kind of dinner rolls. Any time I make them people absolutely love them. And they are so simple to make! If you are a beginner with yeasted bread recipes, this is perfect for you.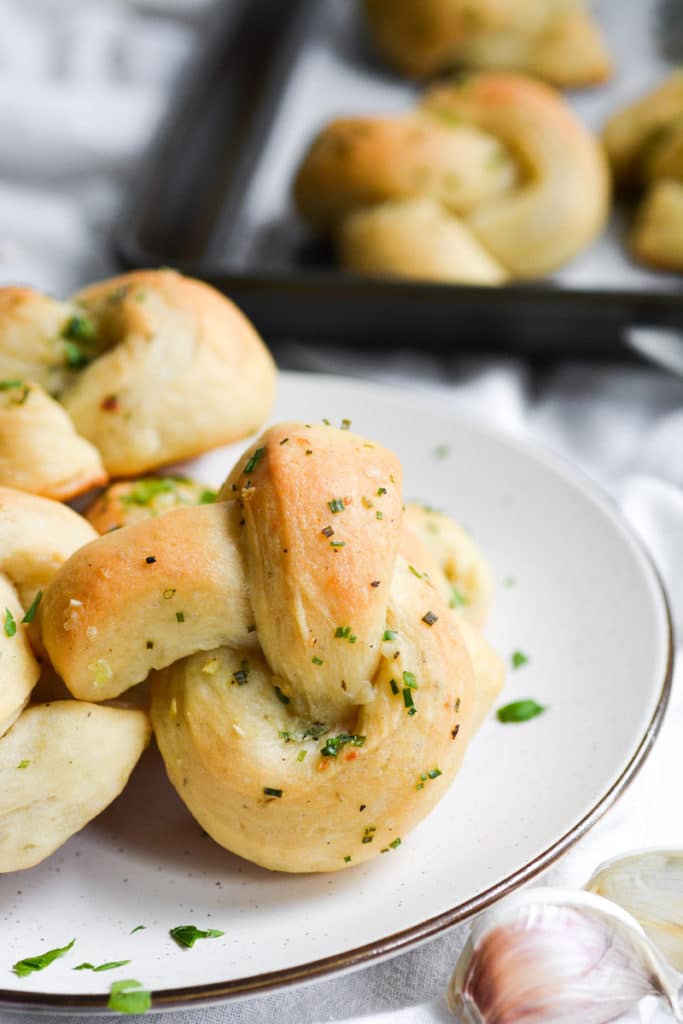 What are Garlic Knots
If you don't know what garlic knots are, or have never had them, you have been missing out. Garlic knots are a type of dinner roll where the dough is cut into strips, tied into a knot and brushed liberally with garlic butter. They are soft, full of flavor and absolutely delicious. Especially if you love garlic. Which is everyone, right?
They are amazing on their own or dunked into Marinara.
Ingredients
For my vegan garlic knots recipe, I like to enrich the dough for extra fluffiness and softness. Enriching dough simply means that there is fat and/or sugar added into the dough. This keeps the finished bread item super soft.
Flour: I use all purpose flour here. My favorite brand is King Arthur!
Non Dairy Milk: To hydrate the dough, use non dairy milk. I used So Delicious Plain Unsweetened Coconut Milk which I use in all of my recipes.
Sugar: Just a little sugar helps to balance things out.
Plant Butter: I tend to reach for Country Crock Plant Butter sticks for all savor recipes, but use whatever your favorite is, here! I love the flavor that the Country Crock gives the dough in this recipe.
Yeast: I prefer active dry yeast. I buy it in a big jar and it keeps forever!
Salt: Salt helps with the structure AND the flavor of the finished garlic knots.
Spices: I used garlic powder and oregano in the dough for extra flavor throughout.
Vegan Garlic Butter: This is for brushing onto the shaped knots. I used my recipe for Vegan Garlic butter. Its simple to make and absolutely delicious. The knots are brushed with garlic butter before they are placed into the oven and as soon as they are removed from the oven. The garlic butter gives them SO much flavor.
I have linked the recipe and inserted the recipe card just below the knot recipe for you!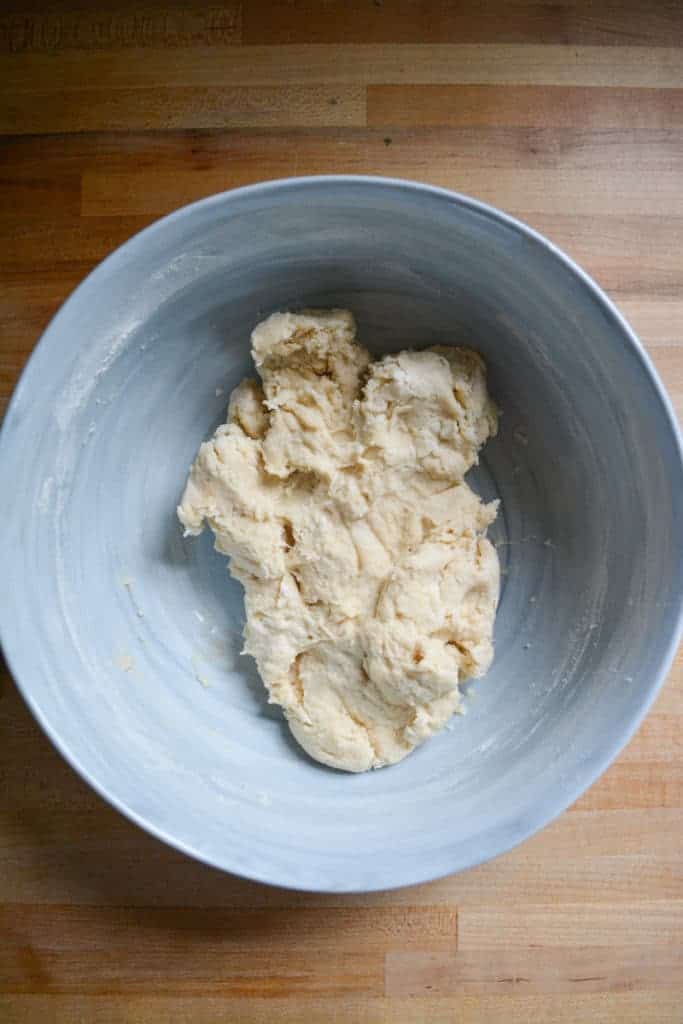 How to Shape the Knots
These Vegan Garlic Knots are pretty simple to shape.
First, press the dough out into a rectangle that is 12 inches long by about 6 inches wide.
Then, cut the rectangle into 8 even strips.
Next, take a strip in one of your hands.
Hold the strip at one end, and take the other end around your fingers and back through the loop that was created. And there you have a garlic knot!
And thats it. Just lay them on a baking tray to rise.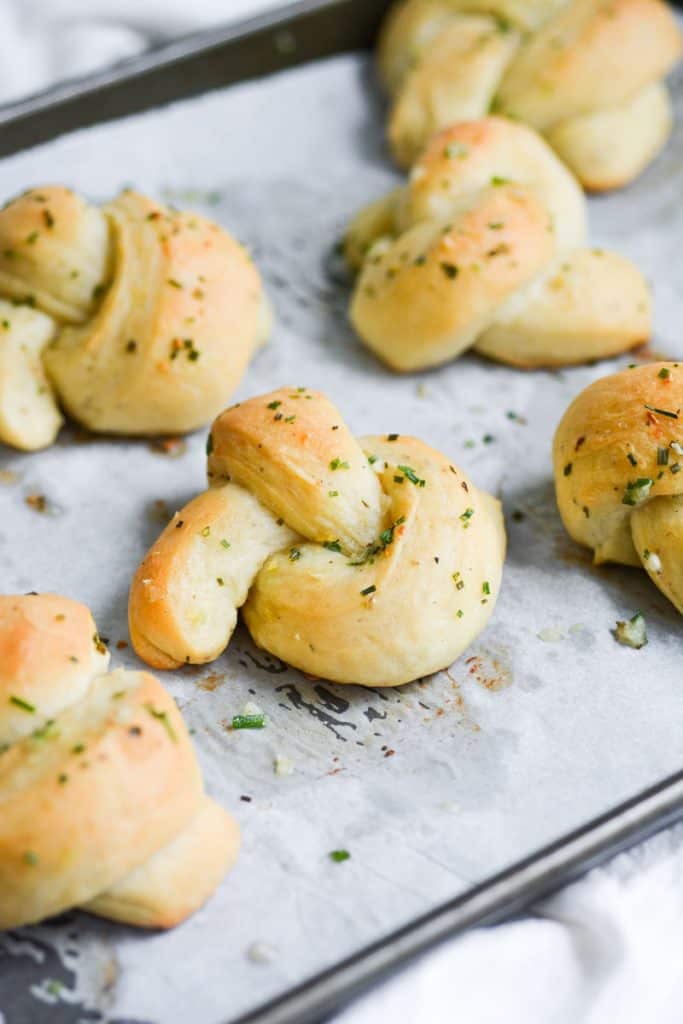 Want More Yeasted Doughs to Try?
Vegan Cinnamon Rolls with Cream Cheese Frosting
Vegan Garlic Knots
This Vegan Garlic Knots recipe is perfect for beginners. The dough comes together easily and the garlic knots bake up soft, fluffy and full of garlic flavor.
Equipment
Mixing Bowl

Wooden Spoon

Baking Tray

Measuring Cups and Spoons
Ingredients
¾

Cup

Non Dairy Milk, Warm

I used So Delicious Coconut Milk

3

tablespoon

Non Dairy Butter, cut into 3 pieces

I used Country Crock Plant Butter Sticks

2

tablespoon

Granulated Sugar

1 ¼

teaspoon

Active Dry Yeast

2

Cups

All Purpose Flour

½

teaspoon

Kosher Salt

¼ teaspoon if using finer grain salt

½

teaspoon

Garlic Powder

½

teaspoon

Dried Oregano
For Brushing
½

Recipe

Vegan Garlic Butter (linked and inserted below!)
Instructions
In a large bowl, pour the warm milk over the butter and allow the butter to melt.

Add the sugar and yeast and stir. Allow to sit for 5 minutes or until the yeast is a little puffy.

Add the flour, salt, garlic powder and oregano. Stir with a wooden spoon or with your hands until a shaggy dough forms.

Lightly flour your work surface and scrape the dough onto the counter. Knead for 5 minutes or until the surface of the dough becomes smooth.

Lightly oil the bowl, return the dough to the bowl and cover with a damp dish towel. Allow to rise for 1 ½ hours or until the dough doubles in size.

Line a baking tray with parchment.

Lightly flour a work surface and turn the dough out onto it.

Press the dough out into a 12"x6" rectangle with the 12 inch side running parallel to the edge of the counter.

Cut the rectangle in to 8 strips. The strips will be about 1.5 inches by 6 inches.

Working one at a time, take a strip in your hand by one end. Take the other end and wrap it around your fingers and then back into the loop that was just creates, creating a knot. Place the knot onto the baking tray and repeat.

Cover the knots once more with the damp dish towel and allow them to proof for 30 minutes more.

Meanwhile, preheat the oven to 350* F and melt the Vegan Garlic Butter. There should be garlic butter left to brush the knots with when they are done baking.

After 30 minutes have elapsed, brush each knot with melted garlic butter then bake in a 350* F oven for 24-26 minutes or until the knots are lightly golden brown.

While the knots are hot, brush them with the remaining garlic butter.

Allow to cool slightly and serve.

Store in an airtight container at room temperature for up to 3 days or place inot a bag and freeze for up to a month.
Vegan Garlic Butter
This Vegan Garlic Butter is a simple and flavorful compound butter that uses dairy free butter, fresh garlic and herbs to create a delicious and versatile spread.
Equipment
Cutting Board

Chefs Knife

Small Bowl

Spatula

Parchment Paper
Ingredients
8

tablespoon

Vegan Butter, room temp

I used Country Crock Plant Butter (avocado oil variety)

3

Medium

Cloves of Garlic

2

tablespoon

Finely Chopped Chives

optional

Pinch

Kosher Salt

Black Pepper to Taste
Instructions
First make the garlic paste. Peel the garlic cloves and smash them using the flat side of the chefs knife, then mince. Next, sprinkle the minced garlic with a pinch of salt. Then, using the side of the knife, press into the garlic and drag the knife towards you, using firm pressure. Repeat that action until the garlic is a a paste.

In a small bowl, combine vegan butter, garlic paste, chives and black pepper. Stir well with a spatula.

Transfer to a small bowl or container to refrigerate OR scrape mixture onto a piece of parchment paper and form into a log. Twist the ends to seal and refrigerate.