There are few things that feel more like a treat to me than cinnamon rolls do. Growing up, I loved cinnamon buns. I mean, who doesn't? But we didn't have them often. As an adult, I can see its because they take much more effort than most breakfast + brunch baked goods. But the payoff always makes them worth it. Nothing beats warm, soft Vegan Cinnamon Rolls with Cream Cheese Frosting.
As I said, these Vegan Cinnamon Rolls do take some effort. To avoid feeling like all I'm doing all day is making cinnamon rolls, I like to make them one day and bake them the next day. In the recipe card, I'll add instructions for baking them same day and for leaving them in the refrigerator over night, and you can choose which method you prefer.
Making a Yeasted Dough for Cinnamon Rolls
The base of these Vegan Cinnamon Rolls is the yeasted dough. I like to think this dough is pretty fool-proof. Believe it our not, its pretty much the same dough as my Parker House Rolls, so if you have made those, you're set!
The most important (and first) step to making a successful yeasted dough is to only warm the milk to about 100*. You don't need a thermometer for this, simply stick your finger into the milk, and if it feels close to your body temperature its good to go. If it feels hot at all, allow it to cool for a bit before adding the yeast. The reason this is so important is because yeast us alive, and adding yeast into a liquid that is too hot will kill it. And then your Vegan Cinnamon Rolls will never rise.
You will also notice that there is a range for the flour. I like to add 3 ½ cups into the dough first and then add a bit more as I knead the dough. Add just as much as you need to keep the dough from sticking to everything. In total I used 3 ¾ cups of flour.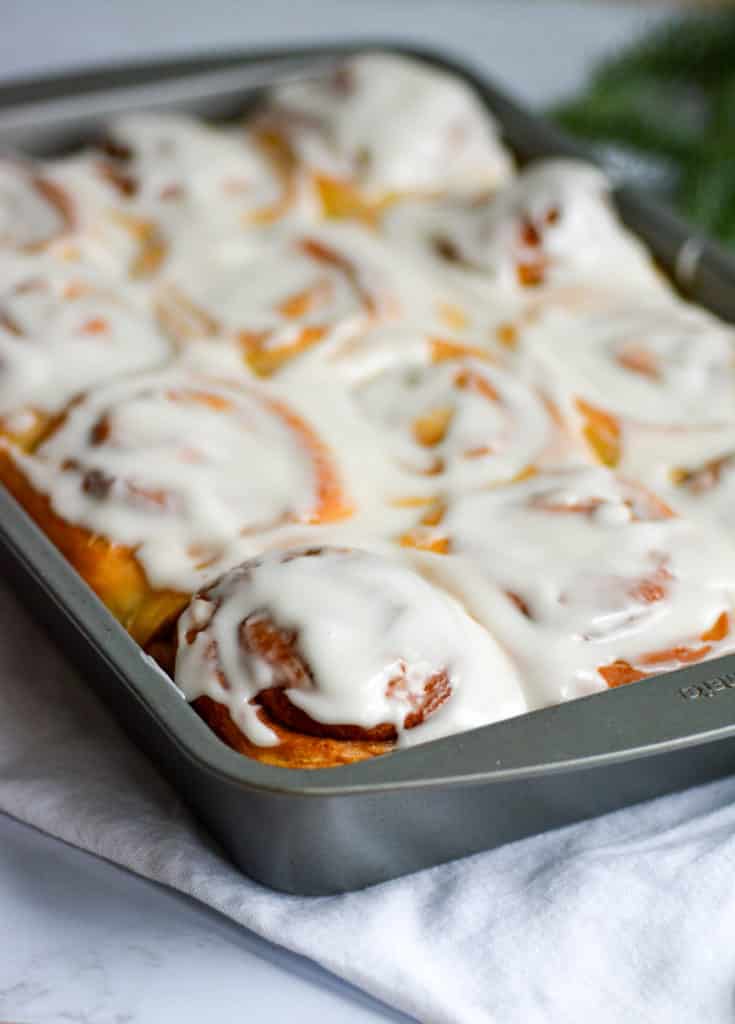 Vegan Cream Cheese Frosting
Cream cheese frosting is an absolute MUST for these Vegan Cinnamon Rolls. There are so many vegan cream cheeses on the market now a days. So, it can be really hard to find one you like. Lately, my absolute favorite has been the Violife Just Like Cream Cheese Original flavor. Its delicious and creamy. If its unavailable to you, there is always the trusty Tofutti, but also Kite Hill and Daiya all make vegan cream cheese!
This cream cheese frosting is smooth, creamy, tangy and delicious. Its the perfect contrast to the sweet cinnamon buns. And its incredibly simple to make!
So make these Vegan Cinnamon Rolls with Cream Cheese Frosting to make your bunch feel extra special. The effort is well worth it, and you will revisit this recipe time and time again.
Vegan Cinnamon Rolls with Cream Cheese Frosting
Ingredients
1 ½

Cups

Non-Dairy Milk

I used So Delicious Coconut Milk

¼

Cup

Granulated Sugar

2 ½

teaspoon

Active Dry Yeast

6

tablespoon

Non-Dairy Butter, melted and cooled

I used Earth Balance

3 ½-4

Cups

All-Purpose Flour

I used 3 ¾ Cups

1

teaspoon

Kosher Salt
Cinnamon Sugar Filling
3

tablespoon

Non-Dairy Butter, melted and cooled

I used Earth Balance

¾

Cup

Light Brown Sugar

1

tablespoon

Cinnamon
Cream Cheese Frosting
¼

Cup

Non-Dairy Cream Cheese

I used Vio Life

1 ⅔

Cups

Powdered Sugar, Sifted

½

teaspoon

Vanilla

1-3

teaspoon

Non-Dairy Milk

I used So Delicious Coconut Milk
Instructions
Warm non-dairy milk to approximately 100* F. Add the milk into a large bowl, and add the granulated sugar. Mix together, then add the yeast and mix. Allow the yeast to bloom for 5 minutes.

Next, add melted non-dairy butter and stir. Then add 3 ½ cups of the flour and salt and stir. The dough will be really shaggy and sticky.

Flour your work surface and scrape the dough out of the bowl. Knead the dough until it becomes smooth and elastic, using up to ½ cup more flour as needed to keep the dough from sticking. This will take about 5 minutes.

Place the dough into an oiled bowl and cover with a dish towel. Allow the dough to rise until it has doubled in size, about 1 ½ to 2 hours.
Mix the Filling
While the dough is rising, combine the brown sugar and cinnamon in a small bowl and set aside.
Make Cream Cheese Frosting
In a small bowl, combine cream cheese and powdered sugar. Then add the vanilla and stir well. Then add 1-3 teaspoons of non-dairy milk, stirring well in between each addition until you reach the desired texture. Cover and place in the fridge for later.
Shape the Cinnamon Rolls
Turn the dough out onto a lightly floured work surface and roll out into am 16x11 rectangle.

Brush the rectangle with 3 tablespoons of melted non dairy butter, then sprinkle the cinnamon sugar mixture evenly across the rectangle.

Roll rectangle toward you into a 16" long cylinder. Using a sharp knife, cut rolls 1 ½" thick. You should get 12 rolls.

Place rolls into a greased 9x13 inch pan. You will be able to fit 3 across + 4 down. Cover the pan with a kitchen towel.
To Bake the Same Day
Preheat oven to 350*F and allow the cinnamon rolls to rise for 45 minutes or until the rolls are all touching each other.

Bake the rolls for 30-33 minutes or until until they are lightly brown across the top.

Remove from oven and allow to cool for about 30 minutes then evenly spread the cream cheese frosting across the whole pan. Serve.
To Bake the Next Day
After shaping the rolls, cover with plastic wrap and immediately place the pan into the fridge overnight.

The next morning, remove the pan from the fridge and allow to come to room temperature. This will take 1 hour.

Then, preheat the oven to 350* and bake for 30-33 minutes or until the rolls are lightly brown across the top.

Allow to cool for at least 30 minutes before spreading evenly with cream cheese frosting and serve.