These Vegan Buttermilk Biscuits are dairy free, eggless and made with homemade vegan buttermilk! These biscuits are easy to make and they rise tall and are super flakey.
Biscuits are a special baked good. They are at home on a breakfast or brunch table AND a dinner or holiday table. They can really do it all. These biscuits are amazing spread with a sweet jam, or piled high with tofu scramble to make a breakfast sandwich.
These Vegan Biscuits rise super tall, and are super flakey and tender. I cannot wait to make these biscuits again. And I just make the 3 times to test them so thats saying something.
How to Make Vegan Buttermilk
So, first things first. For these Vegan Buttermilk Biscuits, we have to make some homemade buttermilk to keep them dairy free and vegan.
Most vegan buttermilks just require lemon juice or vinegar to be mixed with plant based milk. And while this DOES work, I find the flavor to be the flat. My favorite way to make it is to combine plant milk with plain, unsweetened dairy free yogurt.
Dairy free yogurt has a nice full tang and tartness that is way more dimensional than just lemon juice or vinegar.
BUT, be sure to get a plain, unsweetened yogurt. My favorite brand for this recipe is Forager. Its accessible to me and its nice and tart and tangy. Exactly how I remember dairy yogurt to be.
How to Make Vegan Buttermilk Biscuits
These eggless Vegan Buttermilk Biscuits are simple to make and come out super tall and flakey. They're almost pull-apart!
There are two important things to remember when making biscuits: First, keep the ingredients as cold as possible.
So, when prepping ingredients prep them and stick them back into the fridge until you use them.
So, mix the buttermilk mixture and stick that in the fridge. Then cube the butter and stick it back into the fridge. Then while those things are chilling, scale the dry ingredients out.
The second thing to remember for making tender vegan biscuits is: work the dough as little as possible. Working the dough as little as possible promotes a tall rise and a tender biscuit.
I like to use my hands to work the better into the dough. That way I can feel when the butter is worked in the proper amount. I also like to flatten the cubes of butter into sheets with my fingers.
Don't work the butter in until the mixture looks like coarse meal, here! Those sheets of butter will help create those gorgeous layers.
Then, I add the wet ingredients and toss with a for to moisten most of the flour.
You do NOT want to bring the dough together at this step! It should look shaggy and still have dry bits.
Then dump the shaggy messy dough onto the counter and gently press it together, folding it 4-6 times. This is what gives these Vegan Biscuits the layers.
And thats that! Bake these eggless Vegan Buttermilk Biscuits in a hot oven and serve warm.
Ingredient Substitutions
Non-Dairy Butter: Okay this is probably the most important ingredient in this Vegan Biscuit recipe. I recommend Earth Balance Soy-Free Buttery Sticks. I have nothing against soy. But, I prefer the taste of the soy-free sticks over the original.
You CAN sub Country Crock Plant Butter Sticks for this recipe, but I really encourage you to seek out Earth Balance. But if you are using Country Crock, rather than placing it back into the fridge after cubing it, place it in the freezer. Country crock sticks are softer than earth balance sticks, so your dairy free vegan buttermilk biscuit dough will be a little stickier.
Forager Plain Unsweetened Yogurt: I specify brand in this recipe because I think Forager is the most tangy vegan yogurt I've had. If you have a tangy unsweetened vegan yogurt that you like, use that! Just DON'T substitute for a sweetened or flavored yogurt.
Non Dairy Milk: At the risk of sounding like a broken record, as always I used So Delicious Coconut Milk for this recipe. I love it because its neutral in flavor and is shelf stable so I can always keep a few boxes in my pantry! You can use any plain unsweetened non dairy milk here, though.
Looking for More Brunch Recipes?
Roasted Sweet Potato Wedges with Hot Honey Butter
Vegan Cinnamon Rolls with Cream Cheese Frosting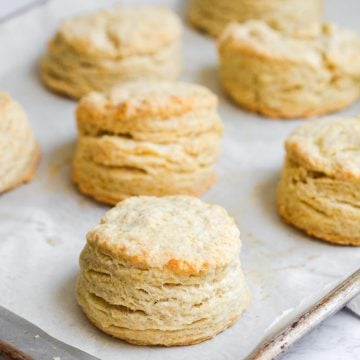 Vegan Buttermilk Biscuits
These Vegan Buttermilk Biscuits are dairy free, eggless and made with homemade vegan buttermilk! These biscuits are easy to make and they rise tall and are super flakey.
Equipment
Mixing Bowl

2 ¾" Round Biscuit Cutter

Sheet Pan

Pastry Brush
Ingredients
⅔

Cup

Forager Plain Unsweetened Yogurt

⅔

Cup

Plain Unsweetened Dairy-Free Milk

I used So Delicious Coconut Milk Yogurt

2

teaspoon

Lemon Juice or White Vinegar

2

Sticks

Earth Balance Soy-Free Buttery Sticks, Cold

16 Tablespoons

3 ½

Cups

All Purpose Flour

5

teaspoon

Baking Powder

½

teaspoon

Baking Soda
For Brushing
2

tablespoon

Earth Balance Soy-Free Buttery Sticks, melted
Instructions
Preheat oven to 425* F and line a baking tray with parchment.

In a large measuring cup or a small bowl, combine yogurt, non-dairy milk and lemon juice. Stir to combine and place into the refrigerator.

Cube the butter and place it into the fridge.

Scale the dry ingredients into a large mixing bowl. Add the cold, cubed butter and using your hands, squeeze and flatten the butter cubes so you are left with some pea sized pieces and some pieces that are flattened out. See picture for reference.

Add wet ingredients to the bowl and toss together with a fork until most of the flour is moist. DO NOT bring together completely here. It should look shaggy and have spots where the flour still is not moist.

Turn the shaggy dough out onto a work surface. Gently press into a rectangle and fold the dough onto itself then press again into a rectangle. Repeat this 4-5 times until the dough has come together. This action is what will give the biscuits the layers. Pick the dough up and lightly flour the work surface here if you need to!

Press the dough into an 8"x6" rectangle that is 1 ¼" tall. Using a 2 ¾" round cutter, cut 6 biscuits from the rectangle. Then gently press the scraps together to cut 2 more biscuits.

Transfer the biscuits to a lined baking tray. Brush the tops liberally with melted earth balance and place into a 425* oven for 20-22 minutes or until the tops are lightly golden and the bottoms are browned all the way across.

Serve warm with your favorite fixings.