As I'm writing this, I am unable to find any tofu. It seems that the possibility of a region wide lockdown here in the Boston area has people buying it all. And I totally get why. It stays fresh for much longer than other protein sources, it can be cooked in many different ways, and its mild flavor lends itself well to taking on a multitude of flavors. So, I thought I'd share one of my favorite tofu recipes for those of you out there who have it all: Chili + Garlic Grilled Tofu.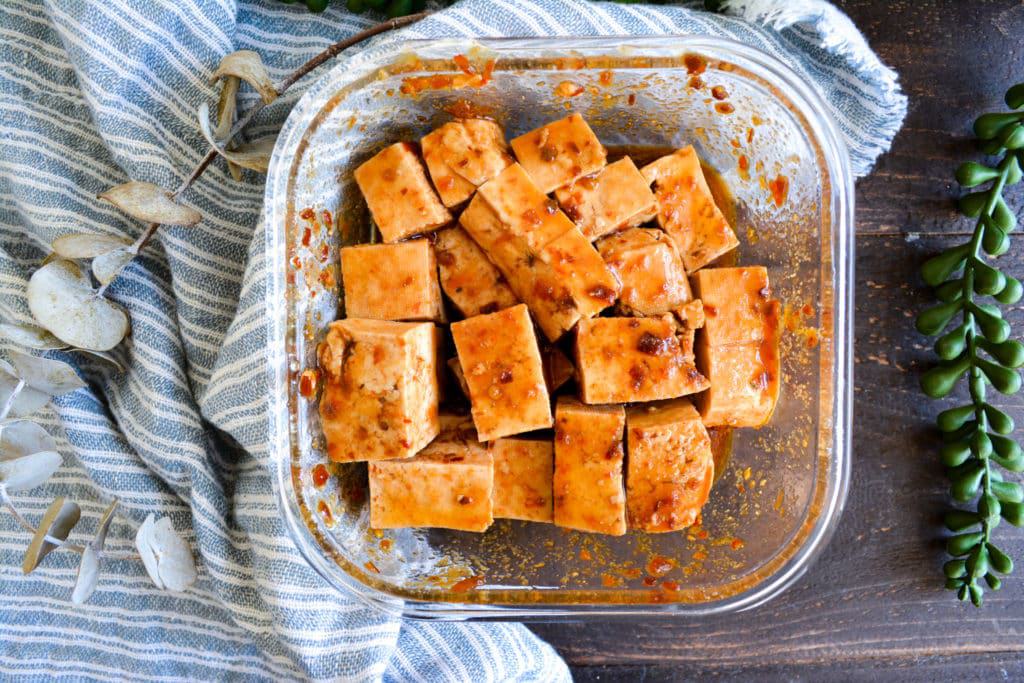 Tofu Varieties
Tofu commonly comes in a few different forms: silken, firm, extra firm and super firm. I like them all, but for different purposes. Silken tofu is great to blend into sauces or dressings (like my Green Goddess Dressing), for miso soup, or to blend into smoothies.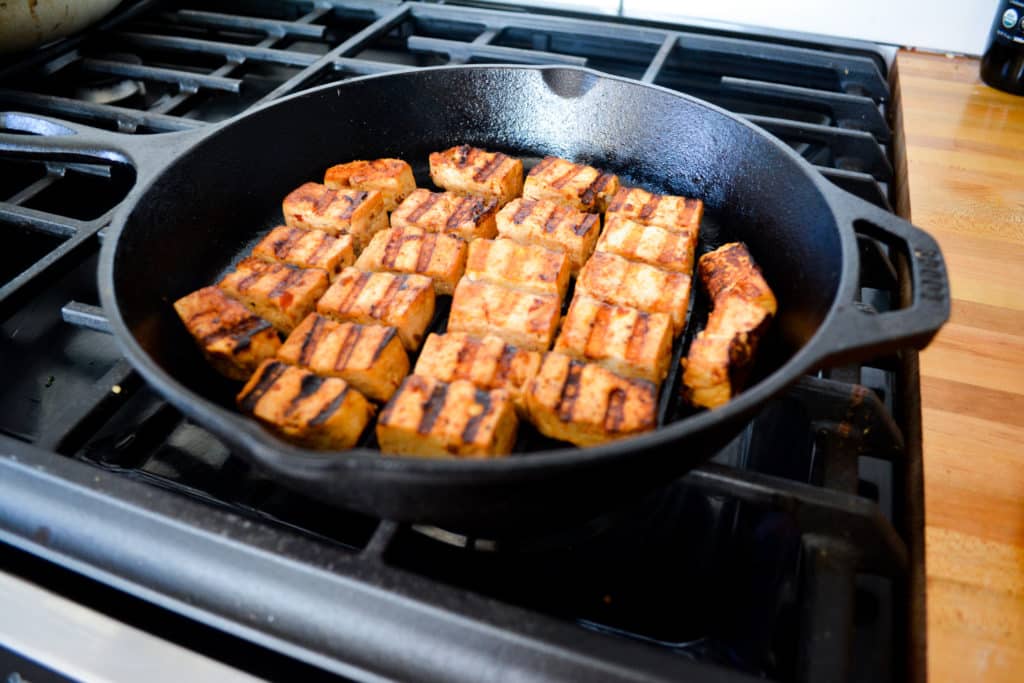 Firm tofu works for tofu scramble, but I rarely buy it. Only if there is no extra firm tofu available. This is because I would use firm and extra firm in the same applications. Extra firm is my most purchased tofu. Its great for tofu scramble and pressing it doesn't take too long.
Super Firm tofu is the kind that is in a clear vacuum sealed plastic. Its sometimes called "high protein tofu". Is just pre-pressed tofu. I buy this pretty often as well. Its nice because it eliminates the CRUCIAL pressing step. But it can be harder to find, so I didn't use it here. For this recipe I choose extra firm tofu for its accessibility.
Tofu Pressing Methods
It is crucial to press the tofu to get any excess water out of it. To press tofu you can either use a tofu press (obviously) as I did or you can wrap the tofu with a clean dish towel or a few paper towels, place it on a large plate. Then place another large plate on top of the tofu, then a weight on top of that. When using this method I generally use a large 28 oz can of tomatoes. Press the tofu like this for at least 30 minutes or up to an hour and a half before cubing it and proceeding with the recipe.
Pressing tofu is crucial here. If the tofu is not pressed, it will release its excess water into the marinade, making it taste less delicious. And it will be too fragile to stand up to grilling. So whatever you do- don't skip the pressing! If you have access to super firm tofu, use that if you don't want to bother with pressing.
I like to serve this Chili + Garlic Grilled Tofu with quinoa and whatever veggies I feel like having. Or this is the PERFECT meal prep recipe for a few days of grain bowls.
📖 Recipe
Chili + Garlic Grilled Tofu
Ingredients
1

Package

Extra Firm Tofu, pressed + cut into cubes
For the Marinade
3

tablespoon

Low Sodium Soy Sauce

1 ½

teaspoon

Rice Vinegar

1

tablespoon

Chili Paste-- Like Sambal

1

tablespoon

Maple Syrup

1

tablespoon

Canola Oil

¼

teaspoon

Ground Ginger

¼

teaspoon

Onion Powder

¼

teaspoon

Garlic Powder
Instructions
Combine all marinade ingredients in a small container that has a tight fitting lid. Add tofu cubes to the marinade, place the lid on the container and turn the container upside down to coat all of the tofu. DO NOT SHAKE.

Place container in the refrigerator for 30 minutes to marinate the tofu.

Heat a grill pan over medium heat. Once hot, coat pan with canola oil and place the tofu cubes onto the grill. Do not throw the remaining marinade away!

Grill tofu for about 3 minutes per side or until it has nicely browned grill marks. Flip tofu and make sure all sides are browned. Trust me! The little bit of extra time it takes to brown all sides is worth it.

Remove from the grill and place back into the same marinade container, gently tossing, allowing the tofu to absorb any remaining marinade.

Serve with rice or quinoa!
Let me know how you like this recipe and if there is anything you'd like to see me make!