I thought I wasn't really into ranch dressing. But, I think I just don't like the idea of it. Especially the non-vegan that is made of a variety of dairy products all mixed together. However, the Follow Your Heart Vegan Ranch has given my a new outlook on ranch. Its incredible. Its vegan, creamy, filled with herbs and flavor. And I've been putting it in and on everything. And today I thought I'd share my current favorite vegan ranch recipe: Quick, Creamy Ranch Chickpea Salad.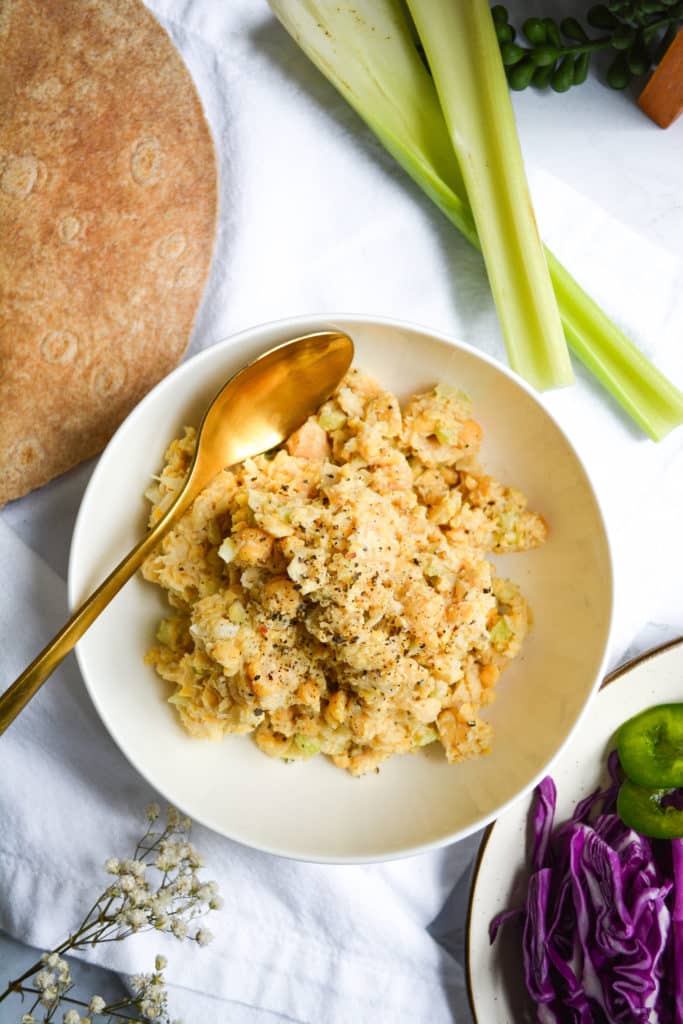 I do already have a vegan chickpea salad recipe here on EP. And I stand by the OG recipe. Its delicious, made of whole foods and is so easy. BUT, this one is Ranch Chickpea Salad so it deserves a spot here, too.
My Favorite Store Bought Vegan Ranch
Speaking of ranch dressing, there are SO many vegan brands available at the grocery store now a days. Follow Your Heart High Omega Vegan Ranch is accessible to me and I love the taste of it, so thats what I buy. But use your favorite for this Ranch Chickpea Salad! Or make your own if you prefer. There are so many homemade vegan ranch recipes out there. But, for a lunchtime recipe I wanted to keep it really simple, so I went with my favorite store bought vegan ranch.
I love simple recipes like this. Especially for lunch. Typically I have leftovers from dinner, but on rare occasions, there is nothing in the fridge and I have to make something. And this Quick Creamy Ranch Chickpea Salad takes just a few minutes to combine the ingredients into a bowl and mash together. The result is incredibly flavorful. Its great on a sandwich, in a wrap, atop a salad. Or even to dip crackers or chips into.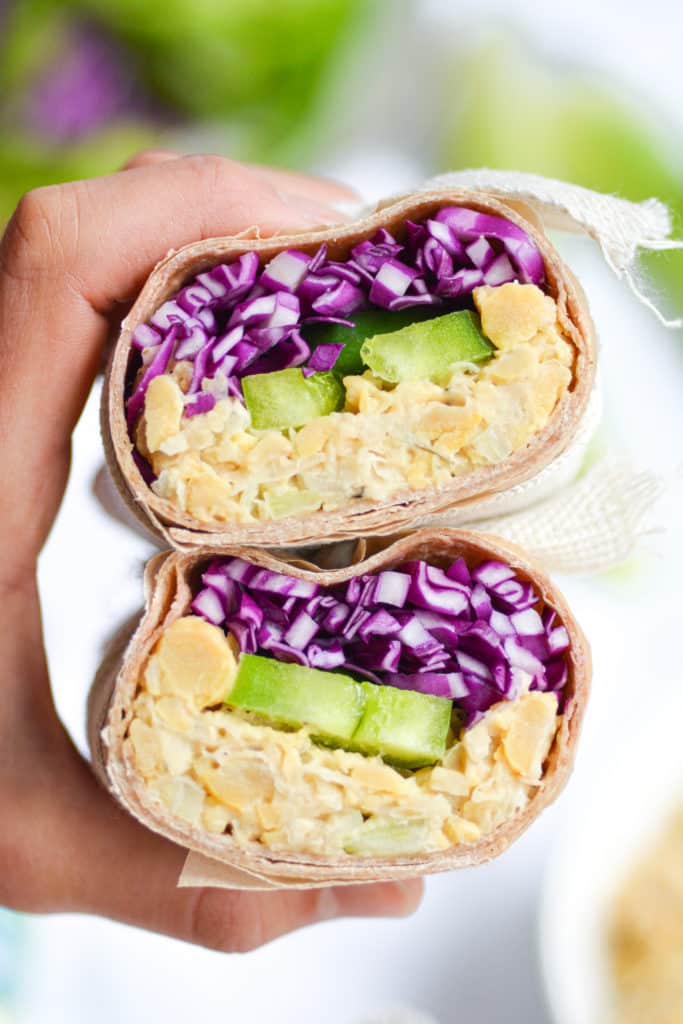 I like to wrap this Quick Creamy Ranch Chickpea Salad up into wraps with a drizzle of sriracha and whatever crunchy veggies I have around for texture.
📖 Recipe
Creamy Ranch Chickpea Salad
Ingredients
1

15 oz

Can Chickpeas, drained and rinsed

1

Rib

Celery, Finely Chopped

about ⅓ Cup

¼

Small

Onion, Finely Chopped

about 3 Tbsp

5

tablespoon

Vegan Ranch Dressing

I used Follow Your Heart brand

1 ½

teaspoon

Dijon Mustard

Black Pepper to taste
Instructions
In a medium bowl, combine all ingredients.

Mash with a fork until the most of the chickpeas are broken up and the mixture sticks together.

Serve in a wrap, on a sandwich or atop a salad.
Let me know how you like this recipe!