I love gingerbread cookies. We always made Cut-Out Sugar Cookies for the holidays, but the older I get, the more I prefer gingerbread cookies. They are spicy, crisp and so flavorful. So, pretty much all I want in a baked good. Plus, these Easy Cut-Out Gingerbread Cookies are easy to make and the perfect snack with a cup of tea.
There are two big problems that roll-out gingerbread recipes tend to have. First, is that they so often aren'y spicy enough. So, I tested this recipe a few times to make sure the spice was just right. We're filling these cookies with a blend of ginger, cinnamon, allspice, clove and nutmeg. But, if you have a gingerbread spice bend on hand, feel free to substitute that here in an equal volume.
The second problem that all roll-out cookies can have is that they are either too tough OR they spread. Again, it took a few times to get this recipe just right, but it was worth it. And, the resulting cookies are spicy, and hold their shape but are light and crisp. The perfect gingerbread cookies.
After baking and cooling, I decorated these little cuties with a bit of royal icing, just to accent them. I don't like to over do it with icing on gingerbread cookies because I think it takes away from the spice flavor. But decorate them as you like! My royal icing recipe is at the bottom of my Vegan Cut-Out Sugar Cookie recipe linked here.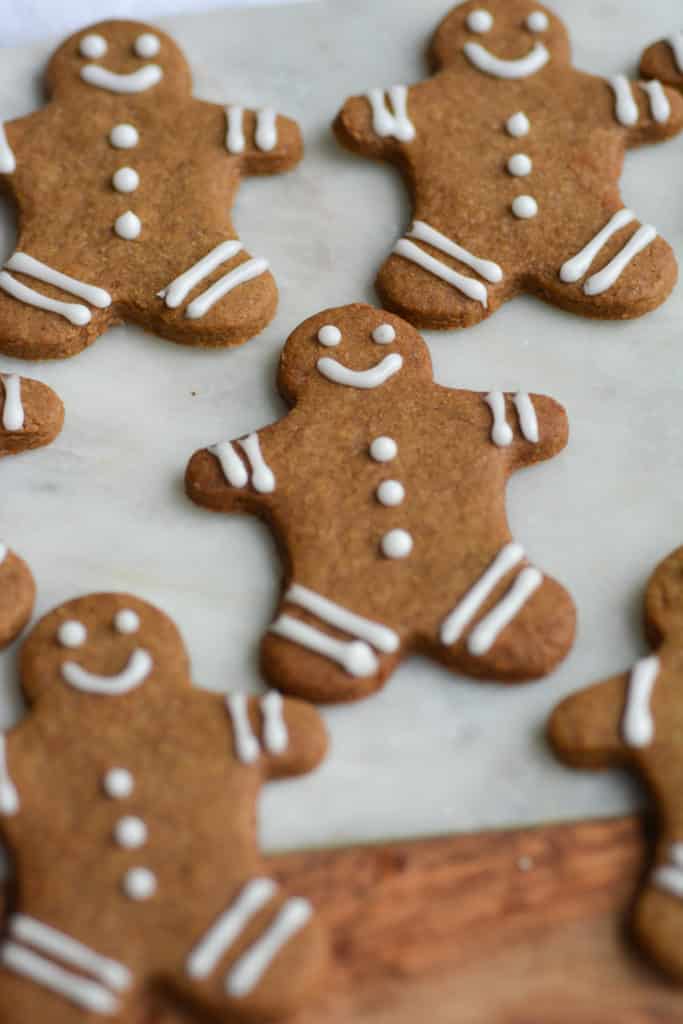 Also, as a note: if you are looking for a soft and chewy gingerbread cookie recipe, this is not it! So, don't under bake these hoping for a soft cookie. I prefer cookies like this to be light and crisp. Usually, if I want something soft and spicy, I'll typically make a Gingerbread Loaf or Spice Cake.
These cookies are the perfect treat with a cup of tea or hot cocoa. They are simple to make and to decorate. And, I have it on high authority that Santa is a fan too.
Cut-Out Gingerbread Cookies
Ingredients
6

tablespoon

Non-Dairy Butter

7

tablespoon

Granulated Sugar

2

tablespoon

Blackstrap Molasses

2

tablespoon

Plant Milk

1 ½

Cups

All Purpose Flour

¼

tsp

Baking Soda

¼

tsp

Kosher Salt

2 ½

teaspoon

Ginger

1 ½

teaspoon

Cinnamon

½

teaspoon

Allspice

½

teaspoon

Nutmeg

¼

teaspoon

Clove
Instructions
In a stand mixer fitted with the paddle attachment OR un a large bowl with a wooden spoon, cream the non-dairy butter and sugar.

Add molasses and plant milk and stir well.

Add flour, salt, baking soda and all the spices and stir well. The dough should come together fairly easily, but if you need to add 1 or 2 additional teaspoons of plant milk you can.

Form a disc with the dough, wrap it in plastic wrap and chill in the refrigerator for at least and hour, or up to 3 days.

Preheat oven to 325* and line a sheet tray with parchment.

Lightly flour your work surface and rolling pin. Roll the gingerbread dough out to about ⅛ of an inch.

Use a cookie cutter to cut desired shapes. Then transfer cookies to the parchment lined baking sheet. Press remaining scrap dough back into a disc, wrap in plastic and return to the refrigerator.

Bake cookies in a 325* oven for 18-22 minutes or until they are just starting to darken around the edges and the center of the cookie feels set when you press it with a finger.

Cool cookies on the baking sheet for 5 minutes then transfer to a cooling rack to completely cool.

Repeat with remaining dough.

Cool completely before decorating.
Let me know how you like this recipe and if there is anything you'd like to see me make next!