The best snacks are dipped snacks. And hummus is great, but sometimes its fun to switch it up a bit. And eggplants are still plentiful in my grocery store so I snagged some and set out to make some Easy and Creamy Baba Ganoush.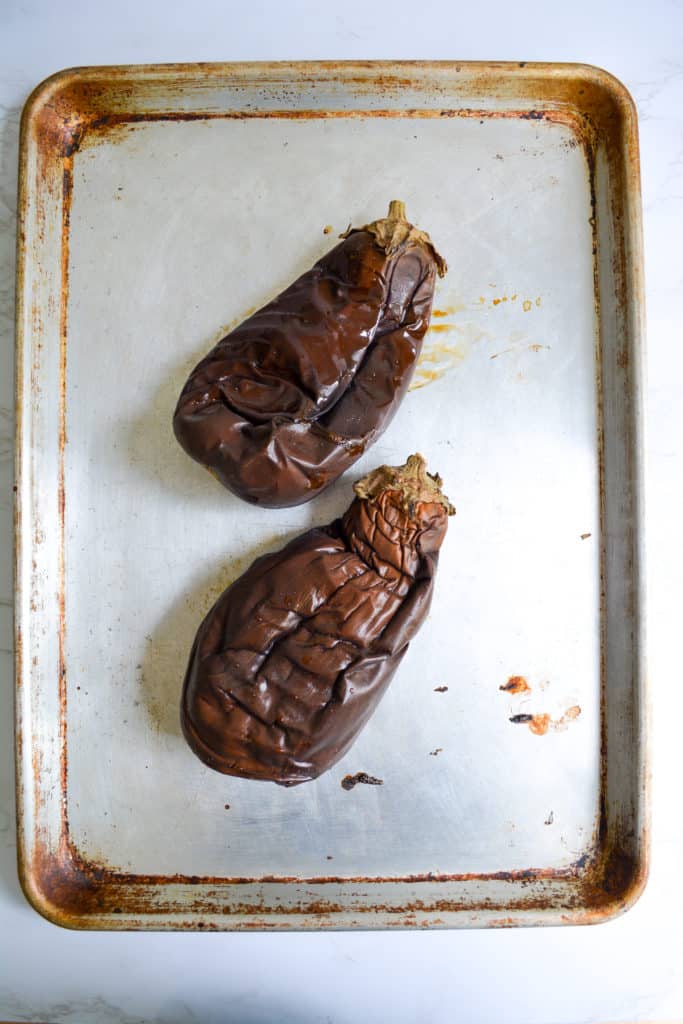 I love Baba Ganoush. I always order it at my favorite Lebanese restaurant in Cambridge. If you're in the Boston area, its called Cafe Barada. Its family owned and everything is so fresh and delicious. Just like all of their food, the Baba Ganoush is out of this world. So, I thought I'd try my hand at it. And boy is it EASY and tasty.
Ingredient Tips
You only need FOUR ingredients to make this delicious dip. Eggplant, garlic, tahini and lemon juice. I like to use this lemon Juice by the brand Santa Cruz. I used to be a fresh-lemon-only kind of gal, but honestly this stuff taste exactly the same and saves me a lot of mess. Don't get the stuff that comes in the squeeze fake lemon thing. The flavor of those is pretty artificial. And while you can get away with it in some places, don't use it here!
For tahini, I like the brand Krinos. But, there are MANY good brands out there. This is just my favorite. It is easily accessible in my area, its smooth, creamy and runny. And it has great flavor!
Recipe Tips
I wanted to mimic the texture of the dip at my favorite Lebanese restaurant, and theirs is much looser than hummus. If you want a super thick baba ganoush, allow your roasted eggplant to sit in the strainer after roasting for at least 30 minutes. But since I wanted a min a bit looser, I just plop it in there for ten minutes while I gather the other ingredients and fetch my food processor from the basement.
I like to serve this Easy and Creamy Baba Ganoush with veggies and pita to dip. The beautiful radishes pictured were a gift and the combo of radish with baba ganoush is so good. Or if I'm feeling really ambitious I'll make my Gluten-Free Falafel Burgers but just eat them as oven baked falafel!
Baba Ganoush
Ingredients
2

Medium

Eggplants

32 oz of eggplant

1/3

Cup

Tahini

1/4

Cup

Lemon Juice

1/2-3/4

tsp

Salt

Black Pepper to Taste
Instructions
Preheat oven to 425* F. Pierce each eggplant with a paring knife at least 10 times each.

Roast the whole eggplants for 40-45 minutes or until the eggplants are completely soft all the way through. You will know that they are soft if you press one with your finger and it deflates.

Allow to cool until you can handle them.

To peel the eggplants, cut them in halk and use a spoon to scoop the flesh out. Scoop the eggplant directly in to a strainer.

Allow to sit for 10-30 minutes depending on how thick you want the finished dip to be.

Into your food processor, combine eggplant, tahini, garlic and lemon juice. Blend on high for 1 minute.

Scrape the sides of the bowl down and add salt and pepper.

Blend on high for another 30 seconds.

Serve immediately or transfer to a container to a container with an airtight lid and store in the fridge for up to 5 days.
Let me know how you like this recipe!