It has been a minute since I've made veggie burgers. They take a little more hands on time than the meals that I have been making lately but holy moly are they worth it. These Gluten Free Falafel Burgers are SO good. They have tons of flavor and this recipe makes 8 big burgers, making it worth the bit of time spent making them.
These Gluten Free Falafel Burgers are a very similar to my Oven Baked Falafel recipe from ages ago. I tweaked the recipe to make them completely gluten free, made them burger sized and added a tangy slaw and creamy tahini spread to make them complete.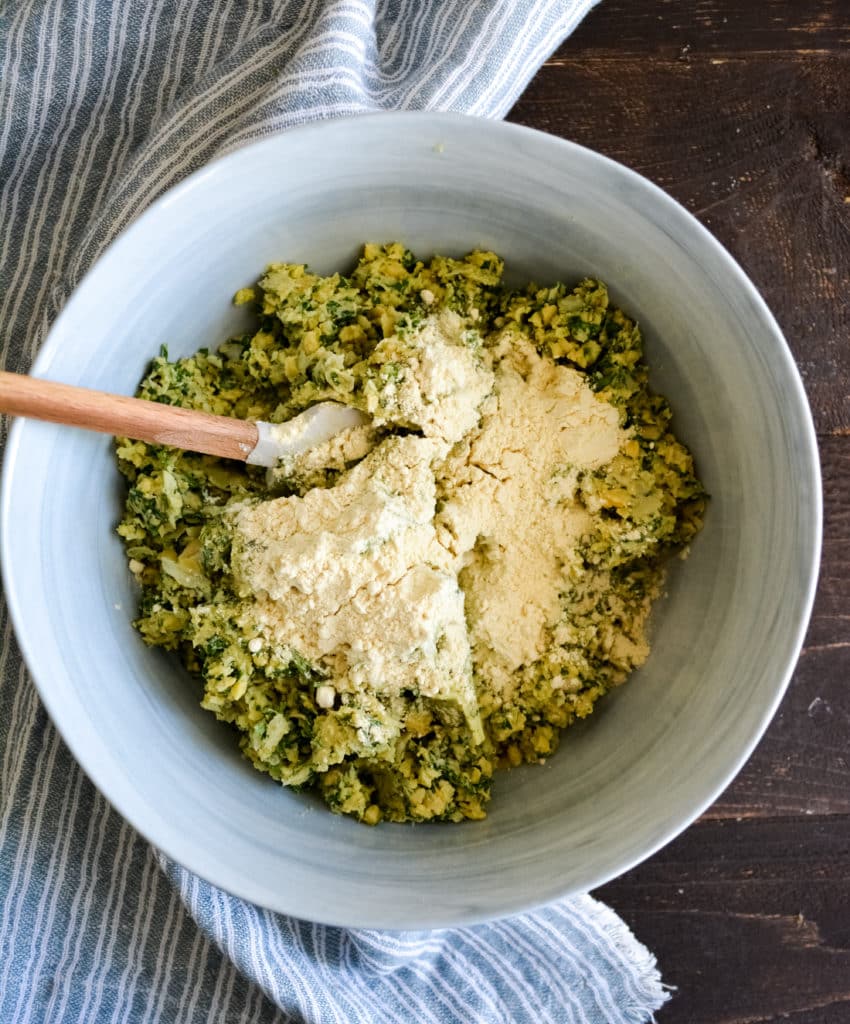 The most important part of falafel making is that you don't over process the ingredients. If you process the mix into a paste, the texture will stay that way. So let the mix keep some texture and add just enough chickpea flour to hold it together.
Chickpea Flour
Speaking of chickpea flour- or garbanzo flour as its sometimes labeled- the addition of chickpea flour is the main tweak that I made. Chickpea Flour is simply chickpeas that have been ground into flour. For me, it is easy to get at any local grocery store that carries Bobs Red Mill products. if you can't get your hands on chickpea flour, regular all purpose will work. Chickpea flour is a great gluten free substitute for all purpose in savory recipes. And I use it to make the crust on my Weeknight Pizza. And that is a killer recipe, so try to get your hands on some!
Also, if you want to skip a step, you can use store-bought hummus in place of homemade tahini sauce. I always have the ingredients to make tahini sauce on hand- its my favorite dressing for salads and roasted veggies. But hummus will give you the same vibe.
Make your next burger night plant based without missing out on flavor and texture with these incredible Gluten Free Falafel Burgers!
📖 Recipe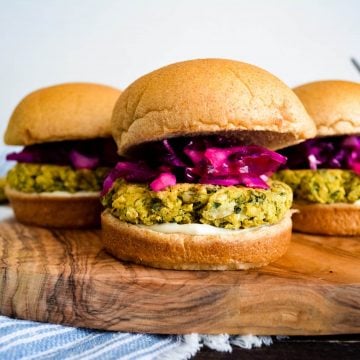 Gluten-Free Falafel Burgers
Ingredients
1

Cup

Onion, roughly chopped

½ of a large onion

2

cloves of garlic, roughly chopped

3

tablespoon

Lemon Juice

2

tsp

Ground Coriander

½

teaspoon

Ground Cumin

¾

teaspoon

Salt

Black Pepper

1 ½

Cups

Parsley

¾

Cup

Cilantro (Optional)

2

tablespoon

Tahini

2

15 oz

Cans of Chickpeas, Lower Sodium

½-3/4

Cup

Chickpea Flour

I used closer to ¾ cup
For the Slaw
2

Cups

Red Cabbage

2

tsp

Lemon Juice

¼

tsp

Salt
For the Tahini Spread
4

tablespoon

Tahini

2

tablespoon

Lemon Juice

¼

teaspoon

Salt

Black Pepper to Taste

1 ½

tablespoon

Water

8

Gluten Free Hamburger Buns
Instructions
Into the bowl of your food processor add the onion, garlic, spices and lemon juice.  Pulse a few times to chop the onion.  Scrape down the bowl of the food processor with a rubber spatula and pulse a couple more times.

Add the herbs, and pulse a few more times to chop the herbs and combine them with the onion and garlic.  Scrape down the sides of the bowl and pulse once more.

Next add the chickpeas and tahini and pulse, scraping down the sides of the bowl occasionally until the chickpeas are combined with the herb and onion, but not smooth- you still want to see chunks of chickpeas.  If you completely blend the chickpeas, the falafel will turn out dense and gummy.  Work carefully and only use the pulse button.

Pour the chickpea mixture into a large bowl and sprinkle the chickpea flour on top of the mixture. Gently fold the flour in with your spatula. Your mixture should be tacky to the touch but shouldn't completely stick all over your hands. I start with ½ cup of flour and its usually perfect but add ¼ cup more if you think you need it.

Onto a parchment lined baking tray portion your dough out into heaped ⅓ cup mounds. After the mixture has been portioned, form them into burgers and place back onto the tray leaving about an inch and a half of space between each burger.  

Bake at 425* F for 20 minutes, remove from the oven add flip each burger over with a spatula, then put back into the oven for 10-12 more minutes.  They should be golden brown.

While the falafel is in the oven, make the condiments. To make the slaw, combine red cabbage, lemon juice and salt in a bowl and using your hands. massage the cabbage until it has softened a little bit. About 1 minute.

To make the tahini spread, pour tahini, lemon juice salt pepper and water into a jar and shake vigourously until well combined and smooth.

To assemble, some tahini spread onto a bun, top with a burger and top the burger with a handful of slaw and any other burger toppings you like. Enjoy!