I'm dishing up more Italian comfort food today! Polenta is not something I grew up eating. But, it is the ultimate Italian comfort food. Its so warm and hearty. And its basically a blank slate for any toppings you wish to put on it-- Hearty Marinara Sauce, Vegan Cauliflower Bolognese or roasted veggies-- anything you like. So, today I'm putting together warm and cozy bowls of Polenta with Broccoli Rabe and White Beans.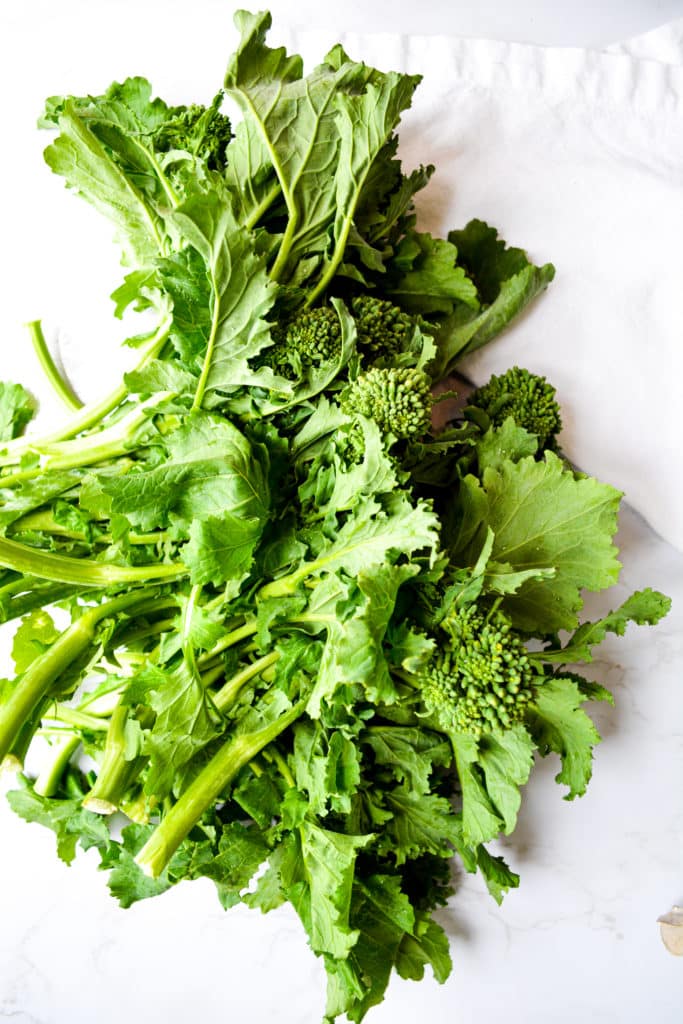 What is Polenta?
Polenta is essentially cornmeal porridge. There are many varieties of cornmeal for polenta that you can purchase in the grocery store, but my favorite is Bob's Red Mill. Its coarsely ground, which gives the polenta a nice texture. If you use a different brand or grind of polenta for this Polenta with Broccoli Rabe and White Beans, make it according to the package directions.
What is Broccoli Rabe?
Broccoli Rabe is a bitter green that has thin stems, lots of green leaves and little pieces that look like broccolini mixed in. Its on the menu at many Italian restaurants and is usually cooked in lots of garlic and olive oil.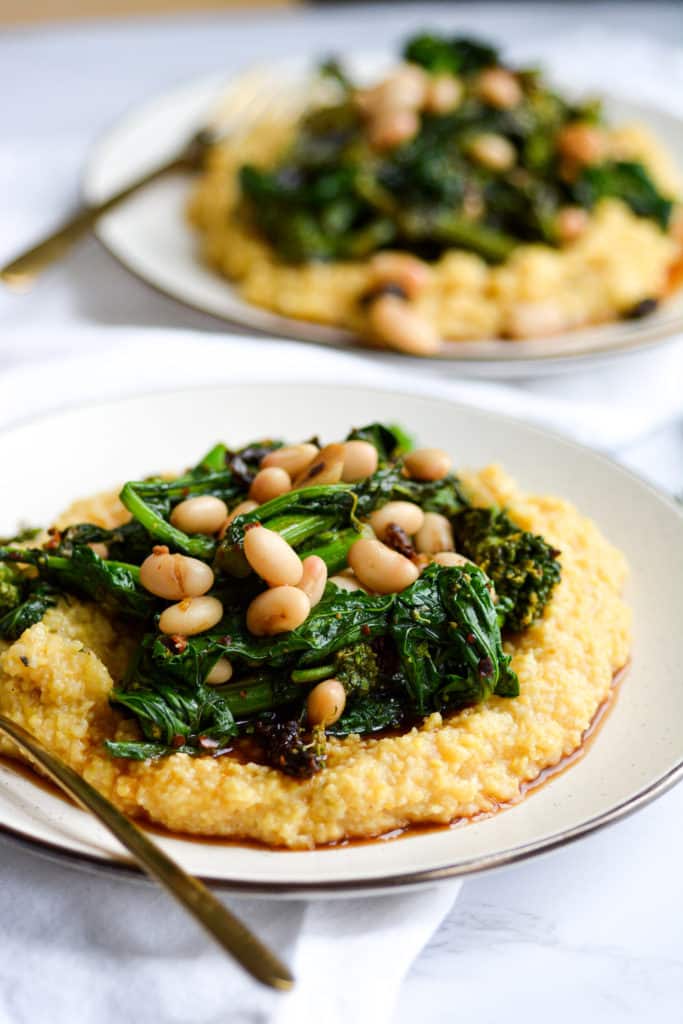 Broccoli Rabe is quite bitter in taste. So, if that doesn't sound appealing to you, make this Polenta with Broccoli Rabe and White Beans with broccolini or with kale. Or a combo of the two if you're feeling wild.
Broccoli Rabe is really easy to work with. To prep the broccoli rabe, first chop the bottom 2 inches of stem off. Then, pick out the larger pieces that look like broccolini. I separate these larger pieces because they take a little longer than the greens that just need a few minutes.
The finished broccoli rabe will be garlicky with hints of lemon and heat from the red pepper flake. The greens will taste a bit bitter, but in combination with the polenta, the flavor is really nice.
I love to serve this warm and cozy Polenta with Broccoli Rabe and White Beans with a glass of red wine and plenty of cracked black pepper and Follow Your Heart Parmesan for sprinkling.
📖 Recipe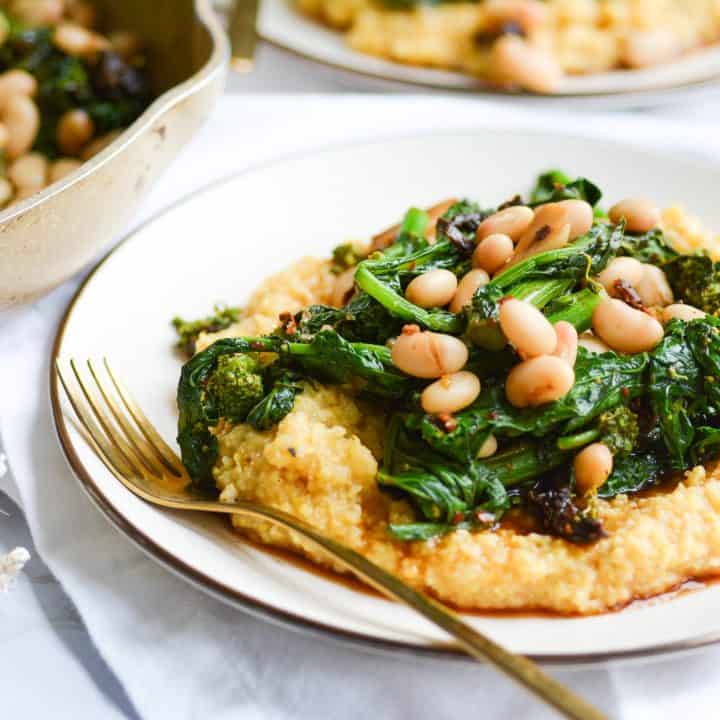 Polenta with Garlicky Broccoli Rabe and White Beans
Ingredients
For the Polenta
1 ½

Cup

Water

1 ½

Cup

Vegetable Stock

1

Cup

Polenta

1

tablespoon

Nutritional Yeast

Optional

Black Pepper
For the Broccoli Rabe with White Beans
1

Bunch

Broccoli Rabe, trimmed

2

tablespoon

Extra Virgin Olive Oil

2

Large

Cloves of Garlic, thinly sliced

½

Cup

Vegetable Stock

3

tablespoon

Chopped Sun Dried Tomatoes

Pinch

Red Pepper Flake

Zest of 1 Lemon

1

15oz

Can of White Beans, drained and rinsed

I used northern beans

1 ½

teaspoon

Lemon Juice

Salt and Black Pepper to Taste
Instructions
For the Polenta
Bring water and vegetable stock to a boil a medium sauce pan. While whisking constantly, stream the polenta in. Reduce heat and simmer polenta, stirring constantly for 7 minutes.

Stir in nutritional yeast and some freshly ground black pepper, cover the pot with a lid and set aside while you proceed with the recipe.
For the Broccoli Rabe
Separate the larger broccoli looking pieces from the parts of the broccoli rabe that are just greens. The larger pieces take a bit longer to cook.

Heat olive oil in a large skillet over medium heat. Add garlic and sauté, stirring frequently until it just starts to brown.

Add the larger broccoli-like pieces of the broccoli rabe, the vegetable stock, sun dried tomatoes, and red pepper flake. Stir, reduce heat to medium low and place a lid over the pan for 4 minutes.

After 4 minutes has elapsed, remove the lid, add the greens part of the broccoli rabe and lemon zest. Return the lid for 3 minutes or until the greens have wilted.

Remove the lid once more and stir in the lemon juice, white beans and a pinch of salt and pepper. Remove from heat.
To Plate
If your polenta has gotten too thick in the time that it took to make the broccoli rabe, return it to low heat and add an additional ¼ Cup of vegetable stock to loosen it up. It should be a porridge texture.

Ladle some polenta onto a plate and top it with the broccoli rabe and white bean mixture, being sure to get some of the flavorful juice from the bottom of the pan. Serve.