What can't cauliflower do? Cauliflower is the current, hot do-it-all vegetable. It can be rice, buffalo wings and even as a way to bulk up a smoothie. And now, it can be this incredible and comforting Hearty Cauliflower Bolognese.
I love this recipe. Its a fun way to shake up my regular pasta night. We pretty much have pasta once each week, especially in the wintertime. My favorite sauces are Minimalist Bakers Roasted Red Pepper Pasta, my Rigatoni with Sausage and Broccolini and a fresh cherry tomato sauce that takes all of 10 minutes to toss together. This Hearty Cauliflower Bolognese takes a little more time to make than my usual go-to pasta dishes, but boy does it pay off. Its thick and flavorful and full of flavor.
This recipe calls for a large can of crushed tomatoes. I have two favorite varieties of canned crushed tomatoes. Tuttorosso and Whole Foods 365. Both of these brands are on the smoother side of crushed. Some brands of crushed tomatoes are more like diced tomatoes. And I'm not about that life. These brands also have a nice sweetness to them. But, some brands out there are very acidic and need to be balanced with sugar. And that what I want out of a canned tomato.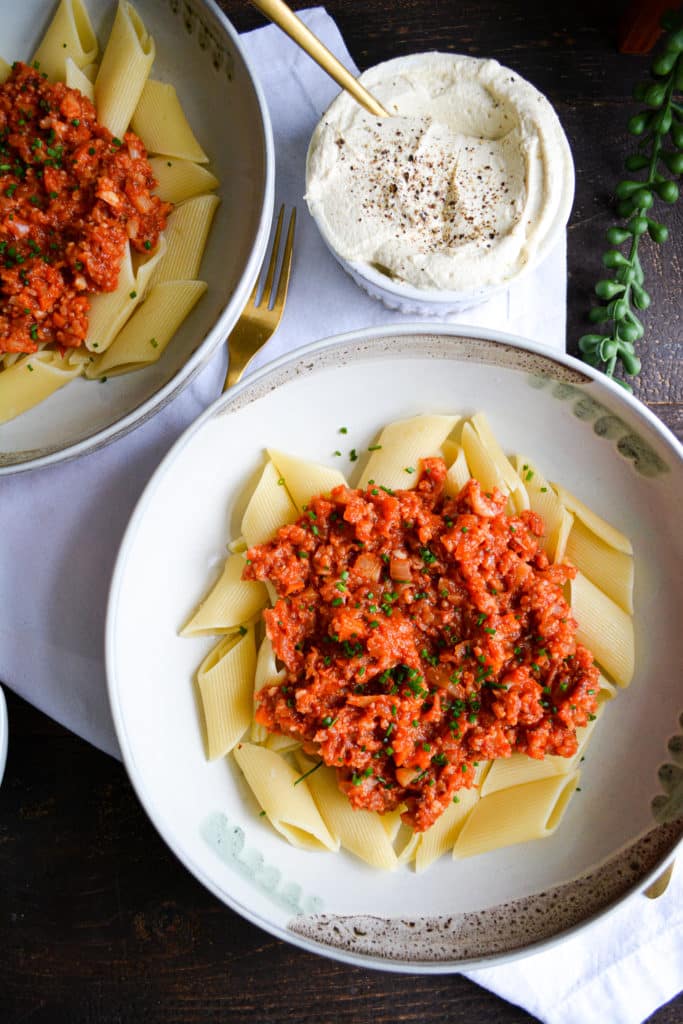 Most people would say that you should only buy whole peeled canned tomatoes. And they're probably right. They probably have the hightest quality. But I like the convenience factor of crushed. I can make marinara in 20 minutes rather than an hour. But the biggest reason I tend to buy crushed because we make a lot of pizza. I crack ope a can and thats what we use as sauce. Easy peasy.
I served my Hearty Cauliflower Bolognese over penne rigate. My favorite pasta shape is Rigatoni, but the pasta aisle has been SLIM pickings lately, so I got what was available. Then, I finished it with a dollop of whipped ricotta which is my Herbed Ricotta recipe made in a food processor I had it out for the cauliflower. And finally, a drizzle of my favorite olive oil to complete the dish.
📖 Recipe
Hearty Cauliflower Bolognese
Ingredients
1

Small

Head of Cauliflower

or you can buy 4 cups riced cauliflower.

3

tablespoon

Olive Oil, Divided

1

Large

Onion, small dice

2

Large

Carrots, small dice

5

Cloves

Garlic, minced

1

28oz Can

Crushed Tomatoes- Preferably Tuttorosso

3

tablespoon

Tomato Paste

2

tablespoon

Finely Chopped Sun Dried Tomatoes

½

teaspoon

Dried Oregano

½

teaspoon

Dried Basil

¼-1/2

teaspoon

Crushed Red Pepper

1

teaspoon

White Miso

optional, this is for depth of flavor

Salt to Taste

Plenty of Freshly Ground Black Pepper
Instructions
Start by ricing the cauliflower. Wash the cauliflower, removing any leaves. Cut into florets. Working in batches, put a handful of cauliflower into the bowl of a food processor. Pulse a few times until the cauliflower has the size and texture of ground meat. Pour into a bowl, set aside and repeat with the remaining florets. In the end you should have 4 cups of cauliflower.

In a large saucepan or dutch oven over medium heat, heat 1 tablespoon of olive oil. Add onion and carrot and season with a pinch of salt and few cracks of black pepper. Cook, stirring occasionally until carrot has softened, about 4 minutes. Add garlic and cook 1-2 minutes longer.

Add the 2 remaining tablespoons of olive oil and the 4 cups of the processed cauliflower. Cook stirring occasionally until cauliflower starts to soften, about 5-7 minutes.

Reduce heat to simmer and add crushed tomatoes, tomato paste, sun dried tomatoes, oregano, basil and crushed red pepper flake and more black pepper. Stir to combine.

Simmer sauce for about 25-30 minutes. It should be nice and thick.

Taste for seasoning and remove from heat and stir in the miso paste. Be sure to stir it in really well. No one wants a chunk of miso!

Serve over your favorite pasta.
Let me know how this recipe worked for you and if there is anything you'd like to see me make next!