There are so many fun things to cook with right now that I feel like I'm struggling to do them all justice. During the summertime, I don't want to bake so as soon as the cooler weather comes in, I bake up a STORM. So today I wanted to shake things up a bit. I'm sharing a fun and different way to use butternut squash: Garlic Butter Butternut Squash Steaks.
These Garlic Butter Butternut Squash Steaks are an easy side to any Autumn meal. They are flavorful, covered in garlic butter and take just a few minutes of active prep time before they are slid into the oven to finish.
Picking a Butternut Squash
Have you ever gotten a butternut squash that is pale and tasteless when you cook it? My biggest tip for picking pretty much any large fruit or veggie is to make sure it feels heavy for its size. It hasn't failed me yet!
And for this recipe, try to pick a squash that has a longer top like you see in the picture. That way you will be able to cut more steaks.
Preparing the Butternut Squash Steaks
The most important part of this recipe is cutting the butternut squash steaks. You will need a cutting board, a vegetable peeler and a 7"-8" SHARP chefs knife. My favorite knife is my Global Sai 7 ½" chefs knife. And, I sharpen it with this wet stone set to keep it fresh! It is not important to have a fancy chefs knife. What is important is that you have a knife that is comfortable for you to use and one that is sharp. Both of these will help prevent you from cutting yourself.
First, cut the top solid portion from bottom part where the seeds are. Place the bottom part into your fridge for another use. But, may I recommend my Butternut Squash Risotto?
Next, cut the top with the stem off of the part of the squash you are working with. Next, using a vegetable peeler, peel the skin of the squash off. You may need to go around the squash a couple of times as the skin is quite thick!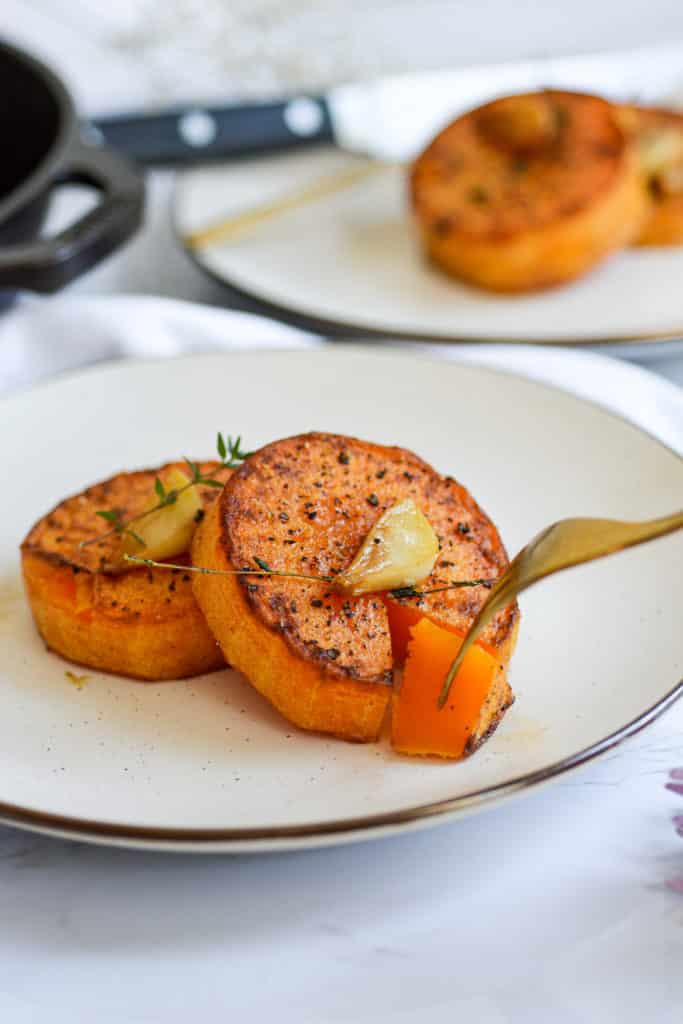 Now, with your large, sharp chefs knife, mark out 1" steaks before you commit to cutting them. I was able to get five 1" steaks. Its okay if you can only get four. But if you are pretty close to five, you can adjust the marks a bit to squeeze the fifth steak in. Cut the steaks where you have marked.
Thats it! These Garlic Butter Butternut Squash Steaks come out tender, flavorful and irresistible. They are sure to be your new favorite Autumn side dish.
Garlic Butter Butternut Squash Steaks
Ingredients
5

1 inch

Butternut Squash Steaks

see above for cutting advice!

2

tablespoon

Non-Dairy Butter

I used Country Crock Plant Butter

5

Large

Cloves Garlic

Sliced in half, lengthwise

3

Sprigs

Thyme

Salt and Black Pepper
Instructions
In a 10" inch cast iron or other oven proof skillet, heat the non dairy butter over medium high heat. Just until its melted.

Add the sliced garlic and thyme into the butter. Let cook for 1 minute to infuse the butter.

Season one side of the butternut squash steaks with plenty of salt and pepper.

Place butternut squash steaks into the pan, seasoned side down. Be sure to leave a little space between each steak. Season the tops of the steaks with salt and pepper.

Cook the steaks on the first side until they are brown on the bottom- 5-8 minutes. Carefully flip with a spatula.

The garlic should be brown and soft at this point. Remove it and the thyme sprigs from the pan and set them aside on a small plate. Don't throw them out!

Place the whole skillet into a 400*F oven for 20 minutes.

After 20 minutes have elapsed, test that the steaks are done by inserting a small paring knife into the center of a steak. It should pierce through easily. If your steaks are no done, return to the oven until a knife can pierce through them easily.

Top with the reserved garlic and thyme sprigs and serve.
Let me know how you like this recipe!