Buttercream is an important part of every bakers arsenal. It is used to decorate cakes, frost cupcakes and fill sandwich cookies. I love experimenting with new flavors of buttercream. And, this Quick and Simple Brown Sugar Buttercream is my new favorite for Fall. It complements all of the usual autumn baking flavors like apple, pumpkin and warm spiced. But, best of all-- Its ready in ten minutes!
This recipe only requires 4 basic ingredients. Vegan butter, powdered sugar, vanilla and molasses. You will notice that there is no "real" brown sugar in this recipe. And, thats because brown sugar is white sugar mixed with molasses. So, in this recipe, molasses gives the buttercream that rich, warm brown sugar flavor. And the benefit of this method is you control how much brown sugar flavor comes through. Simply, add more or less molasses as you prefer.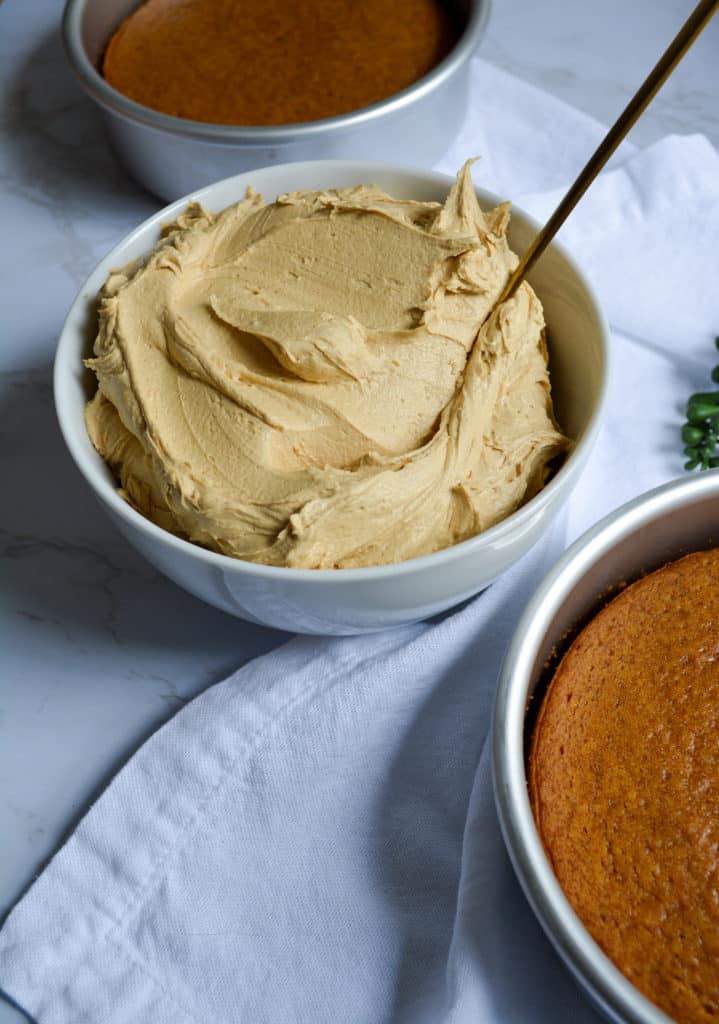 Choosing the Right Vegan Butter
For the vegan butter, be sure to use the kind in stick form. The vegan butter that comes in tubs is great for some things, but its too soft to use for buttercream. I used the Country Crock Plant Butter- the avocado oil variety- here and it worked so well. In my experience Country Crock is easy to find, but Earth Balance Buttery Sticks are great too! But, I prefer the taste of the Soy-Free variety.
Simple Steps to the Smoothest Buttercream
And, for the smoothest possible buttercream, be sure to sift your powdered sugar. The easiest way to for this is to fit a sifter on top of a large bowl, and measure directly into the sifter. Then, sift into the bowl, and then pour into the mixer. Its a crucial step so don't skip it!
And another crucial step is scraping the bowl as the buttercream is mixing. So, stop frequently to scrape the bowl with a spatula. This makes sure that the buttercream is evenly mixed with no rogue vegan butter chunks. Although it does take a bit more effort, the payoff is big!
I used this Quick and Simple Brown Sugar Buttercream to fill and frost a Pumpkin Spice Cake. Its incredibly creamy and dreamy. And, it supported the cake really well, and also piped and held its shape beautifully. I cant wait to fill and frost all of the Autumn treats with it!
Brown Sugar Buttercream
Ingredients
2

Sticks

Vegan Butter, room temperature

Like Country Crock Plant Butter Sticks!

4

Cups

Powdered Sugar

1

teaspoon

Vanilla

¼

Cup

Molasses
Instructions
Cream vegan butter in the bowl of your stand mixer fitted with the paddle attachment.

Meanwhile, measure 4 cups of powdered sugar into a sifter and sift.

Add all of the powdered sugar into the mixer and with the speed on LOW, mix for about 1 minute. Scrape the bowl with a spatula to be sure everything is incorporated.

Add vanilla into the mixer and stir to incorporate. Scrape the bowl again.

With the mixer on medium speed, slowly stream the molasses into the bowl.

Mix the buttercream on medium speed until its light and fluffy- about 2 minutes- stopping to scrape the bowl down a few times.

Fill cookies, frost a cake, or eat with a spoon. This buttercream will keep in your fridge for up to a week and can be frozen for up to a month!
Let me know how you liked this recipe and what you used it for frost or fill!