Scones are a coffeehouse breakfast classic. But too often, they are dry and crumbly. These Fluffy Strawberry Vanilla Scones are a recipe I developed for a brunch wedding last August. I wanted to make sure the scones were light, fluffy and packed with strawberries. And if you ask me, I hit the nail on the head.
Scones are made by cutting fat into flour, and then adding liquid. I chose Country Crock Plant Butter sticks- the avocado oil variety for the fat. Its important to use a variety of dairy-free butter that comes in stick form. The kind that comes in a tub will be too soft to make scones with.
And for the liquid, I made some plant-based buttermilk. To make plant-based buttermilk, simply combine whatever milk you have on hand (I used soy milk here because thats what my grocery store had this week) and add some lemon juice or vinegar to it and let it sit for 5-10 minutes. The buttermilk reacts with the baking soda creating lift making the scones light and fluffy.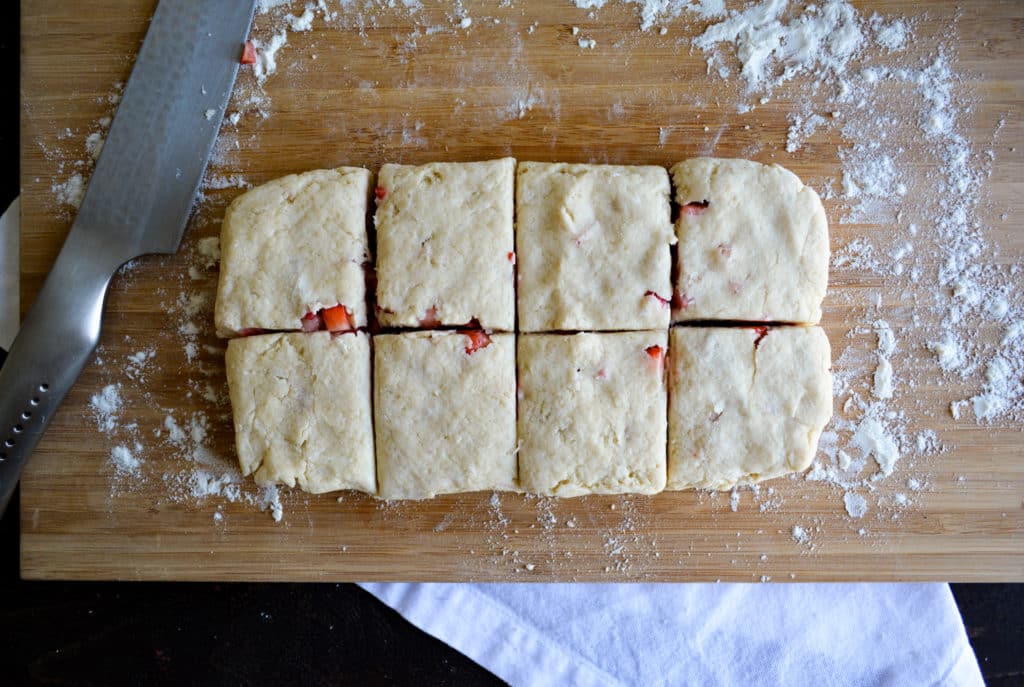 If you don't like strawberries, don't have any around or don't feel like chopping them, use any berry here. I just love strawberries and don't mind chopping them up. Even frozen blueberries would work well here. But don't thaw them out before using! It will turn all of your dough purple.
I don't remember where I learned the method I use for adding the berries into the scone dough, but its my absolute favorite way. It not only incorporates the berries evenly without smashing them, but also layers the dough creating more lift.
For this method, I pat the dough into a large rectangle, and add the berries all over the top. Then, roll the dough toward you like a cinnamon roll. And when you get to the end, pat the dough back out into a rectangle and voila! No mess, evenly distributed, perfection!
I prefer my Fluffy Strawberry Vanilla Scones with no glaze. I think they are sweet enough as they are. But, if you like a glazed scone, you can use the one that is in my Easy Snickerdoodle recipe!
📖 Recipe
Fluffy Strawberry Vanilla Scones
Ingredients
8

tablespoon

Plant-Based Butter, cut into cubes and put back into the refrigerator

I used Country Crock

2

Cups

All-Purpose Flour

½

Cup

Granulated Sugar

2

teaspoon

Baking Powder

¼

teaspoon

Baking Soda

⅛

teaspoon

Salt

½

Cup

Unsweetened Plant Milk

I used Silk Soy Milk

2

teaspoon

Lemon Juice

1

teaspoon

Vanilla Extract

1

Cup

Chopped Strawberries

About 5 Large Strawberries
Instructions
Preheat oven to 425* and line a baking sheet with parchment.

Into a small bowl or liquid measuring cup, combine plant milk, lemon juice and vanilla. Set aside.

Into a large bowl, combine flour, sugar, salt, baking powder and baking soda.

Into the flour mixture, add the plant butter cubes. Using your hands or a pastry cutter, squash the butter into the flour until the butter is the size of small peas. Don't work it all the way in.

Add the liquid into the flour and butter mixture and gently stir to combine, switching to using your hands if you need to.

Turn the dough out onto a floured surface and pat it into an approximately 6x9 rectangle.

Add the chopped strawberries evenly to the top of the dough. Gently press them in and then roll the dough toward you, into a log.

Then pat the dough into a 5x9 rectangle. Cut the dough down the center long-ways, then into 4 pieces across to make 8 rectangles.

Place the scones onto a parchement lined baking sheet. Sprinkle the tops with sugar and bake in a 425* oven for 20-23 minutes. The bottom of the scones should be browned all the way across.

Let cool slightly and serve!
Let me know how this recipe worked for you and if there is anything you'd like to see me make next!