This Vegan Blueberry Scone recipe yields light and tender vegan scones. This eggless scone recipe is super simple and perfect for beginners!
Today I'm sharing a classic with you. These Vegan Blueberry Scones are some of my favorite scones ever. And if you've been here a while, you know I LOVE scones. They are simple to make and bake up light, tender and oh so soft.
Scones can be a little tricky. And too often they are dry and crumbly. But not here! Stick with me and you'll never make a dense scone again.
Tips for the BEST Vegan Blueberry Scones
There are a few things to keep in mind when making these Vegan Blueberry Scones.
First, make sure your ingredients are cold. Cube the butter and stick it back in the fridge until you're ready to use it. Similarly, measure the wet ingredients and stick those in the fridge until you're about to add them. Also, be sure to use non dairy butter that comes in stick form. My top pick is Earth Balance Soy-Free Buttery Sticks.
Second, getting the right size butter chunks is crucial. You want the butter to be in between the size of small peas and coarse meal. Having some chunks of butter actually helps these vegan blueberry scones rise.
Third, handle the vegan blueberry scone dough as little as possible once the the liquid is added. The more you mix the dough, the more gluten will form, leaving you with tough scones. So be gentle and work quickly.
Fourth, always bake scones in a HOT oven. In all of my vegan scone recipes, the scones are baked at 425*F. A hot temperature gives the scones great rise and browns the bottoms nicely. All while leaving the interior nice and tender.
The BEST Wat to Incorporate Fruit into Scones
For all of my eggless berry scone recipes, I never mix the berries directly into the scone dough. I like to fold them in. This is because stirring the berries can break them up. And since berries are full of juices, it can leave the scones too wet which will hinder the rise. And we wan big, beautiful Vegan Blueberry Scones.
First, pat the scone dough out into a rectangle and add the berries onto the dough.
Then I gently press them into the dough. Then, to distribute the blueberries, I roll the dough up like a cinnamon roll.
And finally I press the rolled log back into a rectangle to cut it.
This method is great for a few reasons. First, it avoids smashing the berries. Second it distributes the berries evenly. Each scone will be brimming with berries. Third, this method creates layer in the scone dough which helps these Vegan Blueberry Scones rise high.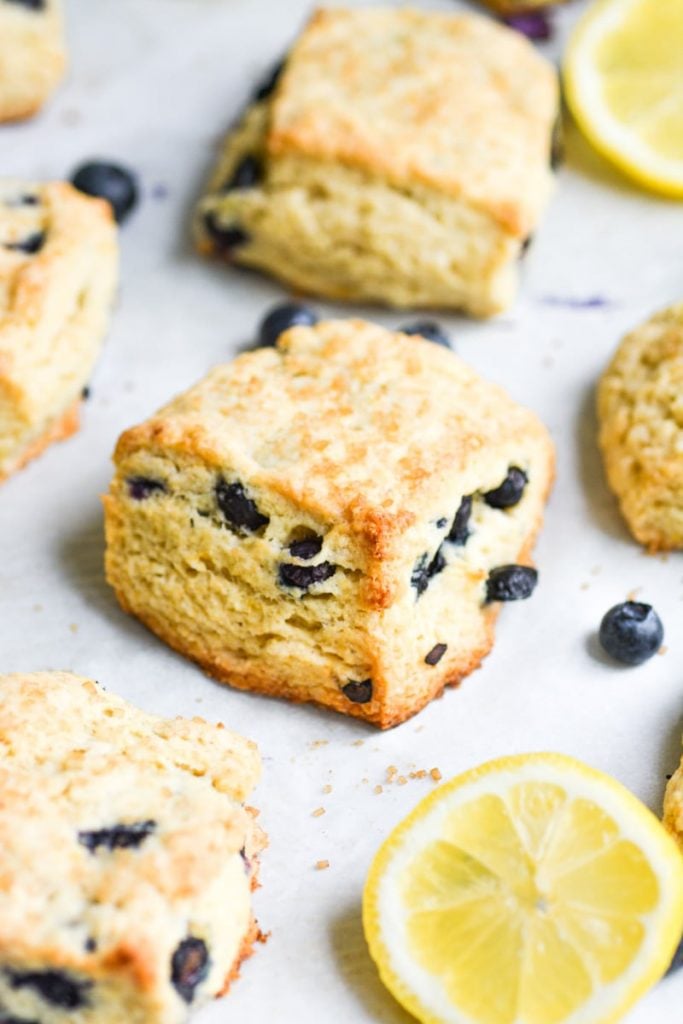 Looking for More Scone Recipes?
Fluffy Strawberry Vanilla Scones
Make these Vegan Blueberry Scones for your next weekend brunch with friends. Or make them for yourself and stick them in the freezer. They defrost beautifully in your toaster oven!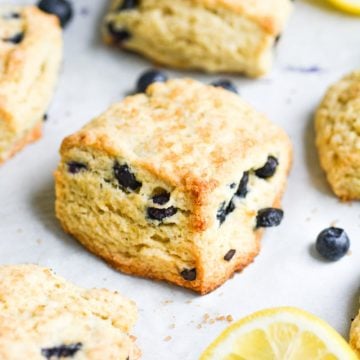 Vegan Blueberry Scones
This Vegan Blueberry Scone recipe yields light and tender vegan scones. This eggless scone recipe is super simple and perfect for beginners!
Ingredients
8

tablespoon

Non Dairy Butter, cubed

See Note!

2

Cups

All Purpose Flour

½

Cup

Granulated Sugar

2

tsp

Baking Powder

¼

teaspoon

Baking Soda

¼

teaspoon

Salt

½

Cup

Plant Milk

2

teaspoon

Lemon Juice

1

teaspoon

Vanilla

Zest of ¼ of a Lemon

1

Cup

Blueberries

Turbinado Sugar for Sprinkling

optional
Instructions
Preheat oven to 425*F, line a sheet tray with parchment.

Combine non dairy milk, lemon juice, lemon zest, and vanilla in a small bowl or measuring cup. Place in the fridge.

In a large bowl, combine flour, sugar, baking powder, baking soda and salt.

Into the dry ingredients add cubed butter. Break the butter apart with your fingers, then using either two forks OR a pastry cutter work the butter into the flour until its just smaller than small peas.

Add the wet ingredients to the bowl and using a spatula or your hands, gently fold the mixture together. It should look shaggy but be able to be pressed together.

Lightly flour a work surface, then dump the scone mixture out. fold the dough onto itself a few times if its still shaggy, just to form a more cohesive dough.

Pat the dough out into a 6x9 rectangle.

Add the blueberries on top of the dough rectangle and gently press them into the dough, then roll the dough toward you like a cinnamon roll.

Then press the rolled scone dough out into a 9x5 rectangle. Using a sharp knife, cut the dough in half longways, then make 3 cuts width wise, yielding 8 scones.

Transfer the scones to a parchment lined baking sheet, spacing them evenly. Sprinkle the tops of the scones with some turbinado sugar and bake for 18-21 minutes or until the bottom of each scone is nicely brown all the way across.

Serve warm or place in an airtight container and freeze for up to 1 month and thaw in the toaster oven!
Notes
Make sure to buy the non-dairy butter that comes in a stick form.  Don't use the kind from a tub for this as it will be too soft.