This recipe for Vegan Blackberry Muffins are easy to make, and absolutely delicious! And I show you my best tips for soft and moist vegan muffins!
I love muffins. They are simple to whip together, the flavor combinations are endless and they are so delicious. Since the warm months are here, I've been gravitating toward fresh berries. And thought that a new muffin recipe was in order. So, I whipped up these simple Vegan Blackberry Muffins and they are DELICIOUS.
How to Make Vegan Muffins
Muffins are incredibly easy to veganize. In this Vegan Blackberry Muffin recipe, I use oil rather than butter, plant based yogurt as the liquid and forget eggs all together (kind of). Lets talk about each of these points in a little more detail.
I love plant based butter. You have all heard me talk about my two favorites: Earth Balance and Country Crock Buttery Sticks. But vegetable oil is my pick for muffins. It is lighter in consistency than plant butter. So, using oil helps most muffins and quick breads stay nice and light.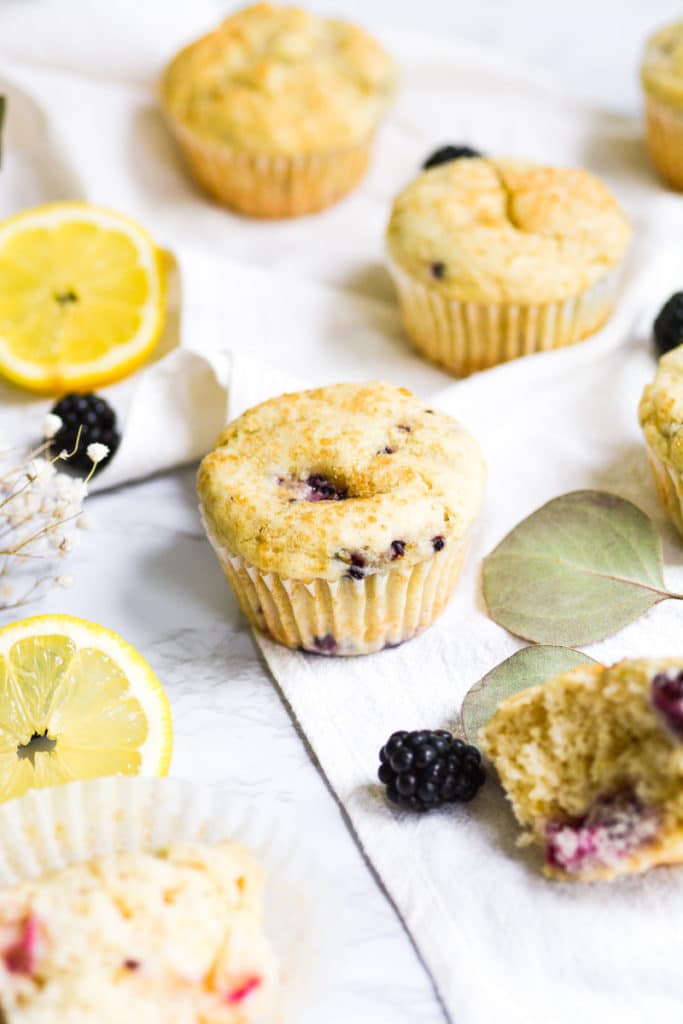 For these Vegan Blackberry Muffins, I use vegan yogurt as the liquid. Yogurt lends a nice tang to the muffins which complements the blackberries and the hint of lemon zest beautifully. The acidity in yogurt also helps tenderize the muffins keeping them nice and soft. I used So Delicious Unsweetened Coconut Yogurt.
Eggs are obviously missing from this recipe and there is no clear egg replacer. For muffins and cakes, I like to simply increase the amount of oil a bit and increase the amount of liquid to account for the eggs. And thats it! No eggs or egg replacer necessary to make fluffy and delicious vegan blackberry muffins.
Muffin Mixing Method
Did you know that one of the 3 basic "mixing methods" is called the muffin method? Simply combine the dry ingredients in a bowl with a whisk. In a separate bowl combine the wet ingredients with a whisk. Then you add the wet ingredients to the dry ingredients and stir until just combined.
But, I'm lazy. And, I like to use just one bowl if it wont ruin the recipe. So for these Vegan Blackberry Muffins, I like to mix the wet ingredients in a bowl and add the dry ingredients into the wet ingredients.
And can I let you in on a secret? It doesn't matter. If the muffin method made a difference in muffin quality, I'd use it! And I'd tell you to use it, too. So, save a bowl and use my lazy one-bowl method for you muffin mixing. You will still get nice light and fluffy muffins, but you will have one less bowl to wash.
Looking for More Muffin Recipes?
Gluten Free Cinnamon Oat Muffins
Double Chocolate Banana Muffins
Pumpkin Spice Coffee Cake Muffins
I like to store these Vegan Blackberry Muffins in the freezer and throw one into my work bag as a snack. That way by the time I'm ready to eat it its completely thawed. But they also warm up beautifully in a toaster oven!
Vegan Blackberry Muffins
This recipe for Vegan Blackberry Muffins are easy to make, and absolutely delicious! And I show you my best tips for soft and fluffy vegan muffins!
Equipment
Muffin Tin

Bowl

Whisk

Spatula
Ingredients
2

Cups

All Purpose Flour

2

teaspoon

Baking Powder

¼

tsp

Baking Soda

½

teaspoon

Kosher Salt

1

Cup

Non-Dairy Yogurt

unsweetened, not greek style

⅔

Cup

Sugar

½

Cup

Canola Oil

1

tablespoon

Lemon Juice

2

teaspoon

Vanilla

zest of ¼ of a lemon

1 ¼

Cup

Blackberries, halved

if they are really big, quarter them!
Instructions
Preheat oven to 400*. Line a cupcake tin with paper liners.

In a large bowl, combine yogurt, oil, sugar, lemon juice, vanilla and lemon zest with a whisk.

Into the bowl add flour, baking powder, baking soda, and salt. Stir until just combined.

Add chopped blackberries and fold gently with a rubber spatula just until the berries are evenly distributed.

Fill each liner ¾ of the way full.

Bake in a 400*F oven for 15-18 minutes or until a toothpick inserted into the center of the muffin comes out clean.

These muffins can be stored in an air tight container on at room temp for 2 days or frozen for up to a month.