Are you a fudgy or cake-y brownie person? I'm in the fudgy camp, without a doubt. Fudgy brownies are more chocolate-y, rich and decadent tasting to me. So, if I'm going to make a brownie, one hundred percent of the time its going to be a fudgy browie. And these Fudgy Vegan Brownies are my go-to.
These Fudgy Vegan Brownies are simple, reliable and so easy to make. They only require 10 simple and tasty ingredients and just a few minutes to mix together. They're the ultimate quick dessert and they are delicious as is or with a scoop of vegan ice cream.
Fudgy Vegan Brownie Baking Tips
Use High Quality Cocoa for Better Fudgy Vegan Brownies
These Fudgy Vegan Brownies use cocoa powder to keep the recipe really simple and easy. But to make sure that the brownies taste rich, decadent and intensely chocolate-y, its important to use high quality cocoa. I don't reccommend using something like Hershey's here, unfortunately. My favorite brands of cocoa are Ghirardelli , Droste or Whole Foods 365- which is just their store brand.
Don't Overmix the Brownie Batter!
When mixing the flour into the wet ingredients, mix until everything is *just* combined. Mixing creates gluten and we want fudgy vegan brownies not tough brownies!
Use Chopped Chocolate over Chocolate Chips
I love using chopped chocolate over chocolate chips in these Fudgy Vegan Brownies. The size irregulatity of the chopped chocolate pieces means that some of the small pieces melt right into the batter making them extra fudgy and even more delicious. Of course you can just use chocolate chips if that all you have on hand. But, next time you're in the baking aisle at the grocery store grab a chocolate bar and try it out!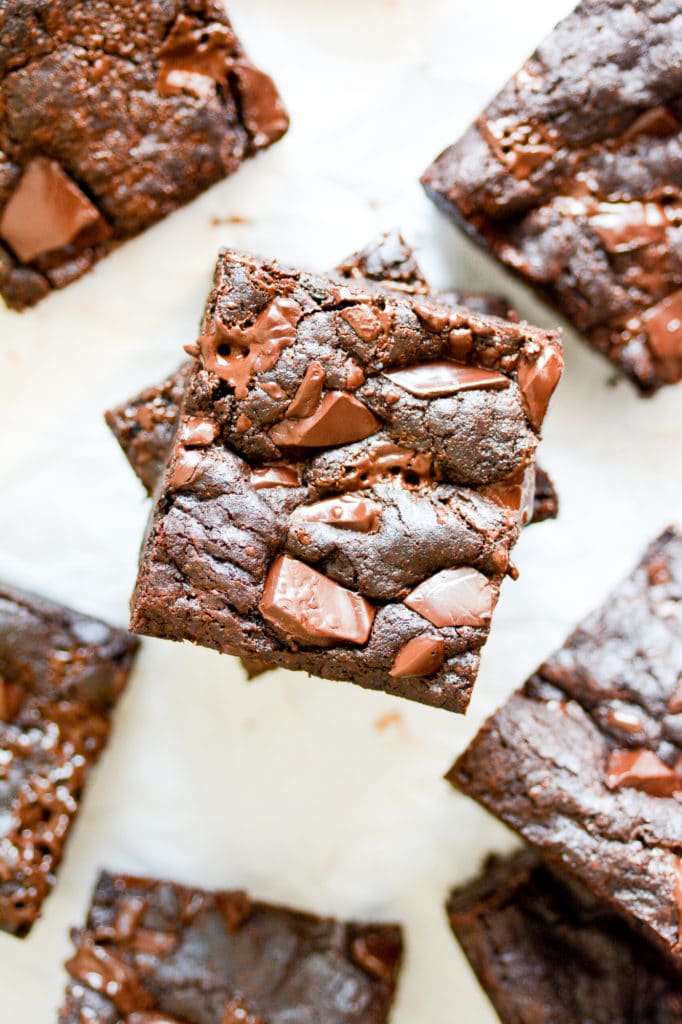 These Vegan Fudgy Brownies are decadent, fudgy, chocolate and so simple to make. Its time to give these crowd pleasing brownies a go!
One-Bowl Fudgy Brownies
Ingredients
1

Stick

Non-Dairy Butter, Melted

I used Soy Free Earth Balance

1

Cup

Cocoa Powder

be sure to use high quality cocoa!

1 ½

Cup

Sugar

2

tablespoon

Ground Flax Seed

6

tablespoon

Water

2

teaspoon

Vanilla

1

Cups

Flour

1

teaspoon

Baking Powder

¼

teaspoon

Salt

1

Cup

Chopped Semi-Sweet Chocolate, or Chocolate Chips, divided
Instructions
Preheat oven to 350*.  Spray a 9x9 baking pan with non stick spray. And 8x8 will work too, but the bake time might be a bit longer.

In a small bowl, combine ground flax, water, and vanilla and set aside.

In a large bowl, combine melted non dairy butter with the cocoa powder using a whisk. 

Next add, sugar, and whisk to combine.

Next, add the flax mixture and whisk to combine.

Into the wet ingredients, add flour, baking powder and salt.  Using a rubber spatula, stir until everything is just combined.

Add ½ cup chopped chocolate into the batter and stir until evenly distributed.

Scrape batter into prepared pan, pressing it evenly into the corners. Top the batter with the remaining ½ cup of chopped chocolate, gently pressing them into the the batter.

Bake at 350 for 30-35 minutes, turning half way through.  A toothpick or a spall paring knife inserted into the center of the brownies will come out with a few moist crumbs attached.  Let cool completely, slice into 16 squares, and serve.
Let me know how this recipe worked for you and if there is anything you'd like to see me make next!