These Vegan Banana Brownies are super moist and intensely chocolatey and incredibly delicious- and this brownie recipe is egg free and butter free making this recipe perfect for just about anyone.
I LOVE chocolate desserts. And, I feel like I don't make enough of them. And, brownies are probably my all time favorite chocolate treat. I love that brownies are super chewy and intensely chocolatey. Sometimes I find that other chocolate treats are not chocolatey enough for my taste, but that rarely happens with brownies. The chocolate is the star of the show- as it should be! In these Vegan Banana Brownies the chocolate is the star of the show, while the banana plays a supporting (and delicious) role.
Ingredients for Making Eggless and Butter Free Brownies
You will be stoked to see that these Vegan Banana Brownies require super basic ingredients that you likely already have in your pantry. And the method is just as simple. But for now lets talk ingredients
Overripe Bananas: At the risk of sounding like a broken record, make sure the bananas are super ripe! Like so ripe that you would not eat them. These Vegan Banana Brownies rely on the sweetness from the overripe bananas. If you use just regular old yellow bananas, they won't be sweet enough.
In this recipe, the bananas also provide moisture and bind the batter together. So they pretty much take the place of eggs here, making this brownies recipe totally egg free.
Coconut Oil: I use refined coconut oil which had no coconut flavor. Coconut oil provides moisture and richness without having to add butter or non dairy butter.
Cocoa Powder: Be sure to use a high quality cocoa powder for these Vegan Banana Brownies. My favorite is Whole Foods 365 Brand Cocoa Powder. Its fair trade and really intense and flavorful.
Sugar: Simple granulated sugar does the trick for these banana brownies. You will notice that the amount is quite a bit lower than regular brownies. This recipe relies on the sweetness of the bananas for the remaining sugar.
Flour: Classic all purpose flour. My favorite brand is King Arthur.
Baking Powder + Salt: to leaven and season.
Chopped Chocolate: I prefer chopping chocolate over chocolate chips. I like the look of irregular pieces and I also like how the distribute into the batter better. However, you can use chocolate chips if you like!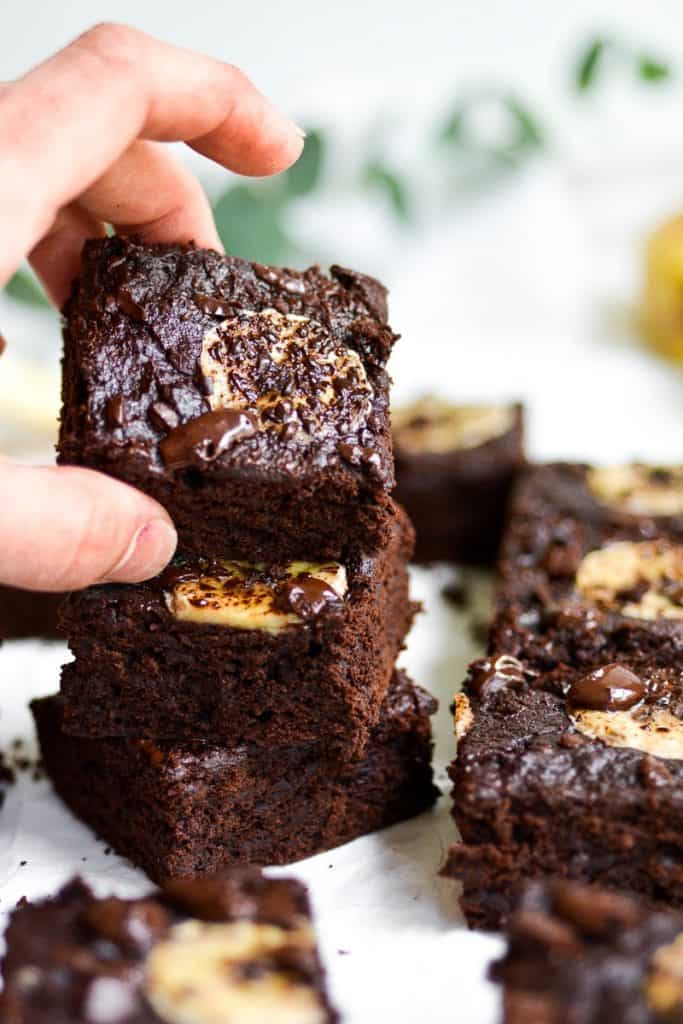 How to Make Vegan Banana Brownies
The method for this egg free Vegan Banana Brownie recipe is so simple. First the sugar, oil and cocoa powder is combined with a whisk. This should remove any clumps from the cocoa powder which tends to be a little clumpy.
Then the bananas are whisked in, and the dry ingredients after that. Once the dries are in the bowl, take care not to over mix!
Finally add the chocolate and then spread the batter into a pan. I topped mine with banana slices and chopped so people knew exactly what they were about to take a bite of.
And thats it! So simple, so tasty.
Looking for More Chocolate Recipes?
One Ingredient Chocolate Mousse
Marshmallow Stuffed Chocolate Cookies
Vegan Banana Brownies
These Vegan Banana Brownies are super moist, intensely chocolatey and incredibly delicious- and this brownie recipe is egg free and butter free making this recipe perfect for just about anyone.
Equipment
9x9 or 8x8 pan

Mixing Bowl

Whisk

Spatula

Measuring Cups and Spoons
Ingredients
⅓

Cup

Refined Coconut Oil, melted

¾

Cup

Granulated Sugar

1

Cup

Cocoa Powder

2

Medium

Overripe Bananas, mashed well

about 1 ¼ cups mashed, and were talking really brown bananas here

1

teaspoon

Vanilla

1

Cup

All Purpose Flour

1

teaspoon

Baking Powder

½

teaspoon

Kosher Salt

¼ teaspoon if using fine grain

2

oz

semi sweet or dark chocolate chopped into about ¼" pieces (it will measure a scant ½ cup)

Or ½ cup of chocolate chips

½

medium

Banana, sliced into ⅛" slices

optional- just for garnishing
Instructions
Preheat oven to 350* F. Prepare a 9x9 or 8x8 pan by greasing with coconut oil or pan spray and inserting a parchment paper sling for easy removal.

In a mixing bowl, combine melted coconut oil, sugar and cocoa powder wish a whisk. Mix until everything is well combined.

Add mashed banana and vanilla into the bowl and whisk again to combine.

Switch to a spatula for stirring, and add flour, salt and baking powder. Fold together until just combined.

Reserve 2 tablespoons of the chopped chocolate for topping and add the remaining chocolate into the batter. Stir to distribute.

Scrape the batter into the prepared 9x9 or 8x8 pan and spread the batter out evenly. Top with banana slices if desired and the reserved chopped chocolate.

Bake in a 350* oven for 27-30 minutes. The center of the brownie should feel set but still soft to the touch.

Allow to cool completely before using the parchment sling to remove the brownies from the pan and cutting into 16 squares. Store at room temp in an airtight container for up to 4 days or freeze for up to 1 month.