Last week I stocked up on items that we eat a lot of in my house. We got rice, beans, potatoes, frozen fruit, frozen veggies- all reasonable items that store for a long time. But the silly thing we picked up was a big hand of bananas at Costco. I eat at least one banana every day. I love them. But even I couldn't tackle this banana stash. And its not smoothie weather here in Boston, so I didn't want them taking up space in my freezer for months. So I made this Cinnamon Swirl Banana Bread.
Banana bread has always been a favorite of mine. My mom always made 2 loaves at a time- one regular and one chocolate chip. I just went for one loaf this time and added a big sweet cinnamon swirl throughout the banana bread. The swirl gives the loaf a big hit of cinnamon flavor throughout. And makes your entire house smell amazing.
Banana Bread Basics
Banana Bread is the perfect recipe for beginner bakers. The ingredients are simple and accessible, the methods are basic and there is a wide margin for error. But, there are a few things that are important to get right:
Choose Ripe Spotty Bananas
This is the MOST crucial element to the success of This Cinnamon Swirl Banana Bread. Or any banana bread for that matter. The riper and spottier the bananas, the more banana flavor the end loaf will have. When bananas are green, they are starchy. As they ripen, the starch is converted into sugar. This is what we want. If we use green or yellow bananas, they loaf with have a denser texture and less sweet + minimal banana flavor. The spottier the better!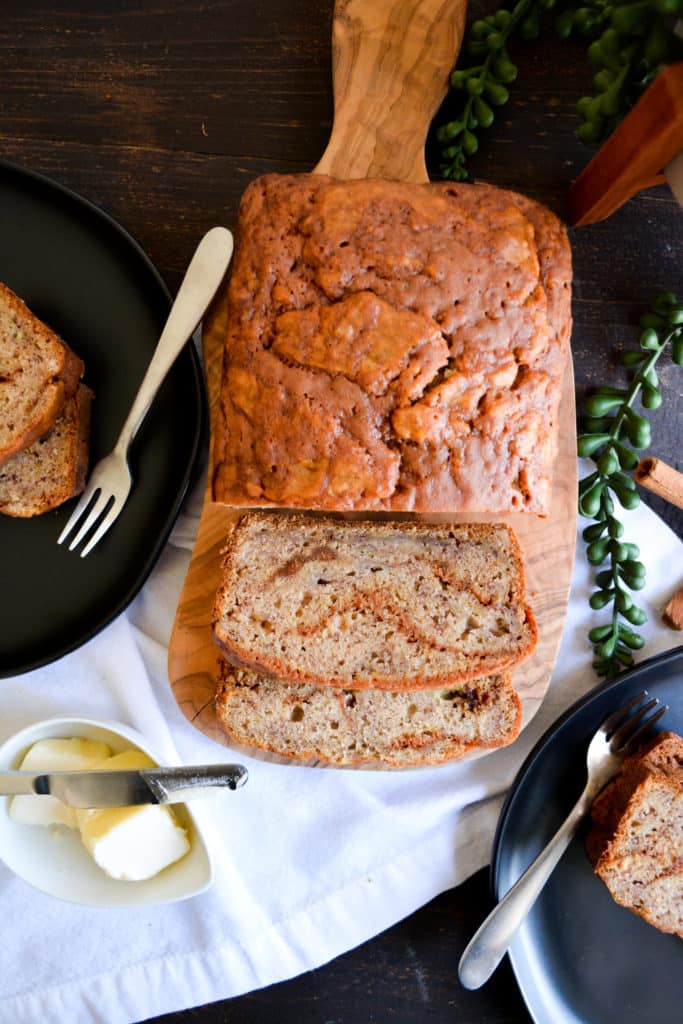 Don't Over Mix
When adding the dry ingredients into the wet ingredients, fold the mixture with a spatula until everything just comes together. Like pancakes. Quick breads like banana bread, pumpkin bread and zucchini bread can get tough and chewy easily if they are over mixed. I like to fold the dries in rather than stir. This takes a little bit more time, but when using a folding motion, you are much less likely to over mix.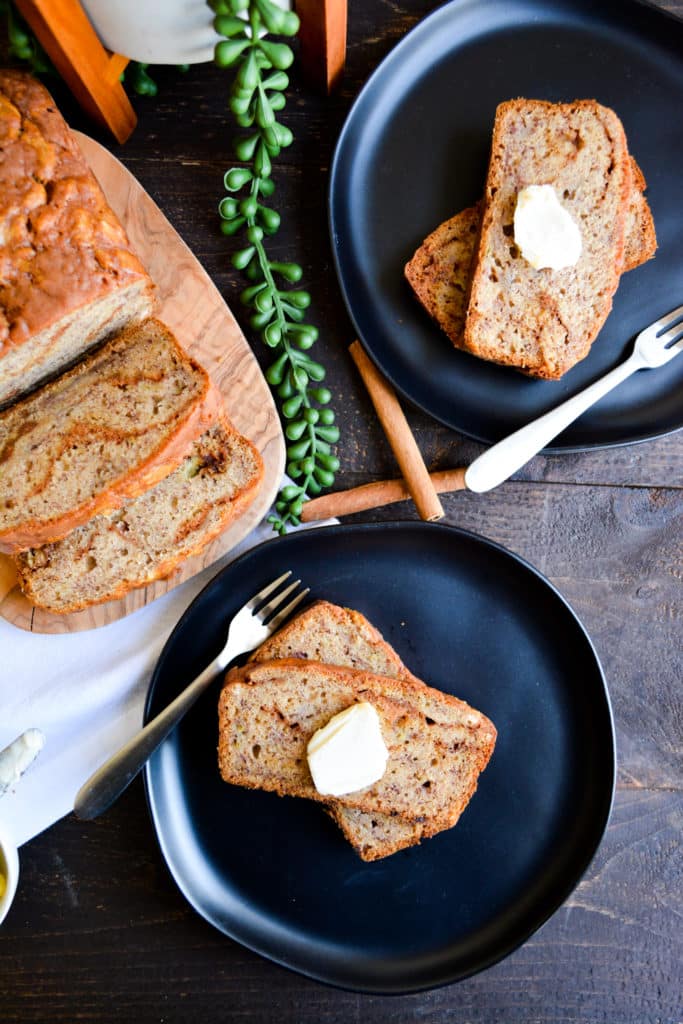 Test for Doneness
There is nothing worse than making a successful baking project only to slightly under bake it. Things like cookies and even brownies and bars are usually fine- if not even better- slightly under baked. But this does NOT apply to muffins + quick breads. If you under bake banana bread it will fall in the center when its removed from the oven rendering the resulting loaf unpleasantly gummy in the middle. The best way to avoid this is to poke a toothpick into the center of the loaf. Remove the toothpick and inspect what is left on it. If there is any batter on it, the loaf needs to be baked longer. Moist crumbs or a completely clean toothpick is what we are looking for here!
And those are pretty much all the rules to success for this Cinnamon Swirl Banana Bread. I like to eat it with a pat of my favorite non dairy butter- Country Crock Plant Butter, or slathered with peanut butter. So what are you waiting for? Start baking!
Cinnamon Swirl Banana Bread
Ingredients
For the Cinnamon Swirl
⅓

Cup

Light Agave Nectar

2

teaspoon

Cinnamon

2

Tbsp

All Purpose Flour

¼

tsp

salt
For the Banana Bread Batter
2

Cups

All Purpose Flour

½

tsp

Salt

½

teaspoon

Baking Soda

1 ½

tsp

Baking Powder

1

tsp

Cinnamon

1 ½

Cup

Mashed Banana

About 3 medium bananas

½

Cup

Granulated Sugar

½

Cups

Canola Oil

⅓

Cup

Plant Milk

I used plain unsweetened coconut milk

1

tsp

Vanilla
Instructions
Preheat oven to 350* F. Prepare an 8x4 loaf pan with pan spray or rub with coconut oil and dust with flour.

First, mix the cinnamon swirl. In a small bowl, combine the agave, cinnamon, salt and flour. Stir well to combine. Set aside.

In a small bowl, combine flour, baking powder, baking soda, salt and cinnamon. Set aside.

In a large bowl, combine mashed banana, oil, sugar, plant milk, and vanilla. Stir to combine.

Add the dry ingredients into the wet ingredients, folding with a spatula until everything is just combined.

Add about ⅓ of the banana bread batter to the prepared pan. Gently spread so it covers the bottom of the pan. Drizzle about 2 tablespoons of the cinnamon swirl mixture on top of the batter.

Layer like this, twice more until batter is gone, making sure to top the loaf with a drizzle of cinnamon mixture.

Bake in a 350* oven for 60-63 minutes, or until a toothpick inserted into the center of the loaf comes out with just a few moist crumbs attached.

Let cool completely before slicing (if you can haha). Enjoy!
Let me know this recipe works for you and if there is anything you want me to make next!