These Vegan Dark Chocolate Marshmallow Cookies are decadent, simple to make and filled with gooey marshmallows. These cookies will please any crowd!
Any time I go a month or so without a new cookie recipe it feels like it has been too long. Cookies are my favorite dessert to eat, so they are also one of my favorite things to make. I love experimenting with new flavors, mix-ins and dough making methods. And today I have a fun one for you: Vegan Dark Chocolate Marshmallow Cookies.
Ingredients for Making Vegan Dark Chocolate Marshmallow Cookies
Vegan Butter: I always recommend either Country Crock Buttery Sticks or Earth Balance Soy-Free Buttery Sticks. I most often use Earth Balance, but today I used Country Crock.
Sugar: Regular old granulated sugar, here.
Molasses: I combine molasses and granulated sugar to make my own brown sugar. If you don't have molasses on hand, simply swap the granulated sugar for light brown sugar.
Flax Egg: A flax egg combined ground flax and water to create a gel. That mixture is then used as a binder in the cookies similarly to how an egg would be used.
Vanilla: Vanilla extract because it belongs in every baked good.
Cocoa Powder: Chocolate is the main flavor in these Vegan Dark Chocolate Marshmallow Cookies so, be sure to use a high quality cocoa powder here. My favorites are Whole Foods 365 Cocoa Powder and Dröste.
Flour: Just basic all purpose.
Leaveners: A combination of baking powder and baking soda keep these cookies light but still chewy.
Salt: Kosher salt to balance the sweet.
Chocolate Chips: Just be sure your chocolate chios are vegan. I find that generic store brand chocolate chips usually are!
Marshmallows: I used Dandies Vegan Mini Marshmallows.
How to Stuff the Cookies with Marshmallows
To stuff these Vegan Dark Chocolate Cookies with marshmallows:
First, use a ¼ Cup measuring cup to scoop mounds of dough.
Next, create a well in each mound.
Then, drop some marshmallows in side.
Finally, press the cookie dough around the marshmallows to hide them and roll into a ball.
Thats it!
How to Store Dark Chocolate Marshmallow Cookies
I actually find that these cookies are best kept at room temperature because if the marshmallows.
So, I recommend storing them in an airtight container at room temperature for up to 4 days.
But, if you do freeze them, heat them in a microwave or toaster oven for a bit before eating so the marshmallow will be gooey.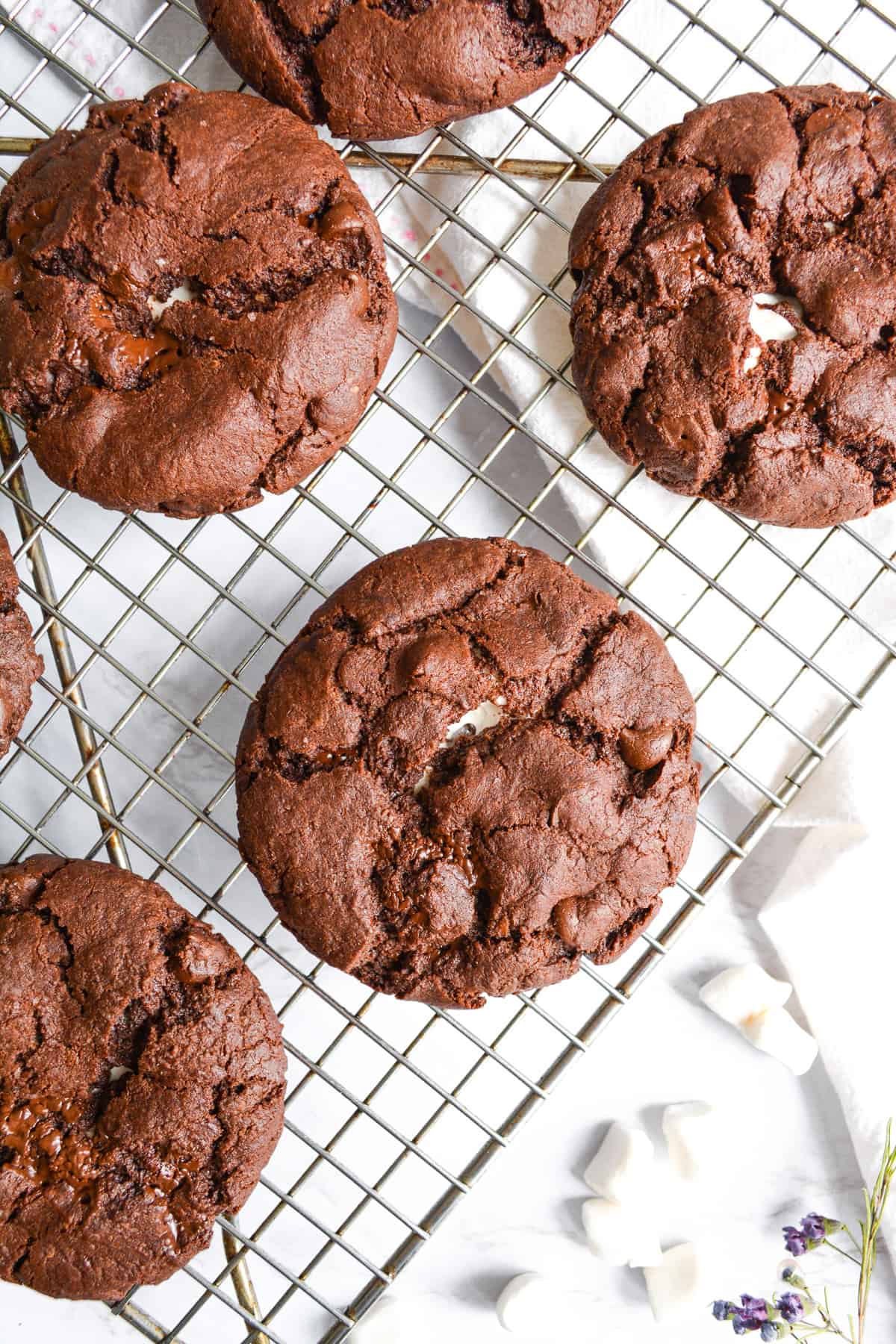 Looking for More Cookie Recipes?
Vegan Chocolate Chip Cookies with Coconut Oil
Vegan Peanut Butter Cookies by Nora Cooks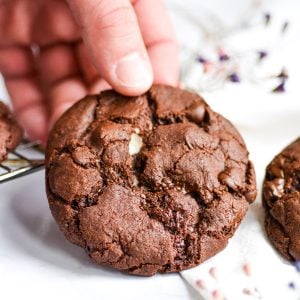 Vegan Marshmallow Stuffed Double Chocolate Cookies
These Vegan Dark Chocolate Marshmallow Cookies are decadent, simple to make and filled with gooey marshmallows. These cookies will please any crowd!
Equipment
1 Mixing Bowl

1 Wooden Spoon or Electric Hand Mixer

Measuring Cups and Spoons

1 Baking Sheet

Parchment Paper
Ingredients
8

tablespoon

Non-Dairy Butter

I used Country Crock Buttery Sticks, the avocado oil variety

1

Cup

Granulated Sugar

1

tablespoon

Molasses

not blackstrap

2

tablespoon

Ground Flax Seed

2

teaspoon

Instant Espresso Powder

Instant coffee will work too!

2

teaspoon

Vanilla Extract

5

tablespoon

Water

½

Cup

Cocoa Powder, sifted

1 ½

Cups

All Purpose Flour

2

teaspoon

Baking Powder

½

teaspoon

Baking Soda

¾

teaspoon

Kosher Salt

½ this amount if using fine grain/table salt

1 ¼

Cups

Chocolate Chips or Chopped Chocolate

Approximately 1 ½

Cups

Mini Marshmallows

I used Dandies

Sea Salt for Sprinkling (optional)
Instructions
In a small bowl, combine ground flax, instant espresso powder, vanilla and water. Stir to combine and set aside.

In a large bowl using a wooden spoon, or in the bowl of your stand mixer fitted with the paddle attachment, cream the butter, sugar and molasses together until creamy and well combined.

Add the flax mixture and mix well.

Add the cocoa powder and mix until well combined.

Add flour, salt, baking powder and baking soda and mix until just combined.

Add chocolate chips and mix just until they are distributed.

Cover and place the dough in the refrigerator for 1 hour to chill.

Preheat oven to 350* F. Line a sheet tray with parchment.

Using a ¼ cup measure that has bee sprayed with nonstick spray, portion out the dough into 14 mounds.

Working one at a time, make a well in a mound of dough and place 3-4 mini marshmallows into the well. Then, cover the marshmallows and gently roll the dough into a sphere with the palms of your hands.

Repeat until all the cookies are stuffed with marshmallow.

Place 6-8 dough balls on a cookie sheet, leaving at least 2 inches of space between each. Place the remaining dough balls back into the refrigerator.

Gently press the balls down to keep them from rolling around. Sprinkle each cookie with flakey sea salt, then bake in a 350* oven for 18-21 minutes or until the edges of the cookies are set.

Allow the cookies to cool on the baking sheet for at east 5 minutes before moving to a wire cooling rack to cool completely.

Repeat with the remaining cookie dough balls.