I do love a multi purpose recipe. A recipe that is delicious enough to be dessert and healthy enough to be a breakfast or snack? I'm here to tell you its possible. This Healthy Berry Crisp for One can be anything you want it to be.
I made this crisp a recipe for one because sometimes I want dessert, but I don't want a big pan of it laying around for the next few days. I may create a lot of sweets for you on my blog, but in truth, I don't eat a lot of dessert. I'm a savory food over sweet food kind of gal. I'd pick a bowl of chips or popcorn over a plate of cookies ANY day.
But all thats to say- when I want dessert, I only want it once. So I've created a single serving recipe for a delicious + easy Berry Crisp for when the rare dessert craving strikes. And I have used really basic staple ingredients that you likely have kicking your kitchen around right this very second.
Lets Talk About Staples
Frozen Berries
I always have some sort of frozen berry on hand. Lately I've been loving a combination of cherries and blueberries on my oats in the morning so thats what I used for this recipe. They have the perfect combination of sweet and tart. If you don't keep a frozen berry on hand, what are you waiting for? Frozen is the best way to purchase berries. They are picked and frozen when they are freshest, and you never have to worry about them going bad.
Oats
Oats are another thing that I always have in my pantry. I always ALWAYS have old fashioned oats around to make granolas, cookies and crisps. And sometimes I have another oat variety around depending on the season. In the winter I love a warm bowl of steel cut oats in the morning, while in the warmer months I tend to make overnight oats.
Lemons or Lemon Juice
Lemon juice may not seem like a staple for you, but I use it in a lot of things from hummus to salad dressings to pasta! I used to buy lemons and squeeze them each time I needed some lemon juice. But, now I buy a big glass jar of it. This is my favorite brand. It never goes bad, and it takes the mess out of juicing lemons. And don't skip the lemon juice in this recipe! You can't taste it in the final product but it enhances and intensifies the natural flavor of the berries.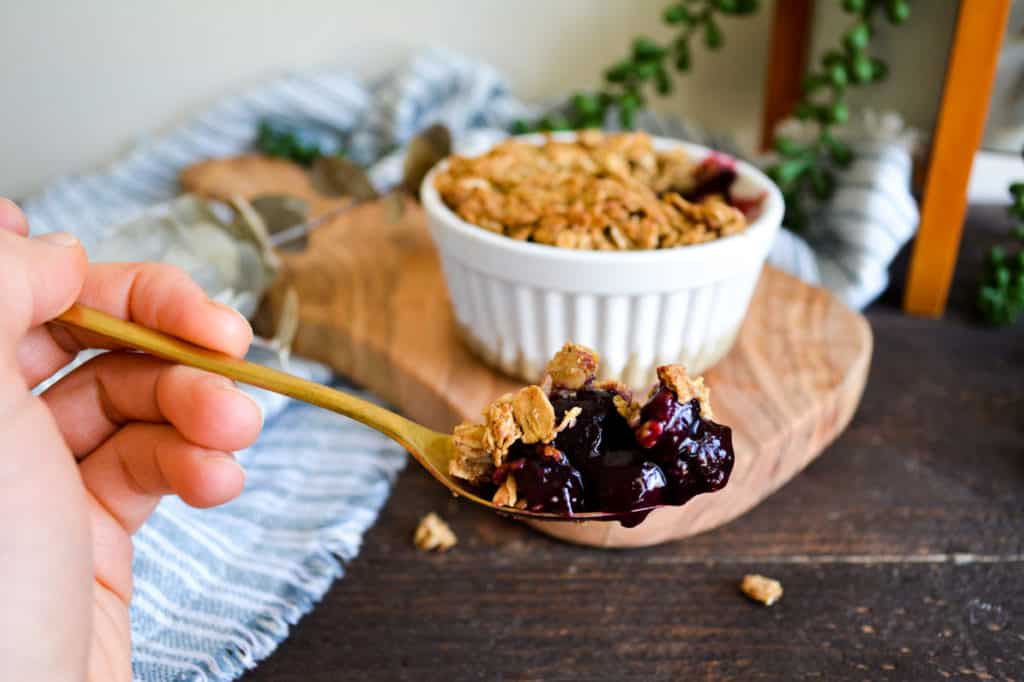 This Healthy Berry Crisp for One would also be incredibly easy to size up if you have a couple people or more who are in the dessert mood. Either make multiple ramekins or use a slightly larger baking vessel.
Healthy Berry Crisp
Ingredients
1

Cup

Frozen Blueberries, Raspberries, Blackberries or Cherries

2

teaspoon

All Purpose Flour

1

tsp

Lemon Juice

1 ½

tsp

Maple Syrup
For the Topping
⅓

Cup

Rolled Oats

1

Tbsp

Nut Butter- I used Sunflower Seed Butter

1 ½

tsp

Maple Syrup

Pinch

of Cinnamon

Pinch

of Salt
Instructions
In a small bowl, combine frozen berries, flour, maple syrup and lemon juice. Toss together with a spoon and place in a small oven safe dish.

Rinse the small bowl that you used for the berries and then mix the crumble topping in it. To the bowl add oats, nut butter of choice, maple syrup, salt and cinnamon. Mix well.

Top the berry mixture with the crumble.

Bake in a 350* oven for 30 minutes. Let cool a bit before eating!
Let me know how this recipe worked for you and if there is anything youd like to see me make next!