This Vegan Peanut Butter Cake recipe is super simple and made with basic ingredients. The resulting cake is incredibly moist and full of peanut butter flavor.
I thought developing a Vegan Peanut Butter Cake would be a significant challenge for me. For some reason, I thought the peanut butter would make the cake dense. But, this recipe only took me one test and it was absolutely perfect. This cake is light, fluffy, moist and tender all while being full of peanut butter flavor.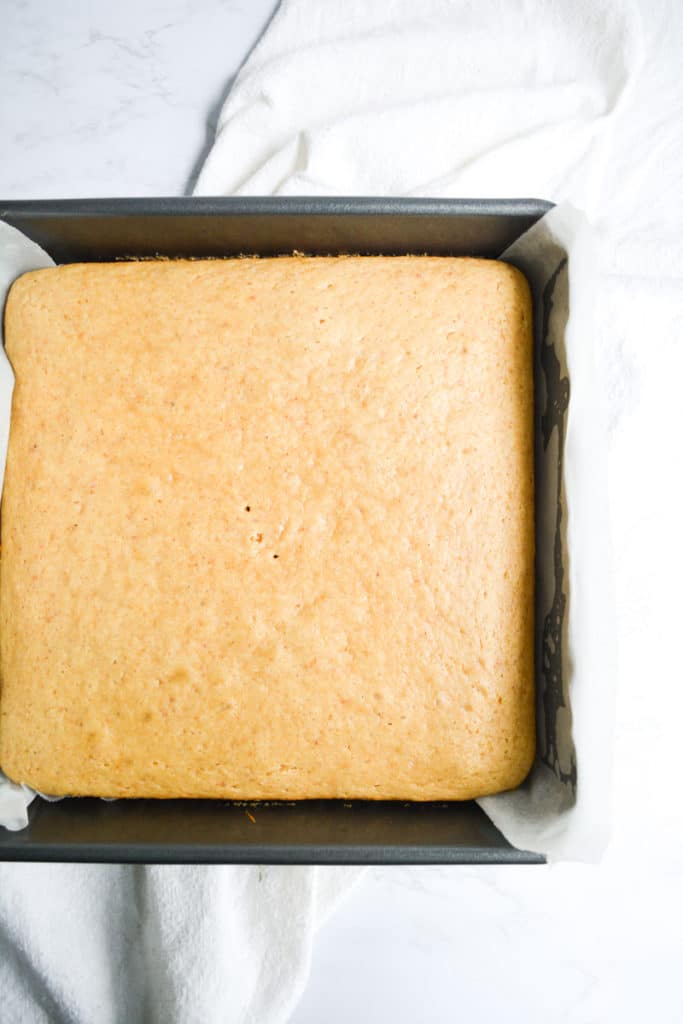 Ingredients for Making Peanut Butter Cake
People are always surprised to learn that I don't use any wild ingredients in any of my cakes including in this Vegan Peanut Butter Cake. All of the ingredients used here are items that can be stored in the pantry, which I love. That way I can make cake at any time, and never have to run out to the store to be able to make a recipe.
All Purpose Flour: I recommend King Arthur, always. The quality is amazing and for me its pretty local! Its milled in Vermont.
Leaveners: A combination of baking powder and baking soda help this cake rise evenly, and to its full potential.
Sugar: Granulated sugar is a crucial ingredient for all baked goods. Other than making this cake sweet, sugar adds moisture, promotes browning, and lends structure to baked goods. It can be tempting to reduce sugar in recipes but I'd never recommend it!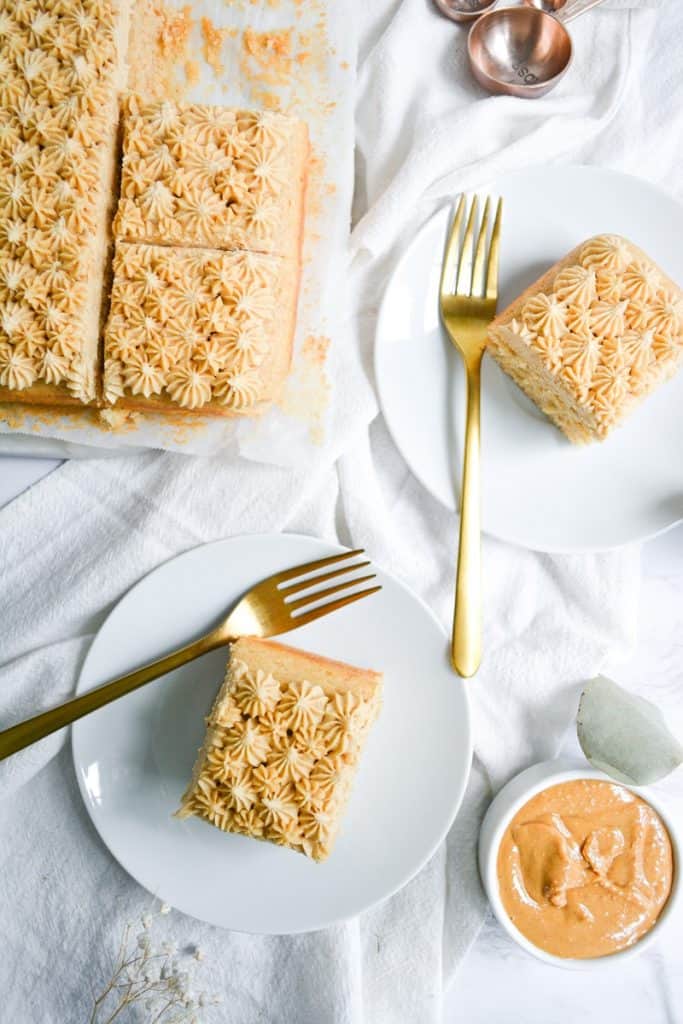 Plant Milk: I always use So Delicious Coconut Milk
Oil: I use store brand canola oil for baking. All canola oil is virtually the same.
Peanut Butter: ONLY use natural creamy peanut butter for this vegan peanut butter cake recipe. My top peanut butter choice is Teddie. Its local for me which I love and the flavor is fresh and delicious. If you don't live where Teddie is available, Smuckers Natural Creamy Peanut Butter is very close to Teddie in texture and flavor.
Vanilla: To add a round background flavor.
White Vinegar: This helps to activate the baking soda.
How to make a Light and Fluffy Peanut Butter Cake
My biggest cake making tip is: don't over mix. If you are a new baker that advice can sound vague. But, let me tell you what I mean.
Over mixing in this case, only means AFTER you add the dry ingredients. So first add all the wet ingredients to the bowl and whisk as much as your heart desires.
Actually, with just the wet ingredients in the bowl, you want to whisk really well. Whisking the wet ingredients will help to dissolve the sugar and to break up the peanut butter. So, whisk the wet ingredients for at least a full minute, until everything looks homogenous.
Next sift the dries right into the bowl. And here is where you want to be careful to not over mix the batter. Whisk the dries into the wets for about 10 seconds. This should be long enough for break up any clumps but not long enough to develop the gluten. And thats it! You have a Vegan Peanut Butter Cake.
Choose Your Own Cake Size
I baked this cake in a 9x9 square pan. Its super easy and makes this cake easy to slap some buttercream on top and serve. However, you can bake this cake in 3 6 inch OR 2 8 inch cake pans for a layer cake.
Or you could bake these as peanut butter cupcakes! You will just need to adjust the baking time to 17-20 minutes for all of these options.
Looking for More Peanut Butter Recipes?
Peanut Butter Cookie Dough Overnight Oats
Gluten Free Peanut Butter Blondies
Vegan Peanut Butter Cake
This Vegan Peanut Butter Cake recipe is super simple and made with basic ingredients. The resulting cake is incredibly moist and full of peanut butter flavor.
Equipment
9x9 Cake Pan

Mixing Bowl

Whisk

Measuring Cups and Spoons
Ingredients
1 ½

Cups

All Purpose Flour

2

teaspoon

Baking Powder

¼

teaspoon

Baking Soda

¼

teaspoon

Kosher Salt

⅛ teaspoon if using fine grain salt

1

Cup

Granulated Sugar

1

Cup

Unsweetened Plant Milk

½

Cup

Natural Creamy Peanut Butter

¼

Cup

Canola Oil

1

tablespoon

Vanilla Extract

1 ½

teaspoon

White Vinegar
Instructions
Preheat oven to 375* F. Prepare a 9x9 square pan by coating it with coconut oil or baking spray and by inserting a parchment sling for easy removal. (See above photos).

In a large mixing bowl, combine sugar, plant milk, peanut butter, canola oil, vanilla and vinegar. Whisk really well to combine, making sure that the peanut butter is completely mixed into the other ingredients.

Place a fine mesh sifter on top of the bowl with the wet ingredients, making sure not to allow the sifter to dip into the wets.

Into the sifter add flour, baking powder, baking soda and salt. Sift into the wet ingredients. Whisk until just combined.

Pour batter into prepared baking pan and bake in a 350* oven for 23-26 minutes or until a toothpick inserted into the center of the cake comes out clean.

Cool completely before decorating and serving.