For a long time, I thought I didn't like cornbread. I thought it was too sweet and oily. More like a cupcake than a bread. As you can probably guess, most of my cornbread experience was from Boston Market. Remember those little loaves of sickly sweet and greasy cornbread they give you there? Not the best. But this Whole Grain Skillet Cornbread is everything that Boston Market cornbread isn't. Which is the best thing.
I have since learned that cornbread doesn't have to be sickly sweet. In fact, it shouldn't be unless you are making a cornmeal cake. This Whole Grain Skillet Cornbread is my preferred way to make cornbread. It gets a hint of sweetness with maple syrup which enhances the flavor of the corn. And cooking in a hot skillet makes the edge crisp and brown. Cooking in a cast iron is the best.
The Right Cornmeal for Cornbread
For this recipe, I prefer a medium grind whole grain cornmeal like this one from Bobs Red mill. It has a nice texture and flavor and it keeps a tiny bit of texture after its baked.
Speaking of texture, in this recipe I mix together the wet ingredients first. Then I add just the cornmeal to the wet mixture and whisk and let it sit while I do a couple other things. This allows the cornmeal to soften slightly. Don't skip this! We don't want crunchy cornmeal in our cornbread.
Why White Whole Wheat Flour?
White Whole Wheat flour is my favorite whole grain baking flour. The texture is finer and softer than regular whole wheat (making it great for Whole Grain Pancakes), and the flavor is a little more subtle. My favorite brand is King Arthur, but I have also purchased it at Trader Joes! If you can't find white whole wheat in your area, substitute regular whole wheat flour here.
Baking in a Cast Iron Skillet
I love cast iron skillets. They give the best sears and distribute heat incredibly evenly. This is what makes them great for baking. Preheating the skillet with the oven is the key. This is what gives this cornbread a nice crisp crust. If you don't have a 9-10 inch cast iron, any similar sized oven safe skillet will work. Just follow the same instructions with the oven safe skillet.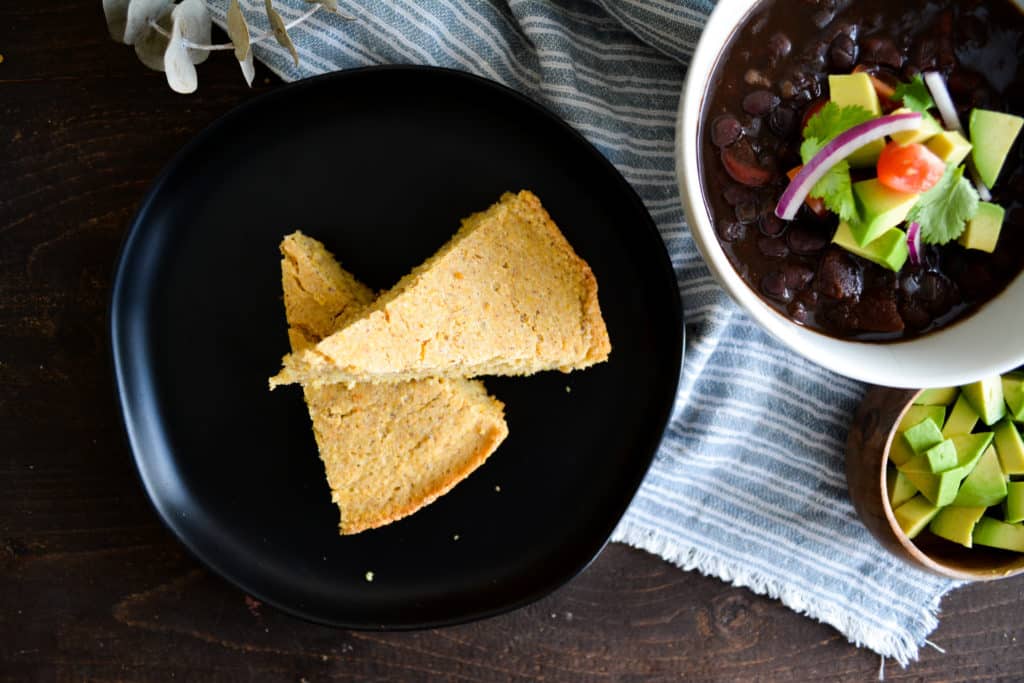 I love serving this Whole Grain Cornbread with chili or soup. But, its equally good spread with some plant butter or jam. And I think it will be making its way to my Thanksgiving table instead of rolls this year which is a huge endorsement. Enjoy!
Whole Grain Skillet Cornbread
Ingredients
1 ½

Cups

Medium Grind Cornmeal

I like Bobs Red Mill- I linked what I used above

¾

Cups

White Whole Wheat Flour

regular whole wheat will work too!

1

tablespoon

Baking Powder

½

tsp

Baking Soda

1

tsp

Salt

2

Cups

Plant Milk (unsweetened and not vanilla)

¼

Cup

Water

¼

Cup

Canola Oil

¼

Cup

Maple Syrup

1

tablespoon

Lemon Juice or Vinegar

2

tablespoon

Ground Flax

1

Tbsp

Plant Based Butter (for the skillet)
Instructions
Turn oven on to 425*. Place a 9-10 inch cast iron skillet into the oven while it is preheating.

Into a large bowl, combine plant milk, water, canola oil, maple syrup, lemon juice, and flax. Whisk to combine.

Add the cornmeal to the liquids and whisk to combine. Set aside.

Add 1 tablespoon of plant butter into the preheating skillet. Leave in the oven to melt.

In a small bowl, combine white whole wheat flour, baking powder, baking soda and salt.

Add the dry ingredients into the cornmeal mixture. Whisk to combine.

The oven should be heated to 425* by now, so using an oven mitt and working carefully, remove the skillet and swirl the melted plant butter around to coat the pan.

Immediately pour cornbread batter into the skillet. It should sizzle as it hits the hot skillet. Place skillet back into the oven and bake for 30 minutes or until a tooth pick inserted into the center comes out clean.

Let cool for at least 30 minutes before serving.
Let me know how this recipe worked for you!