We have had a hot and dry summer up here in Boston. Not only does the heat make me not feel hungry, it makes me not want to cook. The thought of turning my oven or stove on sounds terrible most nights. All this has left me feeling uninspired and unable to decide what I want to make for dinner pretty much every single evening. But tacos have been a mainstay through all of this. Even though I have to turn the stove on, they are quick- taking less than 30 minutes. And, I can change up the fillings depending on what I have in the refrigerator. My favorite as of late are these 20-Minute Sweet and Spicy Agave Chipotle Cauliflower Tacos.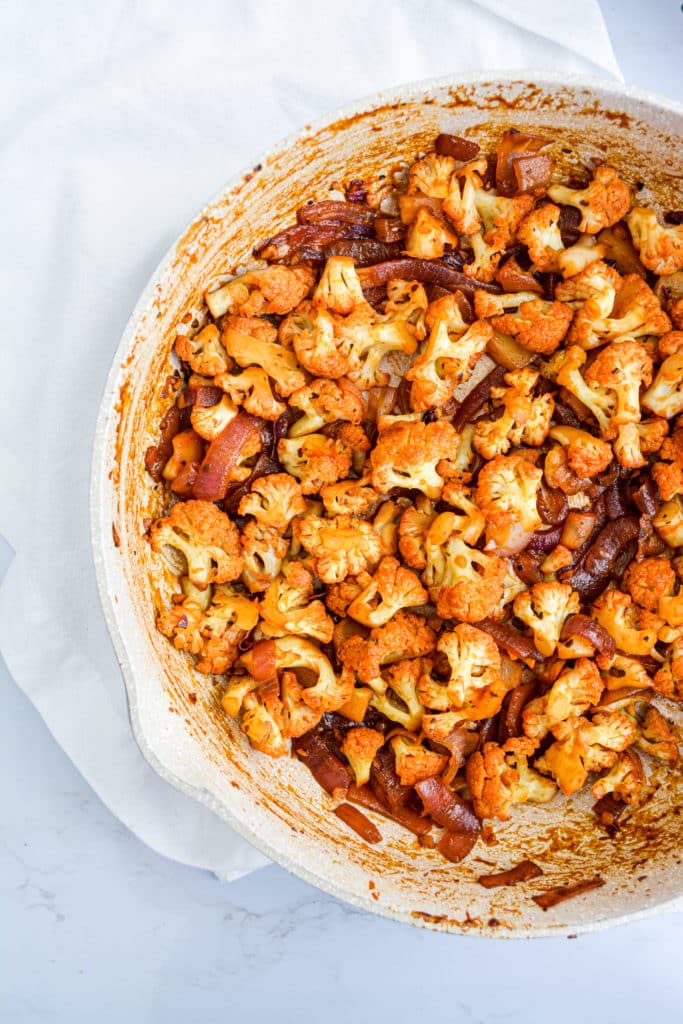 These tacos are easy, full of flavor and I always have the ingredients on hand to make them. Other than the cauliflower, everything is a pantry staple for me. I grab a head of cauliflower every single week at the grocery store. It stays fresh all week, and its great in so many applications from Harissa Grilled Cauliflower Steaks to Hearty Cauliflower Bolognese.
Canned Chipotle Peppers
Canned chipotle peppers are also something I always have in my pantry. This is the brand I usually have, but they are all pretty much the same in my experience. I don't use them that often, but they are an incredibly flavorful ingredient to keep around. I like to simmer them with canned black beans to add flavor or mix them into some vegan mayo for a spicy sandwich spread. This recipe only uses the adobo sauce the chipotles are packed in. Its flavorful and spicy, but if you like a LOT of spice, chip a pepper up and add it in, too!
Substitutions
If you don't have agave around, real maple syrup would be a good substitute. Definitely don't use the corn syrup pancake syrup- the artificial maple flavoring would be overpowering here.
I like to serve these 20 Minute Sweet and Spicy Agave Chipotle Cauliflower Tacos with shredded cabbage, guacamole or sliced avocado and salsa- either my salsa recipe or my favorite store bought salsa which is this one by the brand Herdez.
📖 Recipe
Sweet and Spicy Agave Chipotle Cauliflower Tacos
Ingredients
1

Tbsp

Canola Oil

½

Large

Red Onion, sliced

About 1 ½ cups

2

Large

Cloves of Garlic, minced

1

tsp

Sweet Paprika

1

Head

Cauliflower, cut into small florets

About 7 Cups

½

teaspoon

Sea Salt

½

teaspoon

Dried Oregano

2

tablespoon

Adobo- the sauce from canned chipotle peppers

If you like things REALLY spicy- add a chopped chipotle pepper

1

tablespoon

Agave Nectar

8

Tortillas, warmed

Desired taco toppings: guac or slices of avocado, shredded cabbage or slaw, salta or pico, etc.
Instructions
Heat oil in a large non stick skillet over medium heat. Add onion and garlic and cook until soft, about 3 minutes.

Add paprika, cauliflower, salt and oregano. Put a lid on the skillet and cook for 5 minutes, occasionally stirring.

After 5 minutes have elapsed, add the adobo sauce and agave into the skillet. Cook without the lid for 8- 10 minutes longer, or until there is no liquid in the bottom of the pan and the cauliflower is tender.

Put the filling into tortillas, add desired toppings and serve!
Let me know how you liked this recipe and if there is anything you'd like to see me make next!