You guys, I'm tired. The last few months were a whirlwind between work and the holidays and traveling. They're all good things, but I have had a hard time balancing everything. The older I get, the more I realize that I'm an introvert and for me to feel rested and recharged I need some quiet alone time.
But with everything we all have to do, down time is hard to come by. And its the first thing I sacrifice when I struggle to complete my to-do list. Something, I won't sacrifice in an effort to do it all is cooking. I love cooking, but I also simply prefer home cooked meals to restaurants meals. Plus, cooking is relaxing to me. I can create anything my heart desires. And at the end I eat the results. Cooking truly is the best hobby.
One of my favorite easy meals is also one of the first recipes I ever put on this website. Lentil Stew with Pepita Basil Pesto. But, since I posted that recipe, I got an instant pot. So, I adapted the recipe to cook in the instant pot. Then, I ditched the pesto because I'm lazy. But, for real the pesto is delicious so if you ever get time to whip it up, please do.
This Instant Pot Lentil Stew is so easy and fast. The recipe below is what I usually make, but I also adapt it to use what I have on hand. Sometimes I use different herbs, add green beans or mushrooms or even eggplant if I need to use some up. It always comes out perfect.
Make sure to use green or brown lentils for this recipe. They are always the easiest to find, anyway. I get mine in the bulk bins or in the Goya aisle, depending on which grocery store I go to. Don't use red and yellow lentils. They don't cook the same way as the green and brown varieties.
I made a small note in the recipe card, but I use better than bullion for vegetable stock. Its a vegetable base paste that you mix with water. I love it because I can make exactly how much stock I want. Its also in a small jar rather than a big bulky box and it keeps forever. Its easy to find, so give it a try!
This stew is also great because it is filled with plant-based protein and fiber so it actually keeps me full. Usually, when I have soup for a meal it only fills me up for like 1 hour. But this stew is nice and hearty and keeps me going for hours.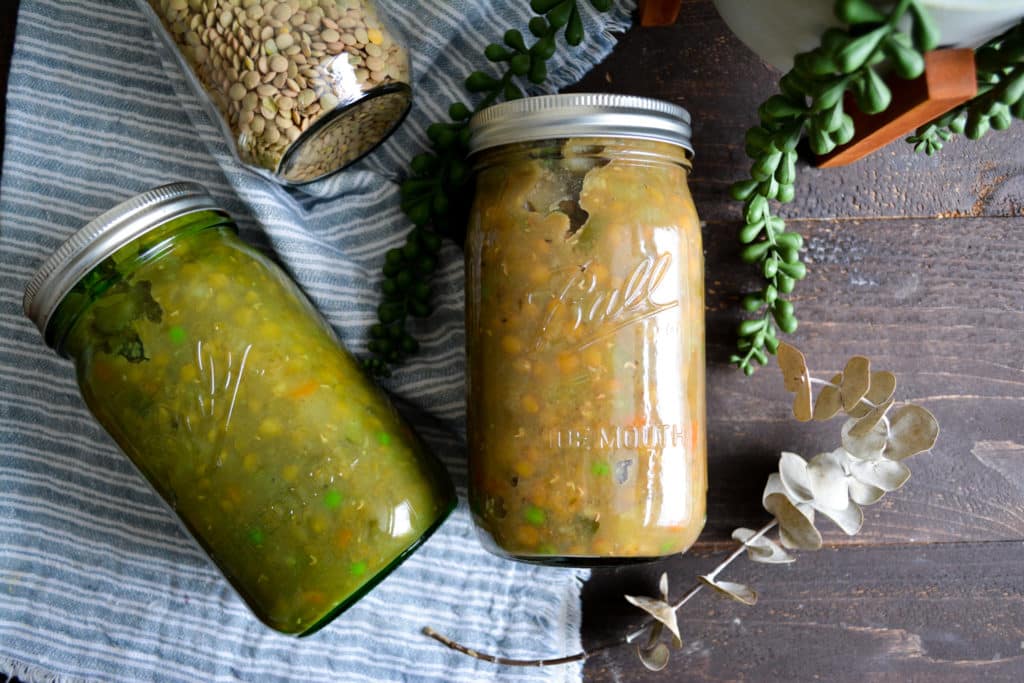 This stew is perfect for meal prepping lunches for work. I pack it into quart size mason jars and just stick it in my work fridge. A quart lasts a couple of days for me. I serve this Instant Pot Lentil Stew with a big hunk of crusty bread spread with Country Crock Plant Butter (my current favorite non dairy butter) or avocado toast.
Instant Pot Lentil Stew
Ingredients
1 ½

Cups

Green or Brown Lentils, picked through and rinsed

2

Large

Carrots, Chopped

About 1 Cup

2

Ribs

Celery, Chopped

About ¾ Cup

1

Large

Onion, Chopped

About 1 ½ Cup

2

Medium

Potatoes, Cubed

About 1 ½ Cups

1

Medium

Zucchini, Chopped

About 1 ½ Cups

1

Large

Clove of Garlic, Minced

5

Cups

Low Sodium Vegetable Stock

I use Better Than Bullion Vegetable Base

½

tsp

Dried Thyme Leaves

Or a couple sprigs of fresh thyme

Black Pepper

¾

Cup

Frozen Peas
Instructions
Combine all ingredients EXCEPT the frozen peas into the pot of a 6 or 8 Quart instant pot. Stir to distribute. Secure the lid and cook on high pressure for 7 minutes.

After 7 minutes has elapsed, turn the instant pot off and let it naturally release for 10-15 minutes. Basically that means turn it off and don't touch anything else.

After 10-15 minutes, manually release. After the pressure has been released, oped the lid and add the frozen peas and stir. The peas will warm up in a few minutes with the heat of the stew.

Let cool a bit before serving. This stays HOT for a while.

Enjoy with a big crusty piece of bread.
Let me know how you like this recipe and if there is anything you want to see me make next!