This Earl Grey Bundt Cake is dairy free and completely vegan and EASY to make. The flavor comes from real earl grey tea steeped in dairy free milk- no extracts or flavorings needed!
Cake decorating is so much fun. And, I also realize its time consuming and intimidating for some. Thats why I make the occasional sheet cake recipe. But, today I set out to make a cake recipe that requires no building or decoration but is still absolutely beautiful. And the obvious choice was a bundt cake! An Earl Grey Bundt Cake to be exact.
What is Earl Grey Tea?
Earl grey tea is my most favorite tea. If you have never had a cup earl grey, is black tea that is flavored with bergamot. And bergamot is a variety of citrus that has a citrusy yet floral flavor and aroma.
And that citrusy, floral flavor is the perfect addition to baked goods like this vegan Earl Grey Bundt Cake.
Choosing the Right Tea
I used Twinnings Loose Leaf Earl Grey. The bergamot flavor in this brand of Earl Grey is quite pronounced, making it perfect for flavoring a cake. But, really any brand of Earl Grey will work here.
I also choose loose leaf for a few reasons. Loose leaf tea is usually of higher quality. The leaves are large, if not whole. And, loose leaf tea is easier to measure! And, in the case of Twinnings Loose Leaf Earl Grey at my grocery store, it is a better value than tea bags.
If you have earl grey tea in tea bags, simply cut the bags open and measure from there. This will be around 4 tea bags worth of tea. It seems like a lot of tea and thats because it is. That mild, floral, citrusy earl grey flavor has to permeate through a lot of cake!
Steeping Earl Grey Tea for the Bundt Cake
To achieve a cake with the flavor of Earl Grey throughout, we steep a very strong tea into the liquid that will go into the cake. I always use So Delicious Unsweetened Coconut Milk for baking. So, thats what I used here. But, any dairy free milk will work in this bundt cake recipe!
First, bring the plant milk to a boil, remove the pot from the heat, and put the tea into the pot.
Then, stir the mixture and place the lid on the pot and set a 7 minute timer.
Next, when the timer goes off, strain the whole mixture into a bowl. And be sure to press the tea leaves with a rubber spatula to extract all their liquid.
Finally, to help cool the liquid, melt the non-dairy butter right into the hot tea mixture. As a person who works in a kitchen as my regular job, there is nothing better than accomplishing two tasks at once: Melting the butter and cooling the tea mixture. I love efficiency- and fewer dishes to clean.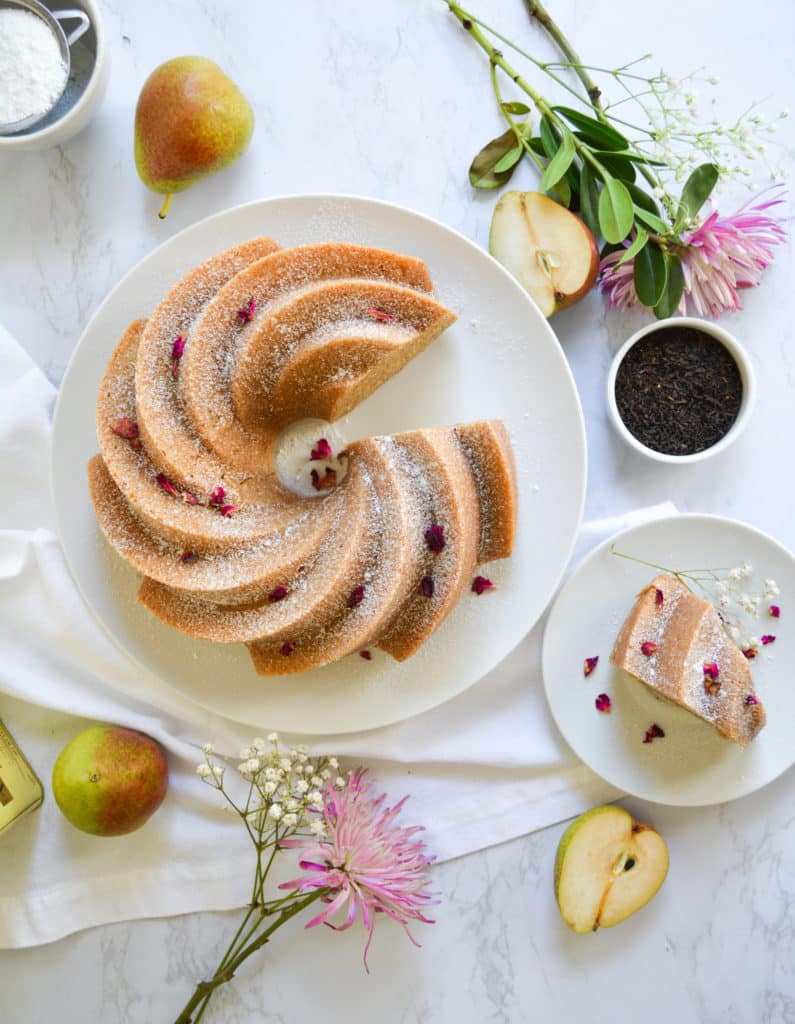 Cake Size Options For Earl Grey Bundt Cake
This recipe will fit into any standard size (10-12 Cup) bundt pan. BUT you can also bake Earl Grey Bundt Cake as a sheet cake in a 9x13 pan. I used this bundt pan from Nordic Ware . I love the simple, yet elegant and mesmerizing design. But, any bundt pan with any design will work perfectly.
Looking for More Cake Recipes?
Vegan Lemon Cake with Strawberry Cream Cheese Frosting
Earl Grey Bundt Cake
This Earl Grey Bundt Cake is dairy free and completely vegan and EASY to make. The flavor comes from real earl grey tea steeped in dairy free milk- no extracts or flavorings needed!
Equipment
10-12 Cup Bundt Pan

Mixing Bowl

Whisk

Spatula

Small Saucepan

Measuring Cups and Spoons
Ingredients
5

teaspoon

Earl Grey Tea

I used Twinnings Loose Leaf

1 ½

Cup

Unsweetend Plant Milk

I used So Delicious Coconut Milk

2 ½

Cups

All Purpose Flour

1

tablespoon

Baking Powder

¼

teaspoon

Baking Soda

¼

teaspoon

Kosher Salt

1 ½

Cups

Granulated Sugar

¾

Cup

Non-Dairy Butter, cut into 12 pieces

I used Country Crock Plant Butter

1

tablespoon

Lemon Juice

2

teaspoon

Vanilla Extract

Powdered Sugar, for dusting (optional)
Instructions
In a small saucepan, bring plant milk to a simmer. Add tea and stir. Cover and allow to steep for 7 minutes.

After 7 minutes have elapsed, strain tea through a mesh strainer into a large bowl. Press the tea leaves with a rubber spatula to get all of the tea out of them.

Add the non dairy butter to the hot tea mixture and set aside to allow butter to melt and to allow the mixture to cool a bit.

Meanwhile, grease and flour your bundt pan, making sure to get into all the crevices. This is important for getting the cake out of the pan, so take your time.

Now mix the batter: Into a medium bowl, combine flour, baking powder, baking soda and salt. Combine with a whisk.

Into the bowl with the tea and butter, add sugar, lemon juice and vanilla. Whisk to combine.

Add the flour mixture into the wet mixture and whisk until everything is combined. About 15 seconds.

Scrape the batter into the prepared bundt pan and level it out with a spatula.

Bake in a 350* oven for 45-50 minutes or until a toothpick inserted into the center of the bundt comes out clean.

Allow to cool in the pan for at least 1 hour before flipping the bundt cake onto a platter or cake stand.

Cool completely before dusting with powdered sugar and serving.
Let me know how this recipe works for you!