Its no secret that I love cookies. I would choose a cookie over almost any dessert. My ideal cookie is crisp around the edges with a thick, soft + chewy interior. And that is exactly what these Easy Snickerdoodle Cookies have going on.
This recipe is dead simple and is really two recipes rolled into one. The base of these Easy Snickerdoodle Cookies is a plain sugar cookie that is rolled in a sugar + spice mixture, baked and glazed. If you want a bakery style soft sugar cookie rather than the roll and cut style, this is your recipe.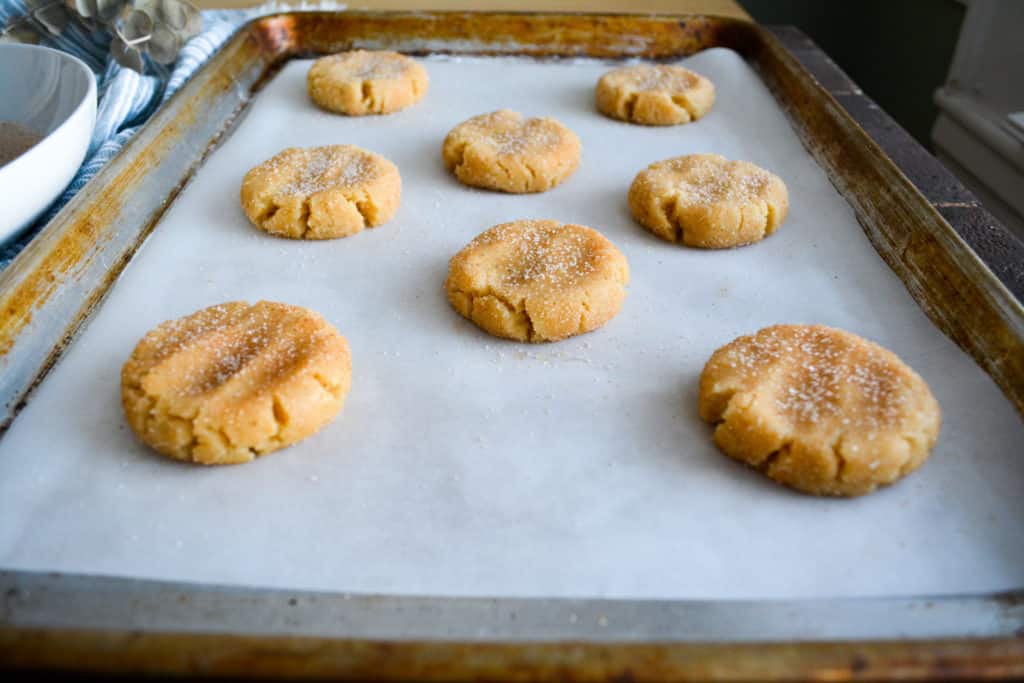 Mixing the Dough
The mixing of these cookies is SO easy and requires no special equipment. In fact, this is probably the fastest and easiest cookie recipe on my website. Simply combine the wet ingredients with a whisk and pour them over the dry ingredients and stir with a spatula to combine. Boom. I like to portion these babies out pretty large- about 3 tablespoons each- so they look like a bakery cookie.
This dough is the perfect texture to roll between your hands and in the cinnamon sugar without it becoming a big mess. I like to give them a little press with the heel of my hand + sprinkle them with a little bit more cinnamon sugar before baking. While they bake they fill your house with the cozy scent of cinnamon. And then once they are cool, I added a three ingredient glaze to these to dress them up a bit for your holiday gatherings.
Glaze Like a Pro
Speaking of glaze, I have found that the best (read: least messy) way to glaze anything is by putting a cooling rack on top of a cookie sheet. That way any excess glaze can drip down onto the cookie sheet rather than your counter. I prefer this method over glazing directly on a cookie sheet as well. When the glaze has no where to go it pools and gets all over the edge of the cookie.
I like to take a spoonful of glaze and drizzle it generously over each cookie. You could use a piping bag if you want the cookies to look more refined. But I like the rustic look so I stuck with a spoon.
These Easy Snickerdoodle Cookies are SO easy that there is no excuse to pass this recipe up. Fall baking is the best baking so let's get to it.
Easy Snickerdoodle Cookies
Ingredients
2

Cups

All Purpose Flour

1 ¼

tsp

Baking Powder

½

teaspoon

Baking Soda

½

tsp

Salt

`1

Cup

Granulated Sugar

½

Cup

Canola Oil

¼

Cup

Plant Based Milk

1

teaspoon

Molasses

1

teaspoon

Vanilla Extract

½

teaspoon

Vinegar
For the Cinnamon Sugar
¼

Cup

Granulated Sugar

1

teaspoon

Cinnamon

pinch

Cloves

pinch

Salt
For the glaze
2

tablespoon

Non Dairy Yogurt

Not greek style!

1 ½

Cups

Powdered Sugar

¼

teaspoon

Vanilla Extract

pinch

Salt
Instructions
Preheat oven to 350*. Line 2 baking sheets with parchment.

In a small bowl, combine sugar, cinnamon, cloves and salt. Stir to combine. Set aside.

Combine flour, baking powder, baking soda and salt in a large bowl.

In a medium bowl, combine sugar, oil, plant milk, molasses, vinegar and vanilla with a whisk.

Pour the wet ingredients into the dry ingredients and stir with a spatula until everything is just combined.

Portion dough out into approximately 3 tablespoon mounds. Roll between your hands to shape them into balls.

Roll each ball in the cinnamon sugar mixture and place on a baking sheet with 2 inches of space between each cookie. You will either need 2 baking sheets or feel free to bake in 2 rounds.

Gently press the cookie down slightly. See above photo for guidance. And sprinkle with a bit more cinnamon sugar on top.

Bake at 350* for 13-15 minutes. The cookies will be just barely starting to brown around the edges. Remove from oven and let cool on the baking sheet for 10 minutes, then transfer to a cooling rack to finish cooling.

When the cookies are cool, mix the glaze. Combine yogurt, powdered sugar, vanilla and salt in a small bowl with a whisk. If your mixture is too thick to drizzle, add a teaspoon more of the yogurt.

Drizzle the glaze over the cookies with a spoon. Let the glaze set for 20 minutes + serve!
Let me know how this recipe worked for you!