The weather is FINALLY getting warmer in Boston. Most things are still closed here and there is not much to do apart from home improvement-which is basically all we've been doing. But after we are done with the days projects we find ourselves sitting on the patio in our back yard. And what better to drink while soaking up the sun than a refreshing margarita? Well, a Light + Refreshing Margaritas, of course.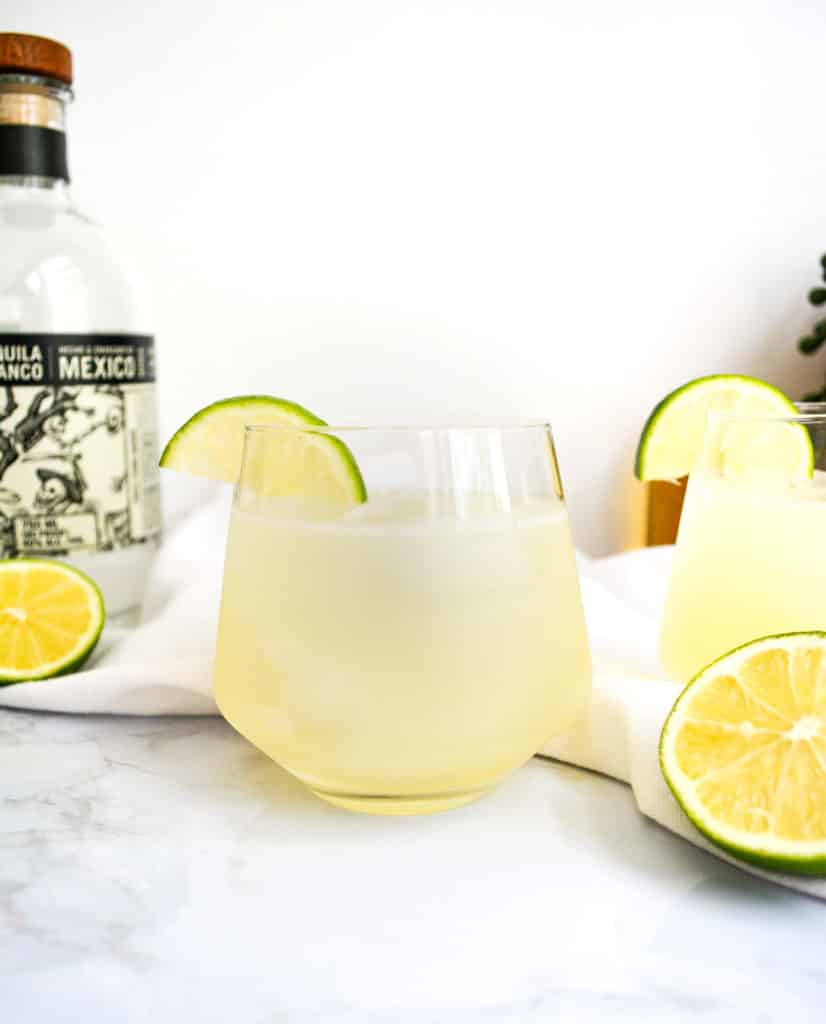 This is another recipe that I have made for ages. When I make them for friends, they always ask for the recipe. So I thought I'd put it on my website for easy access. This recipe has evolved over time to suit my tastes. It started as the New York Times margarita recipe, which is just the most basic of all margarita recipes. But for a while, the more I made it, the more changes I made. But its been perfect for a while now and the recipe will never change.
This is a fairly basic margarita with, one twist: I top it with a little seltzer. It lightens the drink up and give it a little fizz that is *chefs kiss*. I think lhe little bit of fizz makes the margarita feel more refreshing.
There are three basic ingredients for you need to make a margarita: Tequila, Cointreau and lime juice. For tequila, use whatever tequila you prefer or have on hand. I like Espolon Blanco. I'm not a tequila connoisseur by any stretch of the term, but Espolon Blanco makes great margaritas. And I have had a lot of margaritas.
Now lets talk Cointreau- which is a brand of Triple Sec. Splurge on the Cointreau here rather than using a generic brand of Triple Sec. A small bottle will last AGES and the flavor difference is truly noticeable. For margaritas, we only use about 1 Tablespoon per cocktail. So one bottle really will last forever.
Now, lets talk about lime juice. Fresh is always best. If you are making a couple of margaritas its not a big deal to squeeze a few limes. But if you are making margaritas for a crowd, it becomes a cumbersome task. I like this brand of bottled lime juice. Its something I always have on hand. It keeps for a really long time, and cuts a lot of mess and prep time out of margarita making.
After the main three ingredients, all it takes is a touch of agave and a splash of seltzer to kick it up a bit. Serve these up with some chips, guac and Restaurant Style Salsa for the perfect afternoon. So, if you're ready, grab your shaker and a whole lot of ice, and let's make a couple Light + Refreshing Margaritas.
Light + Refreshing Margaritas
Ingredients
½

Cup

Tequila

2

tablespoon

Cointreau

¼

Cup

Lime Juice

2

teaspoon

Agave Nectar

½

Cup

Plain Seltzer
Instructions
Almost fill a cocktail shaker with ice. Into the shaker add the tequila, cointreau, lime juice and agave. Place the lid on and shake well. About 1 minute.

Fill 2 glasses with ice. Strain the margaritas out of the shaker, dividing it evenly between the 2 glasses.

Top each glass with ¼ cup of seltzer. Serve.
Let me know how you like this recipe!