In recent years, the winter has become tea season. But, in my younger years, winter was hot cocoa season. We occasionally had packets of Swiss Miss, but most of the time, we made hot chocolate from scratch using a recipe from a very old, well-used, handwritten recipe card. This Gingerbread Hot Cocoa is a delicious, spiced variation of that recipe.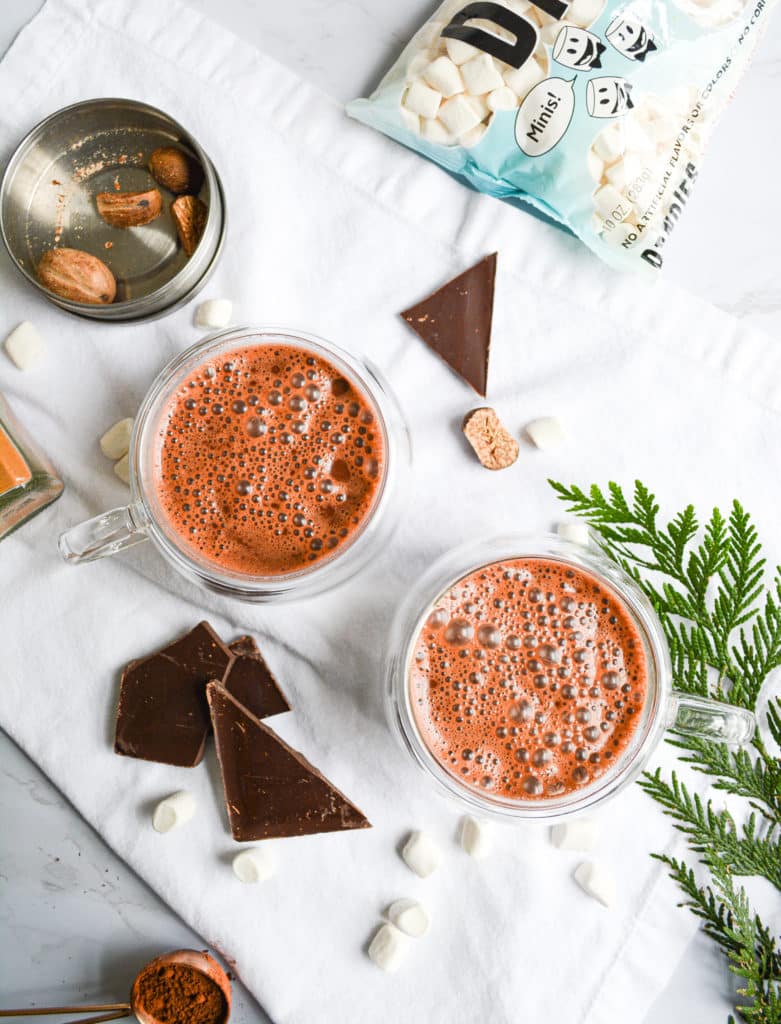 Hot cocoa is one of those things that most people purchase mixes for. But, heres the thing- most of you have the ingredients to make it from scratch on hand right now. Its pretty much just cocoa powder, sugar and milk. So, before you buy another box of packets give this recipe a try!
Ingredient Breakdown
Choose Quality Cocoa Powder
Since this Gingerbread Hot Cocoa uses so few ingredients, its is crucial to get them right. Lets start with the most important ingredient: the cocoa powder. I know that Hershey's brand of cocoa powder is ubiquitous. And in certain applications, you can get away with using it. But, don't do it here. This hot chocolate will taste like whatever cocoa you use, so make it a high quality one! Brands I like include: Droste, and 365 by Whole Foods.
Fresh Spices Make Better Hot Cocoa
The spices are also worth noting here. To make sure this Gingerbread Hot Cocoa is nice and spicy, make sure your spices are fresh! Ground spices, like we use here, stay fresh for about 2 years before they start to lose their potency. The best way to be sure that spices are being used in their prime is to make your own spice blends. Purchasing spice blends is totally fine, but often the blends are a blend of spices that you already have in your cabinet. Pumpkin pie blend or chai blend or even Ras el Hanout is already at your fingertips!
Another way to be sure spices are fresh is to purchase spices that you don't use often in their whole form. Buying spices whole nearly doubles their shelf life. I always have fennel seeds on hand. I love fennel, but only use a pinch at a time. I just crush the whole seeds with a mortar and pestle each time I want to use them and the flavor is always so nice and fresh.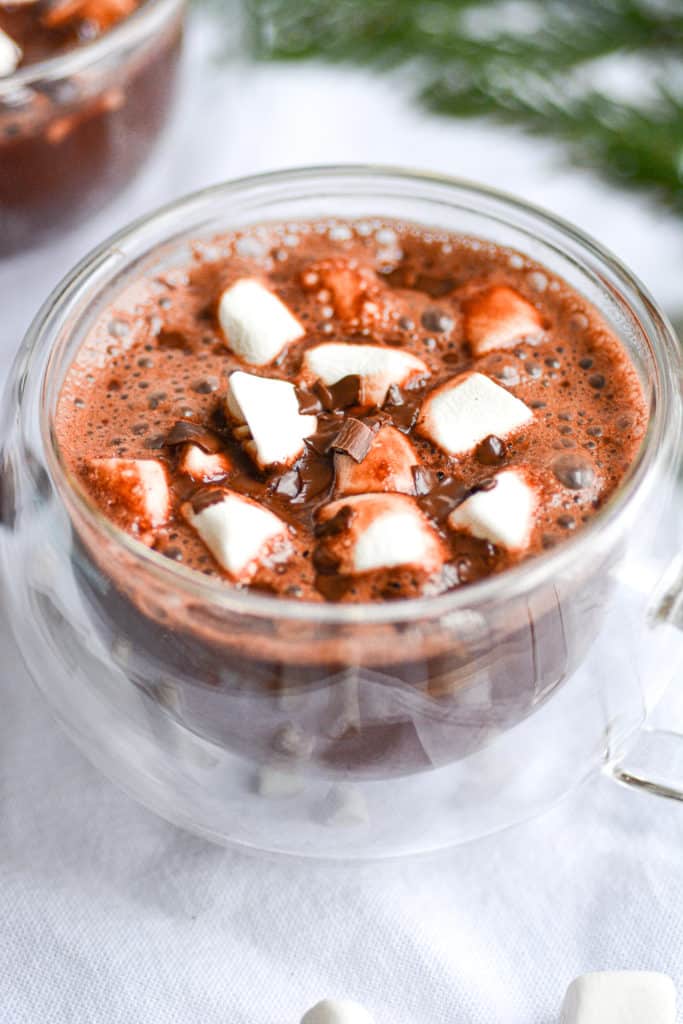 And now you are just five minutes away from having a mug of warm and spicy Gingerbread Hot Cocoa. Garnish with Dandies Vegan Marshmallows and shaved chocolate for the café experience that we are all missing right now!
Gingerbread Hot Cocoa
Ingredients
2

tablespoon

Granulated Sugar

2

tablespoon

Cocoa Powder

¼

teaspoon

Cinnamon

¼

teaspoon

Ginger

Pinch

Allspice

Pinch

Nutmeg

3

tablespoon

Water

1 ¾

Cups

Plant Milk of Choice

I used Unsweetened So Delicious brand coconut milk

Vegan Marshmallows and Shaved Chocolate to Garnish
Instructions
Combine sugar, cocoa powder, spices and water in a small saucepan set over medium heat.

Cook this mixture, stirring regularly, until it reaches a rolling boil. This is important to dissolve the sugar and bloom the spices.

Reduce heat and slowly add the milk and stir to combine. Cook until mixture is hot.

Pour into mugs and top with marshmallows and shaved chocolate. Serve.
Let me know how you like this recipe!